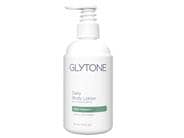 Reviews For
Glytone Daily Body Lotion with Broad Spectrum Sunscreen SPF 15
$54.00
4 Results
Really like it.
Love this we w healing moisturizer and sunscreen for the Body. The reason I won't l don't leave 5 stars is because it stings my skin sometimes. Good Body Lotion
This is a good body lotion, however it is a bit pricey. Love the added SPF 15, but not sure about the effectiveness of the glycolic acid in the product. It does keep my skin hydrated throughout the day and the SPF is a big plus! LovelySkin Customer
Verified Purchase
good stuff
I was looking for a daily moisturizer with sunscreen. I picked this one due to the package as I like the pump. Before using it I had small dry bumps on the back of my legs & arms. I had previously used some KP lotion from other brand that worked ok. I really like the Glytone for the results I received. I noticed a major difference in the bumps on my legs & arms, they are gone. The only issue I feel it is a little sticky and I noticed when I use it on my arms and put my purse on my arm it makes the handle all goopy, other wise a 5 star product. LovelySkin Customer
Verified Purchase
great lotion with benefit of SPF
A little goes a long way but this a great moisturizer that does seem to work for 24 hours plus I like the Spf factor especially living in Florida LovelySkin Customer
Verified Purchase