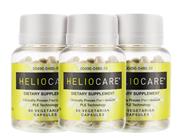 Write a Review - Receive 50 Rewards Points!
Tell us your thoughts about HELIOCARE Antioxidant Supplements - 3 Bottles so we can help you find the right products. With your review, you'll also receive 50 Rewards Points. Please note that it may take up to 72 hours for a review to appear on site. All reviews are subject to moderator approval.
Write a Review
16 Results
Heliocare
I ordered 3 bottles in order to give a good review. Still on my first bottle but one a day in the morning and does not need to be taken with food is easy to do. So far, do good but can't really tell a difference at this point-good or bad. This is only reason giving 4 stars and not 5. Heliocare is No. 1
Hello! I used Heliocare sunscreen very much and often. With the harsh climate like in Vietnam in my country, in the summer, I often take Heliocare sunscreen to protect, resist the photochemical and to protect the body against UV rays, preventing the skin from being damaged by light, sunshine. Thanks to LovelySkin for letting me know Heliocare. HuongSen
Verified Purchase
lupus
Heliocare sun protection helps me deal with my lupus and my sun sensitivity. I feel it has made a big difference in my ability to tolerate the sun. LovelySkin Customer
Verified Purchase
Heliocare is a great internal sun screen protector
A few years ago, I had some melanoma removed from my back. My dermatologist always reminds me to use a sunscreen. Being that I farm, many sunscreens leave an oily residue which is quick to pick up dust. Heliocare was recommended by my dermatologist as an internal substitute. I have not burned since using it. I take one tablet everyday throughout the year and a second one if I'm going to be outside for extended periods. Excellent product! It works for me. LovelySkin Customer
Verified Purchase
Highly recommended by my dermatologist
I've always been very careful about sun exposure, and now there is another tool to help combat its effects. My dermatologist is super conservative about any treatments or medications, so his suggestion that I take Heliocare surprised me. Hopefully, there are long-term benefits to using this in addition to sunscreen and avoiding exposure when possible. LovelySkin Customer
Verified Purchase
great for outdoor activities!
I love having this supplement, especially when on vacation when I am outside all of the time. I use sunscreen and take this and no pigmentation or sunburn. Great for my fair skin!! LovelySkin Customer
Verified Purchase
Great price for a great product
I have been using Heliocare for several years, after my dermatologist recommended it. The product works great in conjunction with sunscreen to help prevent the damage for to much sun. The price was great for 3 bottles. I will definitely buy again. LovelySkin Customer
Verified Purchase
Heliocare
I have been using Heliocare for at least 10 years. It was first recommended to me by my dermatologist who used them for both herself and her children to prevent sunburn. I take one daily throughout the year, and if I'm going to be outdoors more than usual, I'll take a second dose. I feel that Heliocare, combined with daily sunscreen and diligent use of my other favorite daily and nighttime products is key to keeping my skin youthful and healthy. LovelySkin Customer
Verified Purchase
Added protection
Being very fair, the added protection is nice. When I was younger I spent many days in the sun, never wearing a hat. This produced a date with my dermatologist at least every 6 months. Having the added protection of Heliocare, along with other sun protection, has reduced that to a yearly visit, just to make sure there are no new areas of concern. Buying Heliocare 3 bottles at a time makes it easy, I never run out. Sun protection
Great product along with 30 spf sunscreen. I'm very fair and this does reduce skin discomfort in the Florida sunshine. Thanks LovelySkin. LovelySkin Customer
Verified Purchase
Good price
The supplements appear to be exactly the same as I purchased for significantly more at a local pharmacy. As to the results, I can't really tell, but my dermatologist was confident that the product helps protect your skin from sun damage and free radicals. LovelySkin Customer
Verified Purchase
Great deal
I found getting the 3 bottle special was a great deal.. I take it once a day in the morning ... it's one of those things that's not visible if it works or not and you just hope that it does do what it says it does.. because I need all the protection I can get ( Florida sun is brutal ) I still put sunscreen on just to be on the safe side.. LovelySkin Customer
Verified Purchase
Using Heliocare
I'm a melanoma survivor. My skin is very sensitive, and I avoid direct sunlight as much as possible. No trips to the beach for this guy. I've been taking a daily Heliocare for over three years and have had ZERO problems with sunburn. I spend a great deal of time in the garden and back yard, so I do have ultraviolet exposure. Say "NO" to sunburn with Heliocare. Marty Zinn, Evergreen, CO LovelySkin Customer
Verified Purchase
Heliocare Pills
Recommended by the dermatology community, this additional sunscreen support for rosacea gives me additional confidence that I'm doing everything I can to keep to keep this disease under control. I started taking this about 10 days ago, and along with my sunscreen, I believe it's working! LovelySkin Customer
Verified Purchase
Heliocare
Heliocare was strongly recommended by my doctor for Vitiligo along with the light treatments I have been taking. I started using it about 4 months ago and it is a little early to tell for sure but it appears that progress has improved, No side affects. LovelySkin Customer
Verified Purchase
Really like this
I am very pleased with this product. I have a lot of sun damage from my younger years and now I will not go outside without sun protection. This supplement is an added benefit.