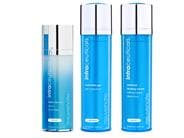 Reviews For
Intraceuticals Rejuvenate 3-Step Layering Set
$299.00
14 Results
Love !LOVE! Love!
I am really happy with this product!!!!! My skin loves this
I have tried other brands and come back to intraceutical 3 step layering set it makes my aging skin look youthful again Flowers
Verified Purchase
Intraceuticals 3 Step Layering
Like the product very much. Became familiar with it after getting an oxygen facial. Intraceuticals
I love with this product.Good for sensitive skin Love Intraceuticals Rejuvenate!
I've been using the 3-step layering system for several months and am extremely happy with the products and the results. Each step provides a different type of product to firm and protect the skin. With the cleanser and the eye gel it's really a 5-step program with excellent results. My 68 year old skin is looking smooth and tight. Live this product
This was recommended to me after a spa facial to help my skin "glow." But, it was too expensive to purchase. I found the exact same line through Lovelyskin.com at a deep discount. I immediately purchased it and have been thrilled with the results. At 45, I can't afford to do anything less for my skin. LovelySkin Customer
Verified Purchase
Dry skin
Nothing was keeping my severely dry skin moisturized until my aesthetician began me on these products. I get dermaplanes every other week, and this product keeps me moisturized. I repurchased here to receive sale pricing. LovelySkin Customer
Verified Purchase
Bargain Price That Rates Five Stars
I have used every high dollar product on the market and tried a sample of this product and loved it. Reasonable price and it really is an excellent product. I am 68 years old and have very dry skin. This product moisturizes instantly. You can feel it just soak in. Each layer is great, and you don't have the sticky feeling when done. It has improved my skin, and I love it. LovelySkin Customer
Verified Purchase
Intraceuticals
Very good product. LovelySkin Customer
Verified Purchase
Love this product!
At 57 years old, my skin doesn't retain moisture. This 3 step process plumps your skin and allows your skin to retain moisture. Hyaluronic acid is the key ingredient to do so. Highly recommend. I've been using for 5 months and noticed a difference after just 1 month. LovelySkin Customer
Verified Purchase
Saved my Skin
The Intraceuticals 3 step Layering Set has saved my skin. I live in a very dry climate and as I got older I had problems finding products that would keep my skin hydrated and comfortable. I found Intraceuticals while visiting a spa and had their facial. I was so impressed with the facial that I purchased the products to keep up with the facials. What a difference this product has made. No more uncomfortable feelings of dryness. This really gets deep down into the skin. I still get the Intraceuticals Oxygen Facials every 5 - 6 weeks because between the facials and the products my skin is healthy, hydrated, and glowing. People always ask me what I use because my skin looks so good! LovelySkin Customer
Verified Purchase
I love these products!
I have used this 3 step skin care for over 1 year now and am very pleased. I''m 67 years old and my skin feels happy, well hydrated, and smoother. Yay to Intraceuticals 3-Step Layering set. I also love the cleansing gel. I have bought the travel set and realize that I can refill it as needed. LovelySkin Customer
Verified Purchase
Intraceuticals
I have used and liked these products for 3 years. LovelySkin's price made it even more desirable. LovelySkin Customer
Verified Purchase
Intraceuticals Review
Love these products and was so happy to get them on sale! LovelySkin Customer
Verified Purchase