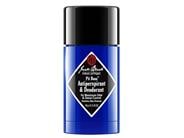 Reviews For
Jack Black Pit Boss Antiperspirant & Deodorant
$19.00
Pit Boss!!!!
I purchased this for my husband because he was breaking out with a rash under his arm pits. A week of using this and discontinuing Old Spice was a huge relief. He no longer suffers from armpit irritation, and personally, I love the masculine smell this deodorant emits. Also, my husband sweats a lot and it seeps through his shirts. This deodorant has helped with controlling his sweat and preventing from a sweaty armpit area on his shirt. A little pricey but worth the price. Jodi1980
Verified Purchase
a bit overpriced
This is one of the stronger antiperspirants out there (going by the ingredient list). I normally don't care for stick deodorants, but I was pleasantly surprised by this. It has a light herbal scent (not the typical eucalyptus scent). It glides on very easily and is not sticky or gooey. It dries down quickly and does not leave a residue on your clothes. LovelySkin Customer
Verified Purchase
Good deodorant but overpriced.
Deodorant works great. Not an overpowering scent. However, overpriced for what it is. Honestly not much better than going with degree or other cheaper brands. LovelySkin Customer
Verified Purchase