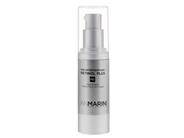 Write a Review - Receive 50 Rewards Points!
Tell us your thoughts about Jan Marini Age Intervention Retinol Plus MD so we can help you find the right products. With your review, you'll also receive 50 Rewards Points. Please note that it may take up to 72 hours for a review to appear on site. All reviews are subject to moderator approval.
Write a Review
22 Results
VA customer
This is a very effective product to brighten and soften the effects of aging. Could not be happier with the results.
Like it!
As an early 60s person, I use a C-serum (C-Esta) in the morning and a Retinol (this is the first time I've tried Jan Marini) in the evening as basic maintenance and preventative skin care (along with sunscreen and eye cream). I like this serum. It's lightweight, yet I can tell it's working by the tingling. Because it's not my first time with a Retinol, I have not had any problems with peeling or over-sensitivity. Overall I'm pleased with it, as I have been with several products in the Jan Marini line. I use a combination of Jan Marini and Dermalogica skin care, which are both high quality and effective!
This works
I have used Jan Marini products for many years but never this one. I am so glad I tried this. It is great. Don't be put off if you skin dries and flakes in places. You will have healthier skin underneath that dead skin. Love it. BTW, I am over 60 y/o.
Excellent anti-aging product
This is the most impactful product in my skin regimen, and people tell me often that they think I am at least 10 years younger than my real age! Highly recommend!
Good stuff!
I started using this product just under a year ago. Great results!
Great product
This product is really strong, but effective. The pricing was great, too.
Not as harsh as other retinols
I have tried many, many retinols, forms of RetinA, etc.....many were so harsh that I used them once or twice and then gave up. While I cannot use this every night, I am able to use twice a week at this point, and not giving up as of yet. I know you have to be patient with retinols, but they really give results. Glad that I found one I can tolerate!
Love this Retinol Plus product by Jan Marini
You'll love the results in less than a week! I use it every night!
Great retinol
I'm on my second bottle of this stuff! I have tried other brands of retinol 1%, and they were too drying. Jan Marini has extra additives to soothe and I believe a growth factor as well. I'm a faithful follower of using what works!
Nightime Routine
I never go to bed without applying Jan Marini Retinol Plus. I truly believe that this retinol has helped my skin in numerous ways. Less visible lines and wrinkles, as well as more even tone over all. Part of my daily routine, for sure!
Jan Marini Retinol MD
This is by far the best retinol product I have ever used. My skin is somewhat sensitive and I have always had trouble with retinol products. Jan Marini Retinol MD keeps my fine lines at bay and my skin has never looked so good! This product is definitely a staple in my skin care routine.
Great Product! Amazing Results
This is a fantastic retinol product. Ive been using it for about 6 weeks and Ive already ordered another bottle. Its definitely powerful so you have to work up to using it daily, but now that Im past the red/peeling phase my skin looks incredible!
Love this product!
I have tried several retinol creams over the past few years and never stick with them because my skin gets too dry and I give up. This Jan Marini retinol definitely is working on my skin because I can feel it getting "hot" after I apply it, but when I wake up in the morning my skin isnt a dry parched mess. I love it! I feel like I can definitely stick with this for the long haul to reap the benefits of retinol. No doubt, there is some peeling when I wake up but its easily gently wiped away with a washcloth. Ive been using it for a couple weeks now and hope that in a couple months I will start to see reduced fine lines. My skin already feels incredibly soft since using this.
Great results
I had used Jan Marini Retinol Plus MD in the past. Always with great results. I quit using it when I moved to Florida. I no longer had access to my med spa. I noticed my skin was not looking the same as it did before, rougher and enlarged pores. I attributed it to Floridas humid weather. My daughter introduced me to LovelySkin and I ordered the retinol plus md and within a week of using it again my skin looked smooth. Its always nice when you go to the skin doctor and they say you have beautiful skin. Thank you, Jan Marini and LovelySkin!
Even better than the regular Jan Marini Retinol!
Having used Jan Marini Retinol for about a year, I wanted to "move up" to the Retinol Plus MD. Its amazing! My skin did not have a "break in" period with this product (probably because Ive been using the regular retinol for so long). Ive definately seen further improvements in my skin texture & fine lines since using this and will repurchase again! Love all the Jan Marini products!
Wonderful Retinol
I am 86 years old and my skin is that of a much younger woman. I have been using your retinol products for years and when plus was available I switched to it. LOVE IT!
Amazing
My favorite JM product so far I have been using retin A for several years but I find this to be much gentler. No flaking. My skin glows!
Really works...
JAN MARINI AGE INTERVENTION RETINOL PLUS MD is amazing! I have used Retinol but this is so much better. I can already tell a huge difference in my skin. It does not dry or make your skin flake. Highly recommend!!
Jan Marini Age Intervention Retinol Plus MD
Again...another loved product by Jan Marini!! Using in my mid-40's...I am already noticing a difference in my fine lines and my sensitive skin is tolerating this wonderful product much better than using straight Retina, etc. Definitely a 5 star product ( as all Jan Marini which I have tried thus far!!)!!
Tremendously effective while far more gentle than other retinols
Wow! This is an excellent product. I started using Jan Marini Age Intervention Retinol Plus routinely then moved up to the 1% MD version. Both are superb. I followed the recommendation to ease into using it. I now use it practically every other evening and my skin tolerates this well. I've noticed a reduction in some sun damage on my left cheek (the side always exposed to the window in my car) and the texture of my skin is really refined. I get a lot of compliments on my skin. This is a great product!
Wonderful product.
I have seen such an improvement in my skin while using this. A little of this goes a long ways. My fine lines are disappearing.
Great Product!
This is a new product to my JanMarini line and I am liking the results very much. The deep lines seem to be reduced. I find a little bit goes a long way with very good results. Be sure to follow the recommended directions...less could be better.