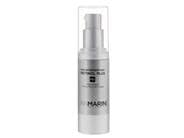 Reviews For
Jan Marini Age Intervention Retinol Plus MD
$89.00
Yes and No
1.0 retinol from Jan Marini feels better than other 1.0 Retinols, but because of hating face lines, I have been told to use Vitamin C and Collagen seven days, night and morning, per week then use this Retinol one night in the week before Vitamin C and Collagen. LovelySkin Customer
Verified Purchase
mild yet effective
I had been using tretinoin for some time, but my skin needed something gentler. I thought I would try this. It's okay so fa, no fragrance and very light. Time will tell. LovelySkin Customer
Verified Purchase
Love it!
I used this as a step up from 0.5 retinol. I can only use it every other day to prevent overdrying. Overall, it's a great product! LovelySkin Customer
Verified Purchase
Gentle, mild but good cream
It is mild Retinol creme that I will definitely purchase it again. LovelySkin Customer
Verified Purchase
Like it!
As an early 60s person, I use a C-serum (C-Esta) in the morning and a Retinol (this is the first time I've tried Jan Marini) in the evening as basic maintenance and preventative skin care (along with sunscreen and eye cream). I like this serum. It's lightweight, yet I can tell it's working by the tingling. Because it's not my first time with a Retinol, I have not had any problems with peeling or over-sensitivity. Overall I'm pleased with it, as I have been with several products in the Jan Marini line. I use a combination of Jan Marini and Dermalogica skin care, which are both high quality and effective! LovelySkin Customer
Verified Purchase