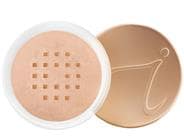 Reviews For
jane iredale Amazing Base Loose Mineral Powder SPF 20
$44.00
165 Results
Improves my skin
New to this brand and very impressed! I have rosacea and this not only covers it well with a more natural look, but my skin is actually more calm with less redness when I remove my makeup at the end of the day. Very pleased! LovelySkin Customer
Verified Purchase
Love it.
Perfect coverage for olive skin tone. LovelySkin Customer
Verified Purchase
Loose Powder
Love this product and have been using for many years. Wish they'd make it an SPF 30 or higher. LovelySkin Customer
Verified Purchase
Pure Pressed Base is better!
I didn't care for this product but that's most likely because the color I ordered (based off of my color in the Pure Pressed Base) is way too dark. I wear Radiant in the Pure Pressed Base and it's perfect for me so I ordered Radiant in the loose. It's so dark that I just wear it as a bronzer. Sassenach20
Verified Purchase
Nice coverage powder
I enjoy the Jane Iredale Amazing Base Mineral Powder. In addition to providing 20 SPF it give light coverage with no weighted feeling. Take shine away and lightly covers blemish or discoloration. Never clogs. Jane iredale loose powder
I have been using this product for years. It was recommended by a plastic surgeon. It truly is the best. Great colors and makes you look very natural and doesn't look like you have makeup on. Feels great on your face and never looks cakey. Lovely Jane, so nice to meet you!
Ok so I'm not sure my first at bat was an exact color match. I followed the questionnaire and scored color Natural. It's a little light on my lighter toned olive skin, I'm wondering if maybe suntan would have been better. Putting that aside, I absolutely love this powder! I am very cosmetic sensitive. Makeup for me lasts only as long as it takes me to get ready to go wherever I'm going to when I arrive home and can rush to my sink to wash it off. This powder, this one, I've been applying during quarantine on the weekends. Lol, it's that good. No itching, no bumps, no clogged pores, I'm hooked! It is light to medium coverage, doesn't hide melasma 100% but it makes my face look airbrushed and fresh and I luv it! ProductAddict40
Verified Purchase
My top Fav!!
It's a perfect loose power for daily wear, light to med coverage and feels very light on the skin. It is Non irritating and does not cake up after day cream is applied. Love it!! Freckle16
Verified Purchase
Love this!
I am experiencing my first southern summer and have been changing up my makeup routine. I am extremely pleased with this product and Jane Iredale products in general. This powder creates a flawless but light finish whether I wear it alone or layer it over the Dream Tint. Highly recommend. LovelySkin Customer
Verified Purchase
Stays put!
Great foundation & easy to apply. Put in on & it melts into your skin & stays put all day. I also like that it's an extra layer of sunscreen. cnotelynn
Verified Purchase
Excellent product for sensitive skin
It is a really good choice for sensitive skin and rosacea. I will buy it again A new favorite!
I normally use another mineral makeup but decided to try this one because I like other Jane Iredale products. Initially, I was nervous about ordering since I couldn't see the actual shade but I took the chance and am glad I did. It's odd that you have to poke the holes in the dispenser yourself but I found that it worked out fine. The coverage was much better than what I expected with just a small amount of the powder. The packaging dispenses less and keeps me from possibly wasting product. I really liked the smooth effect it gives my skin. LovelySkin Customer
Verified Purchase
Best base ever!!
My MUST HAVE!! I LOVE my Jane Iredale Amazing Base powder!! It has multiple useful features...great light but full coverage, protects my skin all day from damaging lighting and sun rays, adds a beautiful finish to my skin texture and tone. It is even water resistant so you can brush it into your skin before heading outdoors for a run, or to the beach and it will stay there until you wash/wipe it off!!! ImageArchitect
Verified Purchase
Love the variety Jane iredale foundations
Use to create that perfect, light, healthy canvas on your face to start your makeup process. Love Jane Iredale products as they are good for your skin, different layering levels, beautiful healthy looking finish Great Finishing Powder
I use this to finish off my makeup. It evens out and creates a smooth clean finish. It even helps out when I get my eyebrows too dark. PatriciaEE
Verified Purchase
Good coverage
Love this powder, it feels great going on and provides great coverage. LovelySkin Customer
Verified Purchase
love this!
I have tried other powder foundations and they always caked and settled in fine lines so I was hesitant to try this but I bought a sample and gave it a try. So happy I did! This goes on and just seems to melt in my skin. Doesn't cake or settle and gives a nice coverage. I bought the full size, and it will last a long time. Great Product!
I love how it has great coverage, my skin feels so smooth and it looks healthy. It contains SPF 20 which is amazing because it's extra sun protection besides my SPF I wear under makeup. It's a cruelty-free brand and product doesn't contain the harsh chemicals other cosmetics do. I really recommend this product. I wear this on top of my Jane Iredale BB cream just to set it and make it look more matte. LovelySkin Customer
Verified Purchase
New favorite foundation
Have been using this product for about a month and so far I love it. The Warm Silk matches my skin tone perfectly (I have usually light, yellow-tinted skin and used to use BareMinerals - Light before they seemingly changed the formula and made it suck), it's buildable and doesn't feel cakey, and I think the value is reasonable as well. The problem I started having with the Bare Minerals was that after only a few hours it would start to rub off parts of my face like my forehead and nose and would get really oily. None of that with this stuff. Would definitely recommend shinecaity
Verified Purchase
Best loose powder!
Tried Jane Iredale's loose powder and what a difference! Had been using bare minerals and wasn't dissatisfied but was impressed with the difference. Jane Iredale has superior coverage without looking heavy or caked. Was finding with the old loose powder that it was settling in my lines so I looked older than I had to! Am very satisfied and won't be going back to my old powder! Great color match
This matches my skin tone perfectly and is light on the skin. I dont like the packaging though because so much falls out so easily that I have wasted quite a bit. Masteresty
Verified Purchase
Great base to set foundation
It provides sun protection and sets nicely. LovelySkin Customer
Verified Purchase
Favorite Base
This covers so lightly but it even has sunscreen. I don't feel or look heavily made up, just smooth. Great product, I use the Jane Iredale blush as well. LovelySkin Customer
Verified Purchase
Jane Iredale Loose Mineral Powder SPF20
I like the coverage without the thick cake look. It's light, but covers well. It doesn't accentuate the wrinkles. Nice, light coverage!
This powder's coverage is just right, and it doesn't settle into the lines on my face. And, I love the fact that it contains sunscreen, protection without the greasy feel and shine that some sunscreen products contain. LovelySkin Customer
Verified Purchase