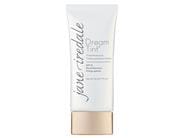 Reviews For
jane iredale Dream Tint Tinted Moisturizer SPF 15
Highly Recommend trying
I've been wearing tinted moisturizer for years in place of full and/or heavy foundation. Tinted moisturizers allow my skin to breathe. My esthetician recommended this brand so I thought I'd give it a try. I love it! The dark color gives me the natural look I was hoping for. The moisturizer feels light on my skin and doesn't make me greasy or shiny. I'm able to brush a light makeup powder over it, add some under eye concealer plus blush and i'm good to go! Well that was before we started wearing masks everyday. lol. But I still wear this product daily just without all the extra stuff. It blends with my EltaMD tinted sunscreen. Overall, I recommend trying this product. Mimi0423
Verified Purchase
Lovely
I love the Jane iredale line. I have many of the foundations but I love this the best. LovelySkin Customer
Verified Purchase
FINALLY A WIN
I have sampled so many foundations, BB, tinted moisturizers I was seriously discouraged and somewhat broken out in allergic rashes (reactive skin) and finally took a chance on JI who I used to use quite a bit in my younger days. At 63yo your skin can change in a way that is very difficult to find compatible products. I will say that i did have my face sugar waxed to remove the vellous hair which makes a huge difference regardless of what manufacturer you use because the make up comes in contact with your skin vs the tiny hairs where it sits on top of the hairs. Anyway, this TM is amazing and so so moisturizing without being too greasy. I think it must be the HA which this product contains so no caked look stuck in all my lines and wrinkles, my skin looks better the longer the product is on. I work out after working an 8 hour day and it still looks amazing. A total win for me. LovelySkin Customer
Verified Purchase
Great Sunscreen
Nice creamy texture blends really well in the summer. Sometimes will add a small amount of moisturizer if needed. Does not aggravate my skin. Tiny is very natural, not heavy. Nice smell. A winner. Highly recommend. LovelySkin Customer
Verified Purchase
Best tinted moisturizer
I've been using this for years and my preteen uses this too. It's light and covers well and is clean for your skin. LovelySkin Customer
Verified Purchase
I LOVE Jane Iredale Dream Tint
This is the best tinted moisturizer I have ever used. It has light coverage and goes on like a dream. I am undecided about the coconut/suntan lotion fragrance, but it dissipates quickly. I apply my usual skin care, use this as my moisturizer and foundation, dust with a little translucent powder and that's it! It wears well and does not get or seem oily on me. Loving it! Wonderful and versatile moisturizer.
I LOVE Jane's dream tint. It's perfect as a base for foundation or to wear alone. I like that it does a great job of protecting my skin from sun burn. Awesome!
Love to use this as an everyday foundation. It's multi-function use as a daily moisturizer, sunblock and facial foundation make it a great bargain and time saver! RuthieLou
Verified Purchase
Blends nicely!
I have been a long time fan of Jane Iredale products. If you are looking for a light tint for the summer, this will be a favorite. Light and matches perfectly
I started using the Jane Iredale tinted moisturizer over 10 years ago. Now and again, I'll get a sample of something and will give it a try. I always wind up back to the Iredale product. It goes on smooth without flaking and provides a good base for the powder foundation I use. The tint is spot on with regard to my complexion and helps even out imperfections. A great first layer
I use this product to tone down the redness of my skin. It offers sun protection and moisture too. Great way to start with makeup. PatriciaEE
Verified Purchase
A light tinted moisturizer
I love the fact that my skin shows through! A very natural finish! My go to tinted moisturizer! LovelySkin Customer
Verified Purchase
Love this item
I am on my 2nd container and love how light it feels on my face and provides good coverage. Very natural look. Iredale Dream Tinted Moisturizer
I have used this product for years. I have occasionally tried other tinted moisturizers. I always come back to this. It is not heavy. It is light, and I do not feel like my face has a thick foundation. Also, I use serums under it and loose powder over it. I still do not feel as though my face is caked with makeup. The SPF is enough for daily wear. When playing golf, I use a heavier SPF. LovelySkin Customer
Verified Purchase
Love it
Does not break me out. It irritates my skin and provides a perfect base for the Jane Iredale pure pressed foundation. Tried it first in medium light which was too light and looked pasty. Once I got the right shade medium loved it. It has a nice subtle fragrance that I like. Highly recommend. Dulcigirl
Verified Purchase
Love this product
This product provides great coverage and the color matches my skin perfectly. I highly recommend it! LovelySkin Customer
Verified Purchase
Product seems improved, and I love it now
I first tried this a few years ago, maybe when it was introduced. It seemed to separate–at that time–and the coverage wasn't the best. However, I decided to try again, based on good reviews, and ordered this last week. I'm happy to say that it's MUCH improved, or at least, the tube I've received is creamier and better formulated. The coverage is soft and natural, easy to apply and never looks caked on or chalky. I'm in my 60s, so this is important. There seems to be more color choices available too. I apply this Dream Tint over my usual serums and also dust on a bit of Jane Iredale powder over the top as a last step. Great products, overall! Suggested by Dermatologist and Used for YEARS
This makeup is absolutely wonderful. After rubbing several skin care products on the face, next comes a tinted sunscreen, then Jane Iredale sits on the top. She literally sits there all day and many people give me their fondness for Jane. I will use this as long as possible and recommend it to everyone. LovelySkin Customer
Verified Purchase
Terrific tinted moisturizer
I use this tinted moisturizer as my foundation and love the light yet great coverage it gives me. Knowing that the ingredients are safe for my skin makes me feel even better! jane iredale Dream Tint
Perfect for those days when you want light coverage, makes your skin soft, but color is very light. A new favorite for daily use
I put off trying this product because I didn't think it would provide enough coverage. I decided to try it because I love JI products, and now, it is my favorite. I can wear this alone when I am at home, or if I need extra coverage add a little concealer. It is so light and feels and looks like just my skin, but healthier. Love it! LovelySkin Customer
Verified Purchase
Great Product!
I LOVE this product! It goes on evenly and is great to use alone on the weekends or under foundation powder for a more finished look. I will definitely buy again! LovelySkin Customer
Verified Purchase
Jane Iredale Dream Tint Tinted Moisturizer
I think this is an awesome product! I enjoy using this not only for the sunscreen protection but it is an amazing base for my Jane Iredale foundation. I really love the benefits of the SPF but really benefit from the added moisturizer! I give it a two-thumbs up! LovelySkin Customer
Verified Purchase
Love this!!!
I use this product and love it!!! I am 70 years old, and this keeps my face moisturized. I use this first and then I put a very little bit of Jane Iredale Amazing Base Loose Mineral Powder over it. Then spritz it with Jane Iredale D20 Hydration Spray, and I'm good to go! My makeup doesn't looked caked on which is important at my age....very natural! I highly recommend! LovelySkin Customer
Verified Purchase
My skin appears brighter.
I had my makeup done, and the associate chose the Dream Tinted Moisturizer in the Light shade. She applied first the Smooth Affair and then the Dream Tint. I am very fair, but I did not feel the Light Dream Tint alone provided enough coverage for me, so I also use a cream foundation (more opaque) and a 25 SPF moisturizer blended together. With light hair and fair skin, I can look pale. To me, the Light Tint can also give you a porcelain look. The product does not add a shine to your face, but it does make it appear brighter and adds a soft glow. This time, I ordered the Dream Tint Medium. I felt it gave my face more warmth. It is still a light color to me, but I do not appear so pale. I still mix it with my cream foundation and 25 SPF moisturizer. I ordered the medium tint for vacation. I had used a self tanner on my body and did not want my face to look so pale. I once wore it alone, & I was not so self conscious of the sheer coverage. This color tint did the trick, and I may continue to use it in the winter months as well. I liked it that much. I apply the Smooth Affair with a foundation brush, and the Dream Tint combo by dappling (tapping) with a medium size latex-free blending sponge. Hope this helps you. Have fun! LovelySkin Customer
Verified Purchase