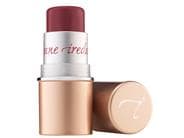 Reviews For
jane iredale In Touch Cream Blush
$28.00
55 Results
Best blush ever
This blush goes on so easy and it looks very natural. This is an excellent product that lasts a long time. JulieM57
Verified Purchase
Try it!
My first encounter with cream blush and it did not disappoint! I love the color, it's not sticky, it blends in superbly. I love it! Generally lasts an 8 hour work shift although nobody but me can see it because of masking. Would never go back to powder blush again! ProductAddict40
Verified Purchase
Love this blush!
I just love this blush! It goes on so smooth, and looks so natural. Unlike the other blushes I have used in the past, it stays on all day long. I will definitely purchase it again. LovelySkin Customer
Verified Purchase
Blush
Love how easy this blush blends into my skin. Looks really natural! LovelySkin Customer
Verified Purchase
Great blush!
Love this color (quite neutral) and consistency! Great blush! LovelySkin Customer
Verified Purchase
Natural
This product is wonderful and looks much better than the powder for over 50! Little but great
Was disappointed with how little you get but love the product. Easy to put on gives natural color look, easy to blend in. LovelySkin Customer
Verified Purchase
Nice subtle glow
This is a nice cream blush. It gives a luminous look to your cheeks. I dab it on and then use a beauty blender over it to make sure it goes on evenly. Such great color and so natural!
I love this little blush. I got the 'Chemistry' color because I am fair-skinned to pale, and I like the light, gentle rosy hue without looking just plain pink! It is a muted color. Does nicely on aging skin. I draw a short 'swoop' on my upper cheek right below eye level, and use a makeup brush to blend it in. Barely there but really noticeable difference. Looks like ME, only BETTER! Wanted to like this....
I am so convinced that JI products nourish my skin, so I wanted this to be a winner—it's just okay. First, I laughed at how tiny the actual product is, and the effect is very much like a balm with faint color. It probably works best in the summer as a faint wash of color plus sheen. JaneAnne
Verified Purchase
Blends nicely.
This blush has good pigment and blends easily. LovelySkin Customer
Verified Purchase
Beautiful
This blush is beautiful. I've received complements on my complexion when I have worn it. It's subtle and yet just gives a healthy glow. I will buy this again. Very moisturizing formula
This product goes on smoothly and gives a radiant glow. It is very creamy, and I really like the color connection. LovelySkin Customer
Verified Purchase
Perfect for a natural and healthy look!
This is my second time purchasing. Very natural looking and gives me the glow and flush I want. Sometimes, I need to refresh during the day and it is the perfect size for my purse. Beachy Woman
Love all Jane Iredale products and can add this to my "fav" list. Like how you may choose coverage, light or bold! Used JI makeup for years LOVE IT! LovelySkin Customer
Verified Purchase
My go to product!
For someone like me that doesn't invest in a lot of makeup products, this is my go to as a blush, eye shadow and lipstick. LovelySkin Customer
Verified Purchase
In Touch Cream Blush
I had forgotten how much I love this cream blush that I tried many years ago, and glad to see my color is still available! Sometimes, a nice little swipe of color is all you need, and I love how easy it is to apply. Years ago, I made the mistake of rubbing the stick across my cheek and upset that it broke, wrong way to apply it! Just run your finger across the stick and dab it on the apple of your cheeks. It's beautiful and stays on! LovelySkin Customer
Verified Purchase
Touch Cream Blush
Best cream blush I've ever used. Stays on all day, and I love the mild scent of chocolate, been using for about 3 years and will continue using. LovelySkin Customer
Verified Purchase
Great feel and application
This was my second purchase in the Charisma color. The first was Chemistry. Chemistry is a mauve and a bit darker than it appears on line which I liked. The Charisma said it was ''dark purple,'' and it is dark, but I would not call it purple. Love the product just gave it 4 stars because I am trying to get the colors right. I would recommend to Jane Iredale that she put out a test sample of the colors in a bubble card and that there would be more orders of this product with the assistance of getting the color right. LovelySkin Customer
Verified Purchase
Love the way it goes on
This is a light natural color. I will pick a darker color next time. It's great for the no makeup look days. fiveone5
Verified Purchase
Nice blush
This blush gives a natural flushed look, and is easy to apply just with fingertips. I chose the color Candid which I find too red for my (fair, warm) coloring. I think the pink shade would have been a better choice. LovelySkin Customer
Verified Purchase
Love this product
Love the color and sheer application. Goes on well, gives just the right amount of color and looks natural. LovelySkin Customer
Verified Purchase
Natural and youthful
Easy to apply–and it gives a lovely illumination or highlight that I don't get from powder blush. (I used the Connection shade, a shimmery peach tone). I was surprised that it lasted quite a long time through the day–and I plan to buy additional colors. Very nice product. Now that my aging skin is drier, I find the powder blushes look a bit too drying when the weather cools, and my skin is less oily. So this cream stick blush is a great solution for me. LovelySkin Customer
Verified Purchase
beautiful color
First time trying this blush and glad I made the purchase! LovelySkin Customer
Verified Purchase
Lovely!
My 53-year-old skin really appreciates a cream blush. Powder blushes just don't work so well any longer (too drying). This blush is very creamy and blends nicely with just a tad bit of glow. It looks very nice on my skin. LovelySkin Customer
Verified Purchase