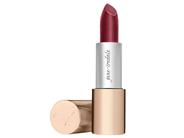 Reviews For
jane iredale Triple Luxe Long Lasting Naturally Moist Lipstick
$35.00
25 Results
Pretty Lips
I love the color. It's Ellen. It moistens my lips and seems to last for a good period of time! I'm glad I bought it. LovelySkin Customer
Verified Purchase
Breaks at Base
I love everything about this lipstick. So much that I wasted my money on 3 different tubes . All three broke at the base within two weeks of usage. I finally surrendered when the same thing happened to my sister. LovelySkin Customer
Verified Purchase
Rather nice
The Susan color is not that intense as I hoped for. May be good for summer time. LovelySkin Customer
Verified Purchase
Fell apart - Dry - lipstick broke
I have always liked Jane Iredale. I decided to try this never having bought this lipstick before. I am sad to tell that the lipstick was not full of moisture. It hardly moved on my lips when I tried to spread it on. There was never any moisturizing effect. The lipstick part broke off at the base before much use. What a waste of money for me. SweetTooth
Verified Purchase
Great Lipstick
The only reason I didn't give this lipstick 5 stars is because of the price. It is hydrating, doesn't feather, and stays on a reasonable amount of time. It has the right amount of opaqueness for me--a matte look without being one dimensional. The magnetic case is a plus. LovelySkin Customer
Verified Purchase
It's Ok
The lipstick is a little too matte for my taste. I like lipstick with a little more shimmer. caligirl12
Verified Purchase
Applies nicely and lasts
I will first say that I hate a lipstick that tastes foul, or chemical, or fragranced. Even other high-end brands I have used are unpleasant in this regard. This one does not have that problem. It's rather taste-free and goes on smoothly and richly without smearing. Lasts a good amount of time. It doesn't 'stain,' so I do have to reapply once or twice during the day, but no matter. I love this! J I lipstick is great
I have so many lipsticks of Jane Iredale and I love how it isn't harsh color and goes on smooth. I picked a color I hate, because it is so hard picking from a picture. If I had gotten a decent color I would have given it 5 stars. One of my favorites!
An excellent lipstick. Rich color and not too matte or drying. LovelySkin Customer
Verified Purchase
Jane Iredale Lipstick
I normally do not like a matte lipstick but after receiving a sample of Jane Iredale's lipstick, I decided to give it a try. It is a little pricey but definitely worth it. Goes on very smooth and stays on longer than the lipstick I was previously using. I would definitely recommend the lipstick. LovelySkin Customer
Verified Purchase
Love Love Love
This is the only lipstick that stays on for a longer period of time, Not all day but at least a few hours if not eating. It's very moisturizing. I just wish it wasn't so high, but it's worth the price Pucker Up
Love this lipstick! The color makes me look more youthful & my lips look bigger. I even bought one for my daughter. She loves it, too! Gabby is a Gorgeous color
moist lipstick and lasting. LovelySkin Customer
Verified Purchase
Great lipstick
I've been using these products for many years. I like this new formulation. The colors are beautiful, and it's moist and adds good hydration to the lips. I'm not a fan of matte finishes so this works well. I like their other lip products as well. Globalgypsy
Verified Purchase
Will not do without this lipstick!
LOVE LOVE LOVE! Rich, beautiful color and keeps my lips hydrated I'm ordering another one today! Glockgirl
Verified Purchase
Great color, long-lasting, flawed design
Not sure why the lipstick piece suddenly fell off the tube base but it did. As a result, hard to apply. I believe there is a flaw in craftsmanship for it to fall off. I had to press it back on. I love the color but for the price won't order again. LovelySkin Customer
Verified Purchase
Lipstick
I'm usually very reluctant to order lipstick, but I took a chance and ordered molly since I like the more natural shades. It is perfect, moist, and the tube is elegant. Great color and formula
I love the shade, Joanna. It's a perfect medium pink for fair, but warm-toned skin. The formula is also nice, moisturizing but last more than others like it. Will still need re application after a couple of hours, but that's ok with me. Knisholm
Verified Purchase
Nice lip color
This lipstick goes on smoothly and has a soft color. Much better than my previous brand which was too dark. PatriciaEE
Verified Purchase
Moist, lasting color!
I've tried other brands of "long-lasting lipstick," and they all dried out my lips. This one works! It goes on moist & really lasts, even after I've eaten! Will buy more in other colors! Love this
Much of the reviews are not as good. But, I loved the color (Tania) and the thickness and moisture feeling. I recommend for sure! LovelySkin Customer
Verified Purchase
Long-Lasting Lipstick
I love this lipstick. It stays on quite a while, and it makes my lips feel soft and smooth. LovelySkin Customer
Verified Purchase
Slightly Disappointed
It's hard for me to say anything unfavorable about these fabulous, organic products but the new formula is much drier than I expected and needs frequent reapplication. The color selection is limited even though there are several shades, but I've purchased 5, and they look almost alike once applied. I absolutely LOVE the new lipstick case, and it's magnetic closure, the ultimate in elegance and the natural vanilla blackberry fragrance is divine. 2GoldensinRVA
Verified Purchase
Nice but not what I expected
I wanted to love this lipstick–because I love almost all of JI's products. The color selection is nice, and "Sharon" is a great neutral for my pale skin and red hair. However, the lipstick is dry and doesn''t go on as smoothly as I would like. The solution, for me, is to use JI's Lip Drink (no color) first, which also provides the SPF that my dermatologist insists that I use. The Lip Drink helps the lipstick glide, although it doesn't last as long. LovelySkin Customer
Verified Purchase
New long lasting lipstick disappointing
Unfortunately, the Jane Iredale Triple Luxe Long Lasting Naturally Moist Lipstick reached me with the application part of the lipstick in the cap of the tube (nothing remaining in the bottom) making it impossible to apply to my lips. On contacting LovelySkin.com and explaining the situation they very promptly contacted JI and the lipstick was replaced immediately. First, I applaud LovelySkin for their great customer service. The lipstick however is a little disappointing. It is moist and the color looks great, but I did not find it to be long lasting. Thanks LovelySkin.com for great costumer service. You are the best! LovelySkin Customer
Verified Purchase