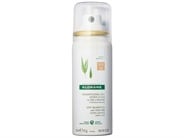 Reviews For
Klorane Dry Shampoo with Oat Milk - Aerosol
$10.00
Great dry shampoo I keep going back to.
I feel good about using this product for the long term because of its ingredients. I have fine blonde hair that needs dry shampoo daily and it works very well without causing buildup. Smells good too and even though it's kind of pricey LovelySkin has the best price. LovelySkin Customer
Verified Purchase
Like a lot
I like Klorane dry shampoos because they are clean and smell pretty. I think you get a good bang for your buck here, but don't find it to work quite as well as the green one, or some other brands. Pretty good
Not sure if it's worth the value, but I do like it better than the drug store brands. If you put it in before you go to sleep it absorbs the oil better. If you have darker hair I'd recommend getting the tinted version, the untinted did tend to show a bit. shinecaity
Verified Purchase
My favorite dry shampoo
I have blonde hair and this works great for me. I tend to get oily around my face, and it's easy to spray on and absorbs the oil that make hair look limp and lifeless. It doesn't weigh hair down nor does it give a chalky feel. The only downside is that I'm not a fan of the fragrance. Thankfully, the fragrance doesn't last too long and the performance outweighs the fragrance. Saves me with 3 kids
Glad I found this stuff. Natural and saves me when I can't take a shower. If I have time to do my hair, I actually think it looks better the next day when I put this in it. Fuller and smoother. I buy it in multiples, so I don't run out! LovelySkin Customer
Verified Purchase
great travel option
Works well and the right size for travel LovelySkin Customer
Verified Purchase
Just OK
I have nothing against this dry shampoo except the price. It does no better than many cheaper brands in my opinion, although it seems like it would because it goes on thicker. LovelySkin Customer
Verified Purchase
Nice Dry Shampoo
Klorane generally makes very good dry shampoos. I choose this particular tinted oat milk version because I have dark hair. The tint could be a little darker, but it works into the hair pretty well, and does a nice job. I will purchase this product again. LovelySkin Customer
Verified Purchase
Favorite Dry Shampoo
I love this brand for dry shampoo. I have used this in both the full and travel size. Even the travel size lasts forever. I have highlighted blonde hair with caramel lowlights. It works well for my hair color. I let it sink in to the part and then scrunch a bit. No residue. I try to use on only 3 day hair, sometimes 2 day hair. Also, adds texture if putting hair in a clip or ponytail. I continue to restock it! Molly18
Verified Purchase
Works great
I love this product -- it works better than most aerosol dry shampoos. My only complaint is that it is a bit expensive for how quickly a whole bottle is used up. I don't know if they need to make a larger size or if this size should just be a bit cheaper but the value doesn't seem that great. Aerosols are deceiving -- you use a lot more than expected. LovelySkin Customer
Verified Purchase
it does work well
It's very effective, but it is also very white so even after you kind of shake it out it leaves a little bit of a white-ish grey-ish tint. Using it a lot though. LovelySkin Customer
Verified Purchase
It comes out really white and fades
Im still on the fence about this. I bought it, and it comes out really white and you have to brush it out. However its really gentle on the hair. Love it!
It doesnt leave the tell-tale white residue that most dry shampoos leave. And it smells nice, which is an added bonus. LovelySkin Customer
Verified Purchase
Great purchase
This does all it claims. I didnt give it 5 stars only because of the price. LovelySkin Customer
Verified Purchase
Klorane Gentle Oat Dry Shampoo
This works very well. When I'm in a rush will shower with my hair wrapped in a towel. Shake and use this dry shampoo and my hair looks great. This is not the first time I've purchased. Will continue to buy, seemed pricey at first but it's worth cost. LovelySkin Customer
Verified Purchase
fast and easy
This is great for a fast fix when you do not have time to wash your hair. Spray it on and brush. I recommend this product for a fast fix. LovelySkin Customer
Verified Purchase
Good but doesn't last long
My daughter has very oily hair, but her ends dry out so badly having to wash it every day. So bought this to see if it would help. It works very well, but the canister isn't very large and won't last long. Maybe 6 applications only. So, not sure if we'll buy again, but its worked for her which makes all of us happy!! LovelySkin Customer
Verified Purchase
Works
I have tried a number of waterless shampoos. This is good. Won't take the place of regular shampoo but in a pinch works well. Best when used with a blow dryer afterward to increase volume