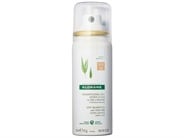 Reviews For
Klorane Dry Shampoo with Oat Milk - Aerosol
$10.00
Still the best!
This dry shampoo is the one I keep coming back to time and time again. I first bought Klorane's powder version and used that for awhile, and loved that it had a very slight scent to it, but would over use it as sometimes the amount that would come out from the dispenser was difficult to squeeze the right amount so I would have too much product and it would make my scalp look a little chalky. This aerosol version is easier to control and doesn't way my hair down from too much product. I sometimes buy other dry shampoos which are always heavily scented and gives me a headache or makes my scalp itch. This one is the best. LovelySkin Customer
Verified Purchase
The best!
I love this dry shampoo. I've used many brands but this Klorane is by far the best. It freshened my hair and gave it body. Must have for emergencies
For me dry shampoo is not a substitute for a real hair wash but rather a tool I must have in case I don't have time to wash my hair for some reason. I tried a few brands and I like Klorane the best. It dries fast, doesn't leave any residue, and smells nice but not overwhelming. It also gives my hair a nice straightening effect, as I have naturally wavy hair. This little aerosol I want to always be available in my arsenal. AnitaBonita
Verified Purchase
Just OK
I'm still looking for a dry shampoo that does not leave the white residue. This isn't it. Tengerbelle
Verified Purchase
Love this stuff
This is my favorite dry shampoo. It works so well and keeps me from having to wash my hair every day. I usually use it every other day, and it leaves my hair looking like I just washed it. LovelySkin Customer
Verified Purchase
Great dry shampoo I keep going back to.
I feel good about using this product for the long term because of its ingredients. I have fine blonde hair that needs dry shampoo daily and it works very well without causing buildup. Smells good too and even though it's kind of pricey LovelySkin has the best price. LovelySkin Customer
Verified Purchase
Fantastic dry shampoo
Doesn't build up like most dry shampoos. Can be reapplied for days. LovelySkin Customer
Verified Purchase
Great for dark hair!
Prior to trying this product from Klorane, I had not had much luck with dry shampoos because I have black hair and other products make me look like I have dandruff. Not so with this stuff. So glad I tried it. Followed instructions and my hair has body and doesn't look ashy or too greasy. LovelySkin Customer
Verified Purchase
Great product
My favorite dry shampoo ever! I've tried many. This formula does not dry out hair and cleans it well. Best way is to apply it at night but if you forget, works well right before using. Give lots of volume and lift. LovelySkin Customer
Verified Purchase
The BEST DRY SHAMPOO
I have purchased over 30 other dry shampoos attempting to find something that worked as well but was possibly at least a little less expensive than Klorane - and I wasted a lot of money doing that. When I say that I have tried everything - it is not an exaggeration. This is the best and it's worth the money - use the LovelySkin rewards to off-set the cost. Tip: dont just brush through your hair - use your hair dryer and do a quick dry blow out- it makes a huge difference! LovelySkin Customer
Verified Purchase
Like a lot
I like Klorane dry shampoos because they are clean and smell pretty. I think you get a good bang for your buck here, but don't find it to work quite as well as the green one, or some other brands. Extra day hair and easy to use!
I really love this dry shampoo because it's light and doesn't weigh my hair down. It gives me an extra day before washing my hair or helps buff up my roots before a date night. Other dry shampoos have made my hair greasy or has a strong scent, which Klorane doesn't. Will rebuy! LovelySkin Customer
Verified Purchase
Best!
Found this gem in Paris! Gentle, great for my dark hair, light scent that is not overpowering and extends a good blow dry! Definitely recommend! MBskinjunkie
Verified Purchase
Great Product to Refresh Your Hair
I've used Klorane for 4 years and it's the BEST dry shampoo I use and highly recommend. It removes the oil buildup and flat look my hair can have. My hair looks cleaner and has more volume and there is no residue left after you brush it out. If you want to extend your shampoo cycle out to 7-10 days when needed, Klorane is the product to use to keep your hair fresh and clean. LovelySkin Customer
Verified Purchase
Pretty good
Not sure if it's worth the value, but I do like it better than the drug store brands. If you put it in before you go to sleep it absorbs the oil better. If you have darker hair I'd recommend getting the tinted version, the untinted did tend to show a bit. shinecaity
Verified Purchase
My favorite dry shampoo
I have blonde hair and this works great for me. I tend to get oily around my face, and it's easy to spray on and absorbs the oil that make hair look limp and lifeless. It doesn't weigh hair down nor does it give a chalky feel. The only downside is that I'm not a fan of the fragrance. Thankfully, the fragrance doesn't last too long and the performance outweighs the fragrance. It's ok
It's fine, didn't notice it adding any moisture to my hair. Probably wouldn't buy again. LovelySkin Customer
Verified Purchase
Saves me with 3 kids
Glad I found this stuff. Natural and saves me when I can't take a shower. If I have time to do my hair, I actually think it looks better the next day when I put this in it. Fuller and smoother. I buy it in multiples, so I don't run out! LovelySkin Customer
Verified Purchase
Makes your hair feel dirty!
I don't know if my can was bad, but this dry shampoo was awful. LovelySkin Customer
Verified Purchase
Love this Dry Shampoo
Wish it smelled a little fresher, still love how it leaves my hair light and clean. LovelySkin Customer
Verified Purchase
Love this dry shampoo
I am always on the hunt for a great dry shampoo, and this is one of the better ones. Easy to use and really cleans your hair. I have also purchased this for my daughter and daughter in law-they love it also. Thanks, LovelySkin. Perfect
This dry shampoo was perfect! This did not leave any weird residue in my hair and it definitely worked. LovelySkin Customer
Verified Purchase
THE WORD: DRY Shampoo
Excellent. Perfect size. Only thing better? Regular size, NON Aerosol. LovelySkin Customer
Verified Purchase
The best dry shampoo!
This smells awesome and does such a great job at making my greasy hair revitalized and clean looking with just a couple sprays! Love it! LovelySkin Customer
Verified Purchase
LOVE this travel size dry shampoo!
Recently went on a mini vacay, and I brought this with me and it was awesome!! Love the fact that with using this product that I don't have to wash my hair every day now! LovelySkin Customer
Verified Purchase