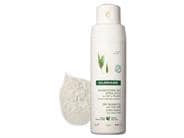 Reviews For
Klorane Dry Shampoo with Oat Milk - Non-Aerosol (Eco-Friendly)
$20.00
23 Results
Not really a spray
A little difficult to apply product, as it is not a spray. It's just powder dry shampoo in a weird bottle. The product itself is great, however. It blends nicely and doesn't have a strong fragrance. Fenchie88
Verified Purchase
Hard to use
This is a good product once you can apply it correctly, which for me is still difficult. It tends to come out all at once in one place, which then requires a lot of work to distribute. I like the idea of a powder, though, for both travel and environmental reasons. And it does work well once distributed. Great idea - no aerosol
I like how you just squeeze the bottle and the powder poofs out. I have had other powder dry shampoos and the application was difficult. Love this one. LovelySkin Customer
Verified Purchase
Love it
Klorane dry shampoo works so much better than the usual aerosol can dry shampoo. It has a much finer distribution and of course it doesn't feel moist like aerosol. Genius design
I wasn't sure about the squeeze bottle, but once I got the hang of it, I actually found it easier to control than my old aerosol. I have very dark hair and was worried that it would be too obvious (was using the Klorane tinted version before). The trick is to spray a little at a time and sort of rub it it into your roots, then brush through after a couple of minutes—works great and actually degreases better than the aerosol. LovelySkin Customer
Verified Purchase
Fav Dry Shampoo
Great dry shampoo. I have used this for years, before dry shampoo became a thing. It is the best. LovelySkin Customer
Verified Purchase
Great alternative to aerosol dry shampoos
I've used a powder dry shampoo in the past and really liked it, but the market seems to be full of aerosol dry shampoos these days, which I don't think work quite as well at absorbing the oils and extending the "life" of your hair without a full wash. I am glad I found this product. It is easy to use, and I do like the design of the product -- how squeezing the bottle blows a puff of product onto the scalp. Very clever! MattieMae29
Verified Purchase
Stop searching and BUY THIS dry shampoo!
My hair is blonde, wavy/straight, and gets greasy in about 5 minutes. I hate washing it. I travel a lot for work and don't like to pack all of my blow dryers and purple shampoos. I can wash my hair on a Sunday, use this on Monday or Tuesday, and just brush/restyle my hair on Wednesday, Thursday AND Friday. I might add a little more toward the end of the week depending on the season, but I don't need to redo it every day. I have tried aerosol dry shampoos, and my hair is greasy again in 12 hours with those. This is a completely different product, and it actually gives me volume too! I highly recommend it. LovelySkin Customer
Verified Purchase
Good dry powder shampoo, would order again
This dry powder shampoo works well and provides the best substitute I can find to the discontinued Oscar Blandi Pronto dry shampoo. My only reason for not giving it 5 stars is that the ''spray'' bottle is a bit fidgety. It can be tricky to turn the top so you can open it to access the nozzle - and the application is not perfect when you squeeze the bottle. But I do prefer it over an aerosol bottle, and also any spray dry shampoos. A little bonus is that you can easily open the bottle to access the product if you wish. If you love powder-based dry shampoo, it's a good choice! LovelySkin Customer
Verified Purchase
Pleasantly surprised and isn't as harsh on our environment
I thought this product wouldn't be as effective and user-friendly without aerosol but was wrong! You gently squeeze the bottle, and the product easily comes out. I think it's also more effective in adding volume to my hair when styling. Also, the product lasts much longer than the aerosol version! Wish I would have tried this sooner! LovelySkin Customer
LovelySkin Employee
Takes longer but worth it
It isn't as convenient to use as the aerosol version, but I like that I don't have to worry about breathing it in or accidentally getting it on my clothes. LovelySkin Customer
Verified Purchase
Great packaging
I had the aerosol version of this, and it was great but ran out very fast. I think dry shampoos last a lot longer in powder form, but I hate pouring them into my hands and then on my hair. This bottle is genius though and allows you to "spray" the powder directly onto your hair. I'll definitely buy this again LovelySkin Customer
Verified Purchase
Perfect for a quick refresh between washes
I like to skip a day in washing my hair and this usually requires a dry shampoo to refresh the roots and keep everything looking clean. I have tried countless dry shampoos, but never an non-aerosol based one. This dry shampoo is very effective. I find that most aerosol based products don't last, I find I have to spray and spray to get the coverage I want. This product is different and a little powder goes a long way. I will be purchasing this again. LovelySkin Customer
Verified Purchase
Works great!
This product works great! It removes oil in your hair so you can last another day without taking a shower. At the same time, your hair will feel a little fuller and have more texture. We just went on a 4 day camping ship with no showers nearby and this dry shampoo saved me! LovelySkin Customer
Verified Purchase
Best dry shampoo EVER
I tried at least 20 other dry shampoos before finding this one. Not sticky and no funky smell like many spray dry shampoos. The texture is very similar to the brand BLOW PRO dry shampoo but the tip on the bottle doesn't clog up like the other brand. It takes practice to squeeze the bottle gently to dispense a small amount of powder, otherwise it is white on your hair and shows. However, I flip my hair upside down after application and rub it in my scalp, which solves the problem. This product allows me to skip a day to wash my hair and I will never go without it! AniaMal
Verified Purchase
Great quality
My blond hair gets oily very quickly so this powder keeps it clean looking. It does work without leaving a white residue. It also increases my hair volume and smells fresh. I'm using my 4th bottle now. LovelySkin Customer
Verified Purchase
Good dry shampoo
I really like the Klorane dry shampoos. Not overly scented, and doesn't make my hair greasy or sticky. I usually use the aerosol version of this and love it. I am on the fence about this one o lay because of its delivery method. It's great for when I just want a little extra volume. Put a little in my palm and work it in. For days I need a full on dry shampoo to soak up my greasy hair, I prefer the aerosol. LovelySkin Customer
Verified Purchase
Non Aerosol is THEE BEST
Reviewed same product from Aerosol can, it is terrific. However, the non-aerosol is even better...This can be used two consecutive days, and because it isn't aerosol lasts longer and is easier to spot-use. Hope that makes sense? Anyway, feels fresh, smells nice. I have dark hair with highlights works fine for any hair color. LovelySkin Customer
Verified Purchase
Love it
I have been using this for years and can't live without it! The non-aerosol is my favorite because it's easy to control how much you use and it lasts longer. LovelySkin Customer
Verified Purchase
The only dry shampoo I will use
Ive now purchased 5 bottles of this stuff over the course of three years. It lasts a very long time. I use it two or three times a week to revive my hairstyle or avoid having to wet my hair. It works all day to combat grease and truly makes my hair look clean. The application does take some getting used to. You have to gently squeeze the bottle to disperse the product on your hair. Then, wait a few minutes before brushing the product through your hair. I love that this product has no harsh chemicals, sulfates, or silicones. There are no mystery ingredients and it also wont cause your hair to become flammable like those aerosol products. The scent is nice and light, not cloying. I have dark hair but have no issues getting this product to blend.I have tried so many dry shampoos in the past and this is the only one I will buy now. LovelySkin Customer
Verified Purchase
Best Dry Shampoo!
This dry shampoo smells great! It brushes out easily and leaves hair shiny and bouncy. Happy to find a dry shampoo that does not use an aerosol for delivery. LovelySkin Customer
Verified Purchase
Did not like!
Very hard to use. Powder is inconsistent. It came out either very heavy or not at all. I had to wash my hair immediately after using it. LovelySkin Customer
Verified Purchase
Klorane Dry Shampoo
love it!!! it works really well. LovelySkin Customer
Verified Purchase