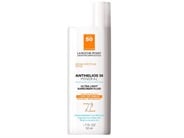 Reviews For
La Roche-Posay Anthelios 50 Mineral Tinted Ultra Light Sunscreen Fluid
$33.50
111 Results
Great tinted sunscreen
This by far is my fav tinted sub screen. Goes on light and can be worn alone or under makeup. 4 stars
Good product, the only downside is that it clumps up when applied to the face LovelySkin Customer
Verified Purchase
Love my skin
I have always use the La Roche-Posay sunblock off and on without disappointment. This tinted sunblock La Roche Posay is no different. It glides on well and leaves a dry, silky, smooth look. Just a little FYI, this sunblock is runny for those who likes the thicker creamy feel. LaSteph
Verified Purchase
Best tinted sunscreen
For many years now I have been using exclusively La Roche Posay Anthelios 50 tinted sunscreen on my face as a daily foundation. It is light and does not look thick and cakey. Living in Texas the sun is brutal in the summer and this sunscreen does a perfect job. LovelySkin Customer
Verified Purchase
The perfect mineral tinted SPF
Of the countless mineral tinted sunscreens I've tried over the years, this is the one I always go back to. Am on my 5th or 6th bottle. This is so lightweight, never breaks me out, and has a soft matte finish. And the tint-shade is perfect: Not too light but not too dark or orangey. I do wish it contained a little zinc oxide -- but that would would likely give it a heavier consistency and a more white-ish, unnatural cast. LindsayB10
Verified Purchase
this tinted sunscreen is a skin saver
I use this every day beneath my foundation or alone. Really like the tint. LovelySkin Customer
Verified Purchase
Fantastic
This mineral tinted sunscreen is smooth and velvety. I use it as foundation. It stays on my face for a while and does not get washed off by my sweat easily. LovelySkin Customer
Verified Purchase
amazing product
I have used this product + other La Roche Possay for a while. I purchased this product specifically for my almost teenager daughter who wants to wear make up but does not understand that sunscreen is the most important. This product is just amazing, and it solved the problem. It looks like light foundation on her beautiful skin, which she adores!!! But it is a mineral sunscreen that protects her, which I love!! So now, she uses it everyday!! she feels so pretty and I feel she is safe. Love it!
Love this sunscreen ! Goes on easily and covers well. Shake well! And be careful.
This is a liquid sunscreen that spreads well, but can be messy. The color is a fair neutral with no real undertone -- which looks ashy on me. Shake well to mix, and be careful when applying with your fingers, because of the aforementioned mess. Applying with a brush or beauty blender usually results in too much product in some places, which will require blotting with a tissue. LovelySkin Customer
Verified Purchase
Light, non-irritating
So far, so good for my super sensitive skin. I had almost abandoned facial sunscreens for the irritation most of them caused. I found I could use a brush-on mineral sunscreen but didn't feel it was enough for a bike ride or day at the beach. The LRP Anthelios 50 is light, non-greasy and disappears. No irritation after finishing the sample tube so I ordered the full size. LovelySkin Customer
Verified Purchase
Sunscreen
I am just starting out to use sunscreen and this is perfect!! Highly reccomend! Cprendergast
Verified Purchase
Lovely
I bought this foundation for my Mother for Mother's Day she is absolutely in love with it. Light and comfortable to wear it and she has received many compliments about her looks. Definitely great product!!! Marcela
Verified Purchase
Great sunscreen with a bit of color
I wear this in the summer. It gives very light coverage so you feel as if you have on a little bit of makeup. LovelySkin Customer
Verified Purchase
Love it!
I'm extremely satisfied with this product, it doesn't feel thick like other sunscreens and really like the coverage it gives. LovelySkin Customer
Verified Purchase
La Roche-Posay Suscreen
I love this sunscreen. It goes on very smoothly and the tint is just right. My skin is sometimes sensitive to sunscreen, but I had no problems with this product. I will definitely repurchase. LovelySkin Customer
Verified Purchase
Super smooth coverage
The sunscreen goes on super smooth and feels more like a moisturizer with a hint of foundation tint, rather than sunscreen. It is not goopy nor does it leave streaks. The color tint is just right and offers Just enough coverage to smooth out skin tone. It doesn't feel like you are wearing a heavy foundation with an extra layer of sunscreen on top. Highly recommended for days outside in the sunshine!! BaseballMom
Verified Purchase
Tinted sunscreen
Great way to get coverage and sun protection! LovelySkin Customer
Verified Purchase
A GREAT OPTION!
La Roche-Posay was recommended to me by my dermatologist. The Anthelios line of sunscreen products are amazing. This tinted sunscreen is light and provides proper protection. Highly recommend! LovelySkin Customer
Verified Purchase
Great sunscreen
Fast absorbent, light texture (even a bit runny), great color on the skin. Dries quick on the skin, sticks to it even after I sweat while walking. Nice subtle smell. AnaHine
Verified Purchase
Excellent product
This sunscreen is a light weight liquid that goes on smoothly, providing a light color as well. I like the lightweight texture of this sunscreen as it does not blotch with makeup. Highly recommend this product. Light sunscreen. In a reasonable price.
This is a light sunscreen and adds tint to your face. I use it as a foundation, it covers what I need to cover. LovelySkin Customer
Verified Purchase
Quick Absorption
Lightweight and non greasy. Perfect for aging skin dermatologist recommended. LovelySkin Customer
Verified Purchase
love it
I purchased this sunscreen for summer, and I wasn't disappointed. It has really light texture, nice coverage if you are too pale. perfect for my oily, acne-prone skin. not greasy, and it's fast-absorbing. Sunscreen is good, but the product I received has a very short shelf life
I've used the untinted version of this sunscreen before, so I thought I would order the tinted version now. The product itself is really good. Not oily, quick drying. But, the product I received from this website has an expiration date of March 2020. I received the product end of August 2019. So only 6 months. Also, the nozzle of the bottle was cracked as if someone tried to cut it with a knife. I raised the concern and they gave me a $10 refund on the product saying this is the latest product available from the company. If they are selling products with short shelf life, atleast mention so on the product. If a customer doesn't pay attention, they are just stuck with old products. Don't think I trust this website so much. cosmeticuser
Verified Purchase