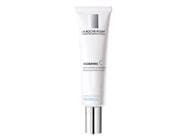 Reviews For
La Roche-Posay Redermic C Normal to Combination
$49.99
12 Results
Alright but not great
I'm sure this is a very good serum, but it did not agree with my skin. However, I have sensitive skin, so it may work for someone else. LovelySkin Customer
Verified Purchase
Redermic C
I couldn't be more happy with this product, been using it for over 10 years. My customers tell me how good my skin looks. LovelySkin Customer
Verified Purchase
La Roche-Posay Redermic C
It's my new favorite lotion. My skin feels like silk, and I have radiant glow. I'm over fifty and have been told I look like I'm 35. LovelySkin Customer
Verified Purchase
awesome
I've been using this product for months and really see a difference in my skin. It looks much brighter, and it doesn't cause me to breakout like most other lotions. Techjan
Verified Purchase
Great product
I'm 49, but my skin is still prone to breakouts. I have been using this product for 3 years because is a great moisturizer and doesn't clog my pores. I recently went to my dermatologist and she said that this product it's perfect for my age and my oily and sensitive skin. I just really miss that doesn't have a sun skin protection anymore. La Roche-Posay is Top-of-the-Line!
I cannot say enough about the benefits of the La Roche-Posay skincare products. They are excellent for my hyper-sensitive and rosacea-prone skin. I used to have full blown breakouts every two weeks. Since using La Roche-Posay skin care products, which includes the Redermic C, I rarely see a blemish. Great product! Highly recommend it. Ok moisturizer
I started using this product about 2 months ago. I honestly haven't noticed any firming of the skin. I also haven't noticed any moisturizing benefits. I do use this in addition to some other products. I would say around my mouth and cheeks there are more lines becoming visible This product hasn't really worked well for me. LovelySkin Customer
Verified Purchase
La Roche-Posay Redermic C Normal to Combination
It has been soothing on my skin, and I've never had any reactions/break outs in the few years that I have been using it. I love this cream. LovelySkin Customer
Verified Purchase
Nice Moisturizer with Anti Wrinkle Benefits
I use this in the morning as my daily moisturizer during the spring, summer, and fall. I have to use the dry skin formula of this product during the winter. It moisturizes just the right amount. It is not greasy, and it soaks in nicely. It does not cause breakouts for me. I believe it has reduced the look of the fine lines I am developing around my eyes. I will continue to purchase this product. LovelySkin Customer
Verified Purchase
Fabulous moisturizer
I love this brand and this is wonderful not too greasy and applies well with other serums and primers! LovelySkin Customer
Verified Purchase
Not sure if this works
I have been using this @ AM as a moisturizer and Redermic R at PM. My skin is better, less breakout and more supple. What I do not like about this product is the packaging. The aluminum tubing starts cracking on the side, you will loose a lot of products everytime you want to use it. I think I will not repurchase it for this reason. happyface
I like the feel and the weight of the product. It is not too heavy and goes on well. I use this product in the A.M with or without a moisturizer. I was told by a saleswoman to make sure to wear a sunscreen when using this. My skin feels and looks great after applying. LovelySkin Customer
Verified Purchase