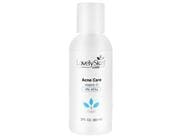 Reviews For
LovelySkin LUXE Acne Care 9%
57 Results
It really works
When I started to use those products, I had a bad reaction and my skin had an allergy, redness and sensitive but I kept trying and after less than one month my skin is completely different. I haven't had breakouts anymore, now I only need to treat the scars and skin imperfections. MariaCampos
Verified Purchase
Another Good Product
My daughter has been using this and it works great for her. We'll continue to buy this product. Love
Wonderful product for my oily acne prone skin. Not overly drying. LovelySkin Customer
Verified Purchase
LUXE Acne Gel
Another purchase for my boyfriend and he really liked this during the day. It's clear and can't be seen. Almost50
Verified Purchase
Great Product
I have tried numerous acne gels and I have to say this is the best so far—not super drying and no redness! I apply morning and night and it works great for me. I am going to upgrade to the extra strength version once I have finished this bottle. Highly recommend. LovelySkin Customer
Verified Purchase
Holy Grail
Wow! What a great product for people with sensitive, acne prone, aging skin! Use day and night, and sometimes as a spot treatment. Use sparingly! LovelySkin Customer
Verified Purchase
Great brand!!
I love love love the LovelySkin LUXE brand, super great ingredients at a much more affordable price than some other high end brands. I use this on my adult acne, and it works! Try this brand, you won''t be sorry. LovelySkin Customer
Verified Purchase
LovelySkin LUXE Acne Care Gel
This is an excellent product. The only acne treatment that is doing good for my daughter's acne problem. Just after the first use, we can see the result! Highly recommended!! LovelySkin Customer
Verified Purchase
so far so good
So far so good. I haven't seen a dramatic change to my dark spots, but it hasn't broken me out and feels good on the skin I use am /pm LovelySkin Customer
Verified Purchase
good stuff
A little dab is all it takes, and it goes to work. I am not a person you would think has acne problems, but I do, even older ones have facial issues, but regardless it works, and that is all that matters. LovelySkin Customer
Verified Purchase
Luxe
My skin is clear and so soft from using this prouduct. A staple in my skincare routine. LovelySkin Customer
Verified Purchase
Good product
I bought this gel for my son as he has acne outbreaks on his whole face quite badly. After using the LovelySkin LUXE Acne Care Gel, the outbreaks have reduced. Hope his skin condition will continue to improve. LovelySkin Customer
Verified Purchase
love it!
This works! Rids acne within a few days on my sensitive fair skin. A must have. LovelySkin Customer
Verified Purchase
Good Product
This worked initially and then it started to taper off in effectiveness. I'm sure my skin got used to it. Burns a bit if you have any cuts or abrasions on your skin. I've used the remainder of the product on my decollete area and I seem to be getting better results there in hydration, keeping acne at bay and actually helps with wrinkles a bit. LovelySkin Customer
Verified Purchase
Excellent mild exfoliant
I received this as a sample and I loved it, so had to buy it. I normally use it twice a week (when i dont use the Retin A) and keep my dry skin flakes away. Adriana
Verified Purchase
Cant live without this.
This is the best product ive found to keep acne at bay. Without it my acne and black heads come back. LovelySkin Customer
Verified Purchase
The only product that works on my acne
This product is amazing! I have had stubborn acne on my neck and after using this product for less than a week it has healed and even the scars are reduced. I completely recommend this product for anyone who has even occasional acne...you wont be disappointed. LovelySkin Customer
Verified Purchase
Miracle product!
Loved the sample I got with another order...it saved the day as I put it on a zit that popped up and it made it disappear overnight. It works miracles! LovelySkin Customer
Verified Purchase
WoW!
This product is aMazing!... Ive tried them all and this is the ONLY one that does it all. It not only prevents breakouts but it also gets rid of them fast if you do breakout. . Without redness and flaking! A must-have if you have acne issues. .even if its just the hormonal ones.... LovelySkin Customer
Verified Purchase
Works great and doesnt dry out your skin!
As an acne sufferer you need a product that will clear your acne, help resolve old acne scars AND not cause that flaky, irritated redness that you get with benzoyl peroxide or salicylic acid products. This product does all that and doesnt come with an exorbitant price tag! LovelySkin Customer
Verified Purchase
Remarkable!
I have to admit I was pretty skeptical that this product could work as well as others claim, but this is an amazing product. Ive tried salicylic and glycolic acid products to get rid of the little subcutaneous bumps on my forehead and spot treat the occasional zit... to no avail. All those products did was empty my wallet and dry out my skin, two of my least favorite things. Ive been using this nightly for a little over two weeks now and my skin is soft, clear, and glowing. My skin is also gloriously even, too! (But it didnt take two weeks to get here - my skin was amazing after the first overnight application!) It also brings the yucky stuff to the surface and dries it out in record time. Its also not sticky and does not have any offensive scent. I couldnt have asked for a better product. I hope they never stop making it! LovelySkin Customer
Verified Purchase
Great
I have used few product didnt work out Finally I found this and it help me a lot LovelySkin Customer
Verified Purchase
great product!
I really like this acne gel - it has worked wonders to fade my existing acne scars and keeps new acne from forming! Its also easy to apply and works great under makeup. LovelySkin Customer
Verified Purchase
Great product, even better results!
When I was first treated for hormonal acne, my dermatologist told me in order to improve, we must "challenge the skin." After trying this product and experiencing dramatic improvement not only with breakouts, but with clearing up years of scarring as well, I will never go back! Amazing product at a great price!
I originally started using the exfoliating gel plus when I found it on this website because it was cheaper than the brand I had already been using...but then discovered this Acne Care Gel, which has lower AFAs, but is also half the price, so I figured I would give it a shot! I am so happy that I did and I will be using it at long as it is available. My skin is so clear and soft and I get compliments all the time. Thank you, LovelySkin! LovelySkin Customer
Verified Purchase