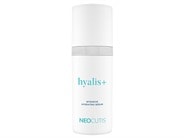 Reviews For
Neocutis Hyalis+ Intensive Hydrating Serum
$78.00
23 Results
Gentle
Love this stuff. It's so delicate you can wear it post procedure or everyday for a moisturizing serum. Love. Love this product
I have been using this product since March and I am on my second bottle! I love the product and how my skin looks and feels. LovelySkin Customer
Verified Purchase
Love it so much!
It's a must have, my skin always drinks it up. Never feels like it's too much or to heavy! LovelySkin Customer
Verified Purchase
Just ok
I had high expectations on this serum, but wasn't too impressed. I use it before makeup as a moisturizer, but didn't really feel like this gives super moisture. Neocutis Hyalis AMAZING
I can't live without this product. First step in my skincare routine day and night! Adds instant hydration and makes all other products go on so smooth! A MUST HAVE!!!!! LovelySkin Customer
Verified Purchase
Refreshing!
Love this! It's literally like a drink of fresh water for my skin. Feels so good when applying, not oily at all and gives my skin a dewy look. Gingersnap
Verified Purchase
Neocutis Hyalis Intensive Hydrating Serum
Love this serum. The original Hyalis was recommended to me when rosacea showed up in my 40's. It hydrates and soothes. Highly recommend LovelySkin Customer
Verified Purchase
Longtime User!
I've tried other products, but this is the best. Love!
I've only been using this for three weeks but have noticed such a difference in the texture of my skin. The extra hydration really has improved my skin and especially for the application of my cc cream. LovelySkin Customer
Verified Purchase
Love This!
I tend to have oily skin, so finding the right moisturizer can be tricky. This is prefect! My skin has never looked so hydrated and healthy! Neocutis Hyalis+IntensiveHydrating treatment
I have tried layering this serum in different order of sequence with my other products but still end up with pilling after I put my makeup on. I wanted to like it, it has good reviews but it is not for me. LovelySkin Customer
Verified Purchase
Great moisture....
I love this product. Glides on, feels moisturizing, and it's easy to apply products thereafter (additional moisturizer and/or sunscreen). LovelySkin Customer
Verified Purchase
Excellent
I've been using this product for years......it's fantastic. I use it morning and evening and combined with my moisturizers it keeps my skin hydrated and healthy Hyalis equals hydration
I have been using Neicutis Hyalis serum for several weeks. I have noticed a good improvement in the moisture of my skin. I typically have dry skin, especially during the winter months. Regular use of Hyalis serum has greatly reduced my dryness & my face has a noticeable softness & moisture glow. LovelySkin Customer
Verified Purchase
Drink of water for my skin!
During these cold and dry winter months, this serum is like a drink of water for my skin. Love it! LovelySkin Customer
Verified Purchase
hydrating serum
I like all of the Neocutis products. So, decided to try this. My skin gets very dry in the winter but also in the summer due to golf. It is not sticky and goes on smoothly and evenly. You can easily apply makeup over it. LovelySkin Customer
Verified Purchase
Great for hydrating my oily skin
Even though I have very oily skin, I need hydration. Hyalis makes my skin feel moisturized, but clean. It feels good unlike other moisturizers. I use this on my 70 year old oily, hypersensitive skin. LovelySkin Customer
Verified Purchase
Great texture, not sticky
Love the texture of this serum, not sticky and works perfect under makeup and sunscreen during the day.I use it in conjunction with other Neocutis products. My fine lines have been fading and the firmness of my face improving. Neocutis products are some of the best. Jamy8522
Verified Purchase
Plump your skin with a Pump!
I have been extremely pleased with this serum—a tiny amount goes a long way. It along with the Bio—Serum has produced gorgeous skin. DHatcher
Verified Purchase
Very nice formula!
This newer version Neocutis Hyalis + Intensive Hydrating Serum is much better than the original formula. This clear, serum taps into the skin so easily & really does hold moisture in. I'm always pleased with Neocutis because the products work well together & deliver results. Teresa1955
Verified Purchase
The BEST hyaluronic acid
I love this stuff! A little goes a LONG way so I see my bottle lasting a while. The texture is really nice, more of a gel consistency, goes on so smoothly and spreads perfectly. I am really enjoying the Neocutis brand products so far, I look forward to using more in the future. Iamaliciaschmidt
Verified Purchase
Neocutis Hyalis
I love this product. I been using Neocutis Hyalis for a year now and I love how it makes my skin feel and look. I use it in the morning under moisturizing cream and it plumps my skin. Will purchase it again. LovelySkin Customer
Verified Purchase
Fantastic Product
I love the Neocutis Hyalis and Intensive hydrating serum. It works wonders on my partially dry skin and makes my face look so much better and glowing!!! Highly recommend this product to people with dry skin issues. Happyface
Verified Purchase