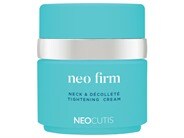 Reviews For
Neocutis Neo Firm Neck & Décolleté Tightening Cream
$135.00
65 Results
Buy it!
This is the best neck & decollete cream I've ever used. I am hooked. It immediately improves the look and feel of skin upon application. I won't go without this product. kelljax
Verified Purchase
Really Helps Skin on Neck
I've been using this product for about 2 months and have noticed improvement in the texture of the skin on my neck. I had my neck "lifted" about 7 years ago and it's still holding pretty well, so hard for me to tell if the improvement is skin texture or tightening. Either way, I like this product and will continue to use it. I also like the delivery mechanism which involves gentle pressure on a "lid" with a hole in it to deliver as much or little product as needed. Don't apply too much pressure the first time you try it! StephanieB
Verified Purchase
Neo Firm Neck
The cream is moisturizing and smooths. I haven't seen any firming effects yet. I will continue using it and see what happens. Really like the dispenser. LovelySkin Customer
Verified Purchase
Great product and good price!
This product hits it out of the park for me. I really wanted a good product for the neck and chest area that was super thick. This product has good consistency and results are nicely hydrated skin. LadyWilder
Verified Purchase
Best I Have Used
After using maybe two containers of this product I all of a sudden noticed I was wearing shirts that had more of a scoop neck than a crew neck. I definitely noticed an improvement in my "Décolleté" and easily recommend this product. LovelySkin Customer
Verified Purchase
Wonderful Neck Cream!!!
I love all Neocutis products but this neck cream is especially Amazing!! It is very firming and moisturizing. Also great under makeup. Great product
I've been using this every night for about three weeks. I've noticed a difference in my skin's appearance. It is tighter and smoother. LovelySkin Customer
Verified Purchase
Good neck cream
Nice texture and does seem to make a difference. Granted the neck and decolletage is hard to improve, but I do see a difference. Would definitely recommend. LovelySkin Customer
Verified Purchase
Feel it work
You can actually feel this working! I put it on every night. Haven't been using long enough to see results but know I will. Great product. LovelySkin Customer
Verified Purchase
Love neocutis!
Makes my neck feel and look great! Neocutis Neo Firm Neck & Décolletage Tightening Cream
I've been using this product daily for a couple of months and see a noticeable reduction of fine lines in my neck and chest. It makes the skin feel smooth and look tighter by moisturizing just enough to add suppleness without any greasiness. It absorbs quickly and has little or no scent. I did not give it five stars because I wish I could see long term improvement. If I miss a day, the dryness and lack of firmness I had before I started using this product becomes evident again. Very excited About this Cream
I've done some research on this company and it sounds so promising, I wanted to try it on my crepy neck. I did have a neck lift but the neck lift sometimes doesn't address some crepy-ness left behind. I tried a sample of one of their wrinkle creams and I liked it so this one is exclusively for the neck and I'm hoping for good results. Worth a try since the company really does sound like a good one! So far smells great and I'll be using it for months to see if it works for me. Promising indeed! Best I have tried!
I have had annoying lines on my neck that were bothering but it felt like nothing was working. I tried this and it makes such a difference! My lines have been substantially minimized. I have already bought a back up neck cream. I also love the pump! Michellep
Verified Purchase
I love it!
It surprised me as the effect was quick. I thought it would take a whole month or two, but my neck looked so much better and supple in a week. I had another concern: I tend to have an allergic reaction to new cosmetics. But, NeoCutis Firm neck cream didn't cause my sensitive skin any irritation nor redness, yet giving me the effects I was hoping for. I highly recommend this product to everyone especially those who tend to have not able to use many skincare products due to sensitive skin. LovelySkin Customer
Verified Purchase
Love this neck treatment!
I've used this neck treatment before and decided to try it again. I really love the difference I see in the skin on my neck. It's more smooth and supple than before. I highly recommend trying this treatment! ClaireH
Verified Purchase
Trying again.
Trying again. I did not notice much of a difference the first time I used this in its previous packaging. This brand of products is so good, that I am willing to pay to use again. LovelySkin Customer
Verified Purchase
excellent neck cream
This is an excellent moisturizing neck cream. For some reason my neck is more sensitive to products than my face. This moisturizes & soothes my neck & doesn't irritate it at all. Time will tell about the overall benefits, but so far so great! LovelySkin Customer
Verified Purchase
Neocutis Neo Firm Neck Tightening Cream
I like how this cream leaves my skin feeling soft and tighter. Gives me a more lighter and youthful appearance. LovelySkin Customer
Verified Purchase
great cream
This is the one if you are looking for a neck and decollete cream, the texture feels good and it really works! LovelySkin Customer
Verified Purchase
Younger décolletage
I started using this product in November last year. I've noticed a significant reduction in my cleavage lines on my chest. I've also noticed the deep lines in my neck are barely visible. This is by far my favorite neck and décolletage product out there. I've tried a lot too!! LovelySkin Customer
Verified Purchase
Great!
Leaves skin feeling soft and noticed a tighter more youthful appearance. LovelySkin Customer
Verified Purchase
What sagging neck
This is the first miracle. It works. Celiann
Verified Purchase
Visible difference!
This is the first review I've ever written for a product and it's because this cream is so good! I could actually see a difference in my jawline a few days after using it. My jawline is firmer and tighter looking so I ordered a second jar before the first one even ran out! Neo Firm
Love this stuff, goes on great, not greasy absorbs right in. I have a lot of sun damage. This has already made my skin feel softer and lightened up some areas Solid product in a difficult category
This product does a nice job. It is a bit pricey, I suspect because of the packaging—where they have an air-sealed pump to keep the product fresh. I have been using it for a few weeks. LovelySkin Customer
Verified Purchase