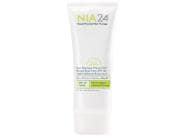 Reviews For
NIA24 Sun Damage Prevention Broad Spectrum SPF 30 100% Mineral Sunscreen
Strong Yet Soothing
Beats the sun off this redhead's fair face with excellence! Love this product
I have both sensitive skin and rosacea. This product is both moisturizing as well as gentle on my face. I use it every day on my face and neck for protection. My dermatologist recommended a product with zinc oxide for me and this product meets my requirements. I have tried other sunscreens and I keep coming back to this one. It does go on a little white but it quickly absorbs into the skin so it is not a problem. I love this product. LovelySkin Customer
Verified Purchase
My Favorite Sunscreen
I prefer a physical sunscreen and this is my favorite! Easy to apply and makes my skin look flawless. Great with or without makeup. Excellent protection and gives your skin a nice, healthy glow. LovelySkin Customer
Verified Purchase
My go-to sunscreen for years!
I have used the NIA24 mineral sunscreen for several years now and absolutely love it! I have fair skin and have had skin cancer. It provides superior protection to any of the others I've tried in the past. I find that it absorbs quickly and creates a smooth base for my tinted moisturizer—much like a foundation primer. I wouldn't be without it! LovelySkin Customer
Verified Purchase
Soothing consistency
I use a lot of NIA 24 products but am new to their sunscreen. It lives up to my expectations. I use it on my face, neck and chest and love how smoothly it goes on. I wait 5 minutes before putting on my makeup, and it blends very nicely. LovelySkin Customer
Verified Purchase
It's a Winner!
I really like this product for my dry and sensitive skin. It not only acts as a sunscreen but does well as a primer. Mineral Sunscreen
I have found the NIA sunscreens to be amazing and they smell great! I use this product as part of my daily routine. LovelySkin Customer
Verified Purchase
Top notch sun protection
With the very high amounts of Zinc and Titanium Dioxide in this physical sunscreen, you will get very good sun protection. The Niacin is a fantastic bonus. If you have sensitive skin, this is a winner. If you have dry skin, this is a winner. It is thick, but spreads out well. I am fair, and I do not find that it leaves me looking white as long as I spread it in well. This is the ONLY sunscreen that I have found so far that does not turn my clothing YELLOW. I have no idea why, since I have tried so many 100% physical sunscreens, and they all turn my clothes yellow. This product does not do that. I can use it on my neck, chest and anywhere else that it will come into contact with clothing. My favorite sun protection
I use not only on my face,neck and chest but also on my tattoos during sun exposure. It will always be part of my regime, specially after having basal cell cancer at 30. LovelySkin Customer
Verified Purchase
White Cast, Thick Clings to Dry Patches
In order to get full coverage, you have to apply ~1/4tsp to the face or 1/2tsp to the face and neck. If you do that with this you will get a white cast that NEVER absorbs (and my skin is so light that my doctor said it's almost translucent). If you apply less, sure, no/very slight white cast - but then you don''t get full coverage so is it worth it? My face got a little red after walking in the sun all day when I didn't apply it correctly. It's very thick and clings to dry patches. Applying it made my dry skin flake off. And honestly, I don't know that the pro-niacin in this formula actually did anything for my skin - maybe because most days I didn't apply enough for it to be effective? I just can't wear sunscreen that thick and white. And this is expensive! I like that it's all mineral and non-nano. I like the idea of including pro-niacin, but that's about it. I'm continuing my sunscreen search. LovelySkin Customer
Verified Purchase
My favorite physical SS thus far!
I had been a long time devotee of the Dermaquest Zinclear sunscreen, but it became increasingly difficult to find, so I began to look for other physical ss brands. So far, NIA24 is my favorite. The product definitely leaves more of a white cast than the Dermaquest SS; however, I'm quite fair-skinned, so it doesn't bother me once I put foundation on. The formula is cosmetically elegant and have not had any issues with clogging or breakouts since using it (about 3 weeks now). Definitely worth a try! LovelySkin Customer
Verified Purchase
So far so good
The first time I try it on, it did not work well. However, I've been using it for almost a month now. I like it. LovelySkin Customer
Verified Purchase
Great product
Great sunscreen, good smell and doesn't feel sticky on my face. LovelySkin Customer
Verified Purchase
Illuminating Sunscreen
I got this item as a Surprise Gift from LovelySkin and gave it to my 60-year-old mom to try. She loves the way it makes her skin more supple and radiant. It also sits well under makeup and gives her a dewy base. She recently asked me to repurchase the new tube for her, and I just fulfilled her request :) LovelySkin Customer
Verified Purchase
Meh
I love NIA24 products, but I'm not that crazy about their sunscreen. The reason I gave it 4 stars and not less is because of the physical sunscreen properties and the fact that it worked as a sunscreen. However, every time I applied this to my face, I looked like I was wearing a white mask–like a Kabuki actor. No matter how little I used, it just never seemed to get absorbed completely into my skin. LovelySkin Customer
Verified Purchase
NIA24 Sun Damage Prevention Mineral Sunblock
I purchased this sunblock to take with me on vacation. I like the pleasant smell, but wish it was more moisturizing. It does blend in and doesn't leave a white residue which is good. LovelySkin Customer
Verified Purchase
Gentle on my eyes, great on my skin
I'm crazy about this sunscreen. Been using it for about 5 years now. It's helped me keep my dark spots (melasma) from advancing and it feels wonderful on my skin. But the greatest selling point for me is that it doesn't sting my eyes when I'm out being active. On the occasion that I've used other facial sunscreens (like Neutrogena's Clear) my eyes have burned and can't stop tearing until I wash off the sunscreen. So . . . not really helpful. But the Nia24 has been wearable through biking and sweating it out while hiking or during hot days on a boat or at the beach. Love it. LovelySkin Customer
Verified Purchase
Ok but leaves a white film...
I love Nia 24 products however this is not one of them. I totally realize a mineral sunscreen might leave a white type film or coating and this definitely did. I felt like I rubbed it in pretty well but I still had a "white" look to me on my face which was completely different than the color of my skin on my neck (where I didn't put sunscreen) and it looked obvious. I'll still use this but probably only on days where I don't see a lot of people. I've used their other sunscreen, without the zinc oxide, and prefer that. LovelySkin Customer
Verified Purchase
Protects and improves skin
This product was first recommended to me by my Dermatologist to prevent sun spots. She also sold it in her office at a much higher price than LovelySkin. My complexion is fair and I apply this product first thing in the morning as a first line of defense against the suns harming rays. I have used this product for 2 years and will continue to use it. LovelySkin Customer
Verified Purchase
NIA24 Sun Damage Prevention
This is a great mineral moisturizing sunscreen for the face. Although my favorite mineral sunscreen is from "SkinCeuticals Physical Fusion UV Defense SPF 50" because of the universal tint. LovelySkin Customer
Verified Purchase
Great Sunscreen and More!
I can't imagine using anything else. Goes on easy, absorbs quickly and it works! No tan on face, neck or chest where ever I use it, I am protected. Best of all it is healing my skin as it protects. LovelySkin Customer
Verified Purchase
NIA Sun damage protection.
I love the texture of this product. It leaves a beautiful finish on your face and I only wear powder over it. I have blond hair and blue eyes and the sun is not my friend! I have confidence spending time outdoors as long as I''m wearing NIA Sun damage. I just follow the directions and have not had any problems all summer. LovelySkin Customer
Verified Purchase
Great Sunscreen
Very effective sunscreen which also leaves the skin feeling moisturized. LovelySkin Customer
Verified Purchase
NIA24 The Best Sunscreen
This is one of my favorite sunscreens now. I've purchased several different sunscreens prior to this one. I have extremely oily skin and this does not leave my face oily. This sunscreen is easy to rub into your skin. I've used several other sunscreens in the past and they smell like sunscreen. This one does not smell. It's a little on the pricey side but it's well worth it. You only need a little on your face. It's very lightweight, too. LovelySkin Customer
Verified Purchase
Amazing Sunscreen
I absolutely love this sunscreen! Its the first one Ive ever tried that is light and long lasting. It glides right on to my skin like a moisturizer. I can wear any sort of makeup on top of it. LovelySkin Customer
Verified Purchase