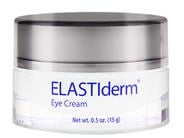 Reviews For
Obagi ELASTIderm Eye Cream
Nice eye cream
Not greasy which is a plus. Don't see changes yet but I do instantly hydrate the area when applied. The best.
Incredible Obagi, the best I've ever had. Your products are excellent, I really recommend them, they are the best. And LovelySkin the best place to buy. They are very friendly, efficient and have the best prices apart from the fast shipping. What more can you ask! VanesaB
Verified Purchase
Not impressed
I've been using a different eye cream for over a year and decided I would try something different. I decided to purchase the Obagi eye cream for a change. This cream has a weird smell and is making my eyes puffy in the morning when I wake up. I've also gotten a couple sore pimples on my eyelids. My wrinkles are much more prevalent too since switching to the obagi cream. I will not be purchasing again and will be going back to my other eye cream. LovelySkin Customer
Verified Purchase
Great product
It's pricey but a great eye cream. I've been using the Obagi line for almost two years. I'm turning 49 soon, and have very few fine lines. LovelySkin Customer
Verified Purchase
Hydrating Eye Cream
Great texture hydrating without feeling greasy. This is an amazing eye cream; will definitely be repurchasing it. Highly recommend. LovelySkin Customer
Verified Purchase
So far so good
This product is extremely moisturizing and I can already see the reduction of the dark circles under my eyes. LovelySkin Customer
Verified Purchase
LOVE!
Love this lightweight eye cream! Leaves skin under eyes looking soft and supple. MicheleP
Verified Purchase
Excellent Eye Cream
Love Obagi products. Have been using them for years. LovelySkin Customer
Verified Purchase
Obagi Elastiderm Eye Cream
I'm 63 years young & have been using Obagi Products for about 15 years. This eye cream is one of the best I have used. It gets rid of the puffiness, dark circles, and fine lines. I have been told many times that I still look like I did in my forties, and I have Obagi to thank!! Great product!! CGhouston
Verified Purchase
Won't buy again
I'm pretty disappointed after reading numerous reviews and figured I'd try out a new eye cream so bought this for the first time. The consistency is odd and more like applying a facial cleanser or moisturizer as it's very milky and there's no easy way to only dab a small amount around eyes. It's also a huge jar which will last a very long time, but not sure it works at all given consistency or how it stays on. Also too large if traveling to take with you. LovelySkin Customer
Verified Purchase
Not hypoallergenic
Good quality and texture. Goes smoothly on. Does not leak into eyes. Unfortunately it caused an allergic reaction. LovelySkin Customer
Verified Purchase
Ok eye cream
I received a sample that I loved -- it seemed more dense, a little thicker and more moisturizing, almost like a balm. But, this product doesn't seem as dense or moisturizing as the sample. I use it day and night, and it's fine. It absorbs easily and never irritates my eyes. But, it's not quite what I'd expected. I could use something a little heavier for the evenings. Light and non-greasy
I'm on my second bottle of this eye cream and I love it. It is very hydrating without being oily or greasy. It's very light to the touch and soaks immediately into the thin skin around my eyes. LovelySkin Customer
Verified Purchase
Love this!
I've been using for a couple years now and have noticed less lines and my under eyes don't look so sunken in anymore! Love this stuff! Good product
Only been using about a month or so, definitely seems to be minimizing fine lines. Leaves skin feeling soft and silky, nor greasy at all. A little goes a long way, so the price doesn't seem so bad, it should lay a long time! I will purchase again. Best eye cream
This is the best eye cream I have tried! Well worth the money and a little bit goes a long way. LovelySkin Customer
Verified Purchase
Obagi never disappoints
Like all other obagi products this is a great moisturizing eye cream . Mscactus
Verified Purchase
Well worth the gamble!
I've used Obagi for years; every morning and every night. I just turned 70 and I am always getting compliments on my complexion. I have been noticing wrinkles and darker skin tone around my eyes so I thought I'd splurge and try ELASTIderm eye cream. It's expensive yes, but you only use a tiny amount and it goes a long way. Well after 2 weeks I can see a dramatic difference. I can see improvements in the skin tone and color. Best eye cream I have ever used. LovelySkin Customer
Verified Purchase
Nice Cream
It blends nicely, not greasy but I don't really see a difference much. Maybe I haven't used it long enough or expecting more. Nonetheless, I'll use it till it's gone. Obagi Elastiderm is a winner!
I've been using Elastiderm faithfully for years now...and I credit it with keeping crow's feet, under-eye bags and sagging eyelids at bay! I'm a believer! I love applying it every morning and evening—its soothing formula feels like a spa for my eyes. LovelyLeslie
Verified Purchase
Overall loving this product so far
I've only been using it for about a month but so far I'm loving it. I haven't noticed a huge difference yet (only been a month) but I like Obagi products and will stick with it to hopefully see some results within the next 30-60 days. I like the cream texture and it absorbs well into my skin keeping it hydrated throughout the day and overnight. LovelySkin Customer
Verified Purchase
Awesome
Great cream, helps with dark under eye jbizzarri
Verified Purchase
really works!
This is great for minimizing fine wrinkles not only around eyes, but mouth also. LovelySkin Customer
Verified Purchase
Great Product!
It's really helped with fine lines. I love it. LovelySkin Customer
Verified Purchase
Elastiderm eye cream
I just started using this and so far so great! It softens the fine lines around the eyes. LovelySkin Customer
Verified Purchase