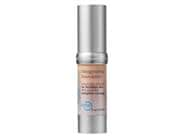 Reviews For
Oxygenetix Oxygenating Foundation
Like skin
Skin like coverage. It was more matte than I expected. I applied with my fingers like a cream instead of a brush or sponge. I'm 50 and the coverage is excellent and I love the skincare benefits. Daily Use
It feels great on my skin. You get protection and look nice it goes very easy on your skin. Covers well if you have any facial procedures done. LovelySkin Customer
Verified Purchase
Smooths on Nicely
Just purchased my first bottle. I'm 59 and have dry skin due to Colorado climate, so I use a lot of moisturizer on my face. This makeup goes on nicely and stays put throughout the day. Washes off easily at the end of the day. I still need to work on the right color for me. Almost Foundation Heaven!
I was SO very excited to try the Oxygenetix Oxygenating Foundation when I received my delivery! After researching foundations quite a bit, I felt like I had found my perfect foundation. Because my skin is extremely sensitive, I cannot use the majority of foundations/BB/CC creams on the market due to many of the ingredients including, but not limited to, chemical sunscreens and denatured alcohol. So when I first put this on, the foundation felt like foundation heaven! The formulation is literally perfect for my skin. In fact, I didn't feel like I was putting on makeup - it felt far more like a serum/moisturizer. So I was crushed to realize that the color was way too dark for me. Like many specialty/higher end foundations on the market - the color selection is very limited. (Why is this?) I am extremely fair with a cool undertone but the lightest shade in Oxygenetix' blue undertone shades was much too dark for me. For those who are more within the 'normal' skin tone categories, I think this foundation could be the ultimate for many! Oxygenetix Foundation by Jane Iredale
I really like this foundation. It goes on well, covers well, but feels very light!! It is also very good for my skin! Try it, you will like it!! LovelySkin Customer
Verified Purchase
Oxygenetix
Absolutely love this!! The coverage is amazing and I feel like not only does it not irritate my skin but it feels like it helps heal my sensitive skin! Haven't been able to use anything else since I tried this. LovelySkin Customer
Verified Purchase
Oxygenetix Foundation
I really enjoy using this foundation and love the fact that I don't need anything else with it! LovelySkin Customer
Verified Purchase
LOVE IT!!!
I bought the samples first so I could order the right color. I love it. So smooth and natural and helps with the redness. I know my skin is thriving instead of clogged pores. LovelySkin Customer
Verified Purchase
Best foundation for sensitive skin!
I heard about this foundation for a long time but never thought of trying it until now and I wish I had tried it sooner! It's the most amazing makeup product for me. I use mostly high-end makeup products that you can usually buy from Saks and nothing could compare to this foundation. It covers my redness but it doesn't look cakey on the skin. It looks like real skin. The only downside to this product is its shades and the small size but overall it's amazing! LovelySkin Customer
Verified Purchase
Amazing
Matched my skin perfectly and went on smoothly LovelySkin Customer
Verified Purchase
The best foundation
This is absolutely the best foundation I have ever used. It goes on smoothly - completely mistake proof and looks like skin only better. It lasts all day - it's amazing. Love it! skymom5
Verified Purchase
Nice foundation
The foundation spreads easily and I'm thrilled it's all natural and includes sunscreen Merrybee
Verified Purchase
Very drying and uncomfortable
I was very excited to try - to say the least. But my skin was much drier than usual with unsightly dry patches getting worse as the day went on. My skin felt tight and uncomfortable. This emphasized fine lines. In all other aspects I was unimpressed as well. Color runs a bit dark but it's ok. Coverage is also OK. But my combo skin did not like it - I don't understand the hype. earlyriser333
Verified Purchase
Coverage without clogging pores
Great foundation. Easy to build coverage without feeling like I am blocking pores and causing breakouts. LovelySkin Customer
Verified Purchase
Great product but...
My dermatologist recommended this product to me for my extra-sensitive skin and I really love the weightlessness of it as well as the excellent coverage. As well, it doesn't irritate my skin or make me breakout. However, I get frustrated every time I purchase it because, for the life of me, getting it to dispense properly just never happens! You have to pump it forever before it first comes out with a big blob. Then it is little tiny squirts that fly everywhere! I have tried storing it upside down, tried several times to block the opening and slowly pumping to get air bubbles out and still struggle. Now using cotton swabs to retrieve what I can each time so I can get ready without wasting time in the morning. Can they please make a better bottle so I can get it out? It's quite expensive for the little I get to use. Best Make up Ever
I have combo skin, oily t zone. This makeup goes on so smooth, light and has good coverage. I stopped wearing base until I tried this brand. Very impressed. The best product I've ever used on my face.
Blends perfectly with any moisturizer and sunscreen. Light on the skin, but with enough coverage to minimize redness or any blemishes. LovelySkin Customer
Verified Purchase
Oxygenetix Oxygenating Foundation
I love this makeup. It is light but covers well. My skin seems to have a slight glow. LovelySkin Customer
Verified Purchase
Breathable coverage
This foundation is light textured and looks natural finish. Not cakey looking at all. Your face can breathe. I would recommend it. Worth every penny
I really love it! This stuff stays put all day without creasing. It never breaks me out and feels great on. I even swim with it! Oxygenetix has a hefty price tag but after 2 years of use I an convinced there is no need to try anything else! I tend to mix colors between seasons but the beige is my go too. I am a white gal with medium skin tone that tans up easily. In winter I add a touch of pearl to the beige and in summer I sometimes add a bit of almond. I have waited for this product my whole life! clacouture
Verified Purchase
Kayleen
This foundation is great! It covers really good and it doesn't have a bad smell. I will continue to use this and recommend it to all my friends! LovelySkin Customer
Verified Purchase
The Best Foundation
This has been one of the best breathable foundations that I have ever used. I suffer from severe allergies and every makeup I have used in the past has caused me to breakout in hives. I thought I was not going to be able to use foundation again, until I tried Oxygenetix Oxygenating Foundation. I'm excited to say no breakouts while using this great foundation, I have been using this product for the past 3 years I will not change it or try anything else. LovelySkin Customer
Verified Purchase
Awesome coverage
I love it and will continue to purchase this product LovelySkin Customer
Verified Purchase
Oxygentix foundation
I have very sensitive skin that most foundations cause acne. This foundation has been great so far, and looks very skin like. LovelySkin Customer
Verified Purchase
Best foundation I've ever used
I've tried lots of high dollar foundations. I love this one. I get coverage but it still looks natural. And, it doesn't end up in my fine lines. JulieM57
Verified Purchase