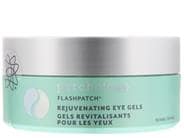 Reviews For
patchology FlashPatch Rejuvenating Eye Gels
Patchology eye
I love these! I keep the container in my skin refrigerator, use them every morning. They feel fantastic under my eye. I love them because you can put them on , and walk around or multi task. ....and they don't slide down your face. And, they wake your eyes up. Love them. Can't imagine a morning without them. LovelySkin Customer
Verified Purchase
Better than most eye gels.
These gels definitely reduce puffiness, brighten the eye area and aid in wrinkle prevention. They stay in place as long as you let your moisturizer dry before applying. I have been using every day for over a year and am very satisfied! Bizziel
Verified Purchase
Cooling patches
I love these eye patches. I keep them in the fridge for a nice cooling eye patch. They're definitely a luxury LovelySkin Customer
Verified Purchase
Best!!
Patchology eye gels are the best! That's it they really do get rid of puffy eyes!!! LovelySkin Customer
Verified Purchase
Top Eye Pads
I have been using these pads for a few years and they are my go-to eye pads, especially when my allergies are flaring up or I am very tired and have puffiness and fine lines under my eyes. I generally leave them on for far longer than recommended and love the results. Afterwards, my under-eyes area is smooth and looks amazing. I also appreciate that the eye gels come in a travel pack, as well. While I do not need them on a daily basis, I believe they can be used daily, if desired, because they are so gentle and non-drying. Irritated underyes
Wanted to love this but made my underyes burn so bad I had to throw it away. My skin is too sensitive I suppose. LovelySkin Customer
Verified Purchase
Very hydrating
I love these patches. They are great for the morning and provide a lot of moisture to your eye area. I like to leave them on for longer than 5 minutes for extra hydration. Arielle
Verified Purchase
Love these
I am hooked on these! They relieve puffy, tired eyes! Cool feeling and perfect moisture. Just got these today
I was so excited to receive these after reading the reviews and I used them right away. I was soooo disappointed. They are not moisturizing at all. They left my eye area very dry. Even after using the rest of the serum after taking them off. I had to immediately use eye cream to counteract the dryness. My under eye area is never dry to start with but this certainly dried them out. Very poor purchase for me. So sad after looking so forward to them. Catherine
Verified Purchase
My new favorite eye patches!
These are similar to the PTR patches but better and a little less expensive. They work fast so it's easy to incorporate into my morning routine. These are so fun!
Very hydrating and they feel like such a treat to use. I was using the single packs when I travel and decided to treat myself with the larger container. AmberJean
Verified Purchase
Part of my morning routine
Great way to start the day. The patches are refreshing and reduce the puffiness under my eyes. I am amazed! Gentle but effective
I have tried a lot of Korean / Japanese eye patches over years. I have very dry and sensitive under eyes skin. This is actually works very well. Non-irritated and it contains caffeine. Makes your eyes look fresh and young while deeply hydrates! Janlovesskincare
Verified Purchase
Great Patches
I love these patches. Immediate results but don't last long term
Great way to rehydrate the eye area but the effects don't last. rnmiles3
Verified Purchase
Leaves eyes refreshed
Love this product. Great for tired puffy eyes LovelySkin Customer
Verified Purchase
The best
One of the best products on the market. I use every morning and totally see a difference. I follow up with my eye cream. My morning is not complete if I don't use them. LovelySkin Customer
Verified Purchase
Patchology Eye Gels
These rejuvenating "eye patches" are placed under each lower lid and feel so soothing! I use the ones meant for daytime use almost every morning. They seem to lift my lower eye area, reducing bags and wrinkles. I first found them while in the higher altitude of Colorado when I saw that my eyes looked puffy. These feel great and really seem to help with puffiness and under eye laxity. LovelySkin Customer
Verified Purchase
Recharge tired eyes
These are a must to recharge tired eyes. I put them on while applying my eye makeup - this has the dual effect of plumping and hydrating the eye area while catching any eyeshadow from getting on my under eye area. LovelySkin Customer
Verified Purchase
Perfect for Sore Puffy Eyes!
I have struggled with finding products that help my tired, sore eyes. These feel so nice and cooling whether your troubles are caused by allergies, crying, or too many late nights out! I enjoy doing them on Sunday nights to mentally and physically prepare for the long work week. LovelySkin Customer
LovelySkin Employee
A refreshed look!
I love Patchology FlashPatch Eye Gels. After using the eye gels, my eyes look like I had a relaxing nap. I think I look rested, all my little lines are tightened up. LovelySkin Customer
Verified Purchase
Restful eyes
I have used many very good face mask sheets, when I just really needed something under my eyes. Love this product it is not greasy and does not break out sensitive eye area. Will purchase again! LovelySkin Customer
Verified Purchase
I am hooked on these
Puffiness gone! And they feel amazing. Highly recommend. Patchology eye patches
I have tried every patch on the market and this one is my favorite ever. All the product gets absorbed and nothing left on the pad. 👍👍👍👍👍 LovelySkin Customer
Verified Purchase
Great product
Wonderful, I use them on a daily basis. LovelySkin Customer
Verified Purchase