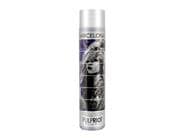 Reviews For
Pulp Riot BARCELONA Toning Shampoo - 10 oz
Excellent
I really liked the toning shampoo and the smell. Excellent product. Finally found one!
I finally found a toning shampoo that works! Worth every penny! LovelySkin Customer
Verified Purchase
Love this
I have tried other shampoos for my Silver hair, and none of them leave my hair with the finish that pulp routine does, I highly recommend this. LovelySkin Customer
Verified Purchase
Fantastic product
I have medium-brown hair with balayage and was left with a little more orange-y color in the transitions than I would have liked. This product has been super effective in toning down the brassiness in both the lighter and darker sections of my hair. Smells great, gets my hair clean, and leaves it looking and feeling fantastic. Couldn't ask for anything more. unmoored22
Verified Purchase
Nice product
Does a great job keeping the yellow out and great cleaning shampoo Pulp Riot Barcelona Toning Shampoo
I think its a great product! Love this product
I have silver hair and this shampoo keeps it beautiful in between touch ups. Kaity28
Verified Purchase
Goodbye yellow
I really like this shampoo. It's a bit thick so make sure your hair is plenty wet before applying. I leave it on for a few minutes and it really cuts through the brassy, yellow tones. I have fine, oily hair and it doesn't weigh it down or dry it out even with daily use. I use a good detailing conditioner for fine hair afterwards to help with tangles, as it's not too hydrating. It definitely will extend time between color appointments. Best toning shampoo purple riot
I have used so many purple toning products. Super pigmented you don't have to leave it in long. I'd you have platinum hair you can turn it lavender if you want. Mine stayed almost 2 weeks. My mom has silver hair and it also works for her too. I will never purchase another brand!! LadyPeavy
Verified Purchase
Thee best!
This shampoo is definitely the best, i leave it in for 5 min and that does it. I do this once a week and I have no yellowing. Texture is thick as well its just perfect definitely will keep purchasing. Mariaelena
Verified Purchase
Best for Blonde Hair
Takes away all the brassiness! White baby blonde hair weeks after your color appt. Live this product! LovelySkin Customer
Verified Purchase
Best Toning Shampoo I've Used
I love this shampoo! It can be a little drying if used every wash, but it is excellent at keeping brass tones at bay. If you leave it on for a long period of time (4+ minutes) it can give your hair a slight violet hue. LovelySkin Customer
Verified Purchase
Awesome color results!
My hair is bleached white. With all the red in my natural color I need help to neutralize yellow. This is the best shampoo for that. However, you'll need a very good conditioner...it will dry your hair. suzannebyrd
Verified Purchase
Works well, but drying
This product works well for my needs. I am brunette, and my hair goes brassy easily. I use this once every week or two to cut the reds, and it really works well. Only thing is, it is very drying. So on days I use this shampoo, I also do a heavy conditioner or hair mask. LovelySkin Customer
Verified Purchase
Lives up to the hype!
This certainly lives up to the hype. I read about it on a hair salon's Instagram and I'm so happy with the results. It really does tone my platinum blonde hair beautifully, and it also keeps it soft and moisturized (unlike other violet toning shampoos, which are generally very drying). I use it every other shampoo to maintain the cool platinum blonde shade. LOVE! LovelySkin Customer
Verified Purchase