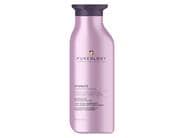 Reviews For
Pureology Hydrate Shampoo
104 Results
Favorite shampoo
I have been using this shampoo for many years! Smells good and cleans well. Lovely stuff!
I've used this forever.....I have heavy but fine textured very wavy red hair; it softens without weight and protects from UV light when I'm out on a run. Highly recommend! Great Product
This is the only product along with the Conditioner that doesn't dry my hair out. This was my first purchase from LovelySkin Products and I will definitely buy from them again. Ordering was easy and I had my product in a timely manner. Kimberlie
Verified Purchase
Little Bit Goes a Long Way
While this shampoo is considerably more expensive than I would normally pay, it is so concentrated it's like getting 3 bottles of shampoo. The product itself is very good. However, I do find that my hair is harder to comb even though I use conditioner and a spray detangler. Lindalee
Verified Purchase
Great Shampoo
My hair has been super tangled and extremely hard to comb through. After purchasing this shampoo it is super lathering (unlike any I had recently tried), and has helped my hair feel softer. Caityrose
Verified Purchase
Pureology Hydrate Conditioner
This conditioner is lovely - smells wonderful, tingles, and leaves your hair smelling fresh and feeling smooth. Very happy with this product and love the shampoo, too. LovelySkin Customer
Verified Purchase
Great for color treated hair
Color lasts longer. Leaves hair silky and shiny. LovelySkin Customer
Verified Purchase Good Shampoo
Good shampoo, thank you LovelySkin for having this brand. CustomerD
Verified Purchase
Best shampoo
This shampoo smells so wonderful and rich feeling Best on the market
I've used this shampoo for years with different conditioners. Sometimes I'll pair it with a volume conditioner or sometimes the hydrating conditioner. I do, on occasion try different shampoos, but always get the best results from this pureology hydrating shampoo. LovelySkin always has the best offers on this product line, so I wait to get it then. This is a keeper and won't disappoint! My Favorite Shampoo for Curly, Color Treated Hair
I'm very picky when it comes to shampoo. My stylist recommends this for curly and/or color treated hair and I won't use anything else. Gentle enough to keep me clean but not strip my color. BrookeS
Verified Purchase
Best Shampoo for Color Treated Hair!
Your hair will be shiny, manageable and this shampoo does not weigh down your hair. I have fine hair, and live part time in a dry climate and the other time in humid weather, depending on the time of year. Still love it! LovelySkin Customer
Verified Purchase
Great quality
Pureology works great for my hair. I also use the hydrate conditioner. VanessaL
Verified Purchase
Perfect for my color-treated hair
I get my hair dyed blonde every couple of months, and I find that I keep coming back to this shampoo after trying others, as it hydrates and keeps my color looking fresh. LovelySkin Customer
Verified Purchase
Great product for dry hair
Tried many shampoos over the years and my highlighted hair became extremely dry, Started using this upon recommendation by my sister-in-law, a professional hairdresser, and see a total difference. My hair is shiny and no longer dry, Favorite!
Leaves hair so soft, full, and smells amazing! Love the pure formula without sulfates. LovelySkin Customer
Verified Purchase
Pureology Hydrate Shampoo
This shampoo is very thick, rich. You really only need a little for phenomenal lather. I LOVE IT. Am going to try to order the conditioner now. Roguewoman
Verified Purchase
Best Shampoo
Pureology Hydrate shampoo is the only shampoo I use. I love it! My hair stylist loves it! It is a must use! My only shampoo
I have used pureology hydrate for many years. I have thick, wavy hair that gets frizzy easily. This has been a great shampoo- very hydrating & concentrated so you don't need to use a lot. great line of products
i love pureology - great for my curly/frizzy hair. this works really well and leaves your hair soft and tames frizz well. nice fragrance, too. i'd say the same thing for the conditioner. maryellenrn090
Verified Purchase
Best Shampoo
This is my all time favorite shampoo for color treated hair. I have tried other brands but always come back to this. It is pricey, but only a small amount is needed and having color treated hair I only wash it a couple times a week, so I find this does last me quite a long time. The smell is excellent as well. Great shampoo
Love the smell and leaves me a clean feeling LovelySkin Customer
Verified Purchase
Shampoo
I love this shampoo Worth the money
I was using this when I was highlighting my hair very often. I recently started again and after one wash my hair is so smooth! Definitely worth every penny!