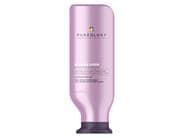 Reviews For
Pureology Hydrate Sheer Conditioner
The sheer is great for me
This conditioner in addition to the hydrate sheer shampoo works great for my thin hair. Provides hydration without weighing my hair down. I will definitely purchase again. LovelySkin Customer
Verified Purchase
Love this product
After using this product my hair has so much body and styles well. Will buy again. Excellent alternative to regular Pureology Hydrate
I have been using the regular Pureology Hydrate for probably close to 10 years. It has been my HG conditioner because it left my hair soft without feeling weighed down. It also beautifully releases tangles and my hair is very tangle-prone. However, I'm pushing 54 years old and I feel like my hair is starting to thin a bit so I wanted to try something that would give me some extra fullness. Decided to try the Pureology Hydrate Sheer and this product delivers! It offers all the positives of the regular Hydrate but gives your hair a bit of extra body. I really like it! sueeich
Verified Purchase
Love the Pureology Products!
I started using the Pureology products when they were recommended to me by my hair stylist. That was over 10 years ago! I absolutely will not use any other shampoo or conditioner. My hair tends to be dry mainly because I keep it highlighted. Not only does this conditioner make it silky smooth, I still have volume in my hair and it is not flat from too heavy conditioner. Love LovelySkin too... Great prices and they always send a sample or two in the package! Pureology Hydrate Shampoo
This is my primary shampoo. It is excellent for fine hair. It is a more delicate shampoo and does not dry out your hair. I also use the Hydrate conditioner. A little goes a long way. My only complaint with the Pureology products is the packaging. If you pour too much, you can not put it back. I decant mine. Just The Right Balance
Just added this great conditioner to my go to list. It is not heavy and does not weigh down the hair or make it too soft. I will buy this product again. pureology hydrate sheer conditioner
very pleased. nice scent and leaves hair very manageable. pureology is a great product. have used for years. mountainruthie
Verified Purchase
Great for Fine Hair
This conditioner is super light weight and works well on my fine hair. My hair is dry, from coloring, but my scalp is oily. I had tried many expensive conditioners that were just too heavy. The Pureology Hydrate Sheer products add life back to my dry hair but don't weigh it down. LovelySkin Customer
Verified Purchase
Everyday
Nice and lightweight, doesn't separate strands. Great conditioner!
This conditioner is great for hydration and has a wonderful invigorating scent! It doesn't weight down my hair. Favorite conditioner
You really can't wrong with this brand. Recently discovered this conditioner as before I use the regular hydrate and really liked it but I have fine hair so the sheer hydrate is just perfect! Khaleesi0202
Verified Purchase
Super product
Very rich and luxurious hydration. Need only a small amount for great results. Pureology Shampoo
Using two different Pureology shampoos and conditioners. This shampoo with the conditioner has really helped with my frizzy hair. I have a lot of gray hair, and it has made my life a bit less stressful. LovelySkin Customer
Verified Purchase
leaves hair soft
This conditioner works well for thin porous hair. It has a thin, lotion-like texture. It rinses out really easily. I was able to dry my hair very quickly. It left no residue, and hair was soft-almost too soft. I personally found the scent similar to the shampoo (kind of bergamot/eucalyptus/mens cologne type scent), but a bit more floral. The scent did not linger once I dried my hair. Nice Conditioned for Thin Hair
I use the shampoo that matches this conditioner and love it. It has a peppermint sensation and smell, but what I appreciate it is that it hydrates my dry, thin hair without weighing it down. LovelySkin Customer
Verified Purchase
Love my hair today
During and after using this conditioner, I felt immediate recovery on scalp and results where immediate, as I rinsed off my hair. I am very happy to have discovered this healer of a conditioner. LovelySkin Customer
Verified Purchase