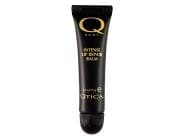 Reviews For
Qtica Intense Lip Therapy Balm
$12.00
48 Results
Lovely
Slightly minty/camphor like Carmex, but oh so luxurious! Leaves my lips with long lasting moisture. LovelySkin Customer
Verified Purchase
Excellent Product
I had chronic dry chapped lips due to medical issues where nothing was working. I had tried every balm on the planet until I bought this product. This product was emollient, hydrating and soothing. It made a huge difference on my lips within 2 nights of application. Admittedly, it did not instantaneously cure the chapped lips but it did provide much needed relief. I highly recommend this product for chapped lip sufferers or anyone who wants to maintain smooth hydrated lips. LovelySkin Customer
Verified Purchase
My forever go-to lip product!
I am borderline addicted to the Qtica Intense Lip Therapy Balm! My mom suggested it to me years ago, and I have never found anything that works better. I put it on at night before I go to bed, and it's still on in the morning. I also use it throughout the day if needed. I LOVE how it makes my lips feel, and I also think it makes my lips LOOK healthy and luscious! If it contained SPF it would literally be perfect! :) LovelySkin Customer
Verified Purchase
Does the Trick
This Lip Therapy Balm really works. It's so easy to use and keeps my lips moist at night. I can see a big improvement. No more chapped lips. LovelySkin Customer
Verified Purchase
Love this balm!!
Qtica is the best lip balm I've found and I've tried lots. I won't use anything else. LovelySkin Customer
Verified Purchase
hydrating
Super hydrating. Use every night before bed! great price LovelySkin Customer
Verified Purchase
Nourishing lip balm
I was expecting miracles based on rave reviews. The product is good, but not that different from any other balm I have. I use it at night - it's a bit heavy for daytime, and that's saying something - I have full, DRY lips! LovelySkin Customer
Verified Purchase
Found the best lip balm at last!
I've tried many, and Quita's the best. It simply out-softens all the rest! A perfect lip balm in an attractive tube that lasts and lasts. Relieves chapped lips after first use!
I've been having trouble finding a lip balm that works as well as my Epicuren lip balm I used to get from my facialist before she moved. This product is thick and optimal to use before bed, but I do use it during the day as well. My new go to lip balm. I leave one at home and one in my purse so I don't ever have to be without it. LovelySkin Customer
Verified Purchase
Great Lip Treatment
I've tried all types of lip treatments to use overnight to hydrate and plump, and this Qtica Lip Therapy Balm is THE best. It stays put and hydrates lips for hours. I have even started using it daily instead of lip stick for a healthy, minimalist look. I only wish they made a formula with SPF in it for daytime to protect the lips. LovelySkin Customer
Verified Purchase
Truly HG
I was in a dry, peeling lip crisis. I used all sorts of natural chapsticks, but they all seemed to dry out my lips more. So I ordered a bunch of things to try including Qtica, lanolips, FAB balm, Annemarie borlind. And Qtica was the winner. I still have to exfoliate, but I can put this on at night and lips are still hydrated and plump in the morning. When I run out, I am going to stock up!!! LovelySkin Customer
Verified Purchase
A saver
My lips have always neen dull and chapped.after using this product everything changed for the better. my lips are now silky smooth and healthier. Luv My Lips
Qtica Intense Lip Therapy Balm was recommended by a lady I just had met. I was putting on my Burts Bee gloss and was telling her how bad my lips were chapped. I have never had a problem with chapped lips. She told me to try the Otica and I bought one tube. I really like it. I keep it with me at all times. I will be ordering more soon. LovelySkin Customer
Verified Purchase
Very thick lip balm
This lip balm is very thick. I have a serious issue on chapped lip. This balm fixes it and the price tag makes it a winner! LovelySkin Customer
Verified Purchase
One of the best lipbalms Ive found so far
I really love this lipbalm. My boyfriend keeps taking my tube and Im going to have to buy him his own. Its thick but it soaks in quickly. It stays on all night. It doesnt have a funny smell. It keeps my lips well moisturized, even in a dry Montana summer. Only thing to keep in mind: no SPF in it, so its better for nighttime than daytime. LovelySkin Customer
Verified Purchase
Great product
I have very dry lips and this is the first product Ive used that actually delivers. I apply before I go to bed and I have noticed a huge difference in the way my lips feel...no more dryness. Im addicted!!! LovelySkin Customer
Verified Purchase
Good product needs better delivery system
This is really hard to get out of the tube. Feels great on your lips after you finally squeeze it out. It needs a better delivery system. LovelySkin Customer
Verified Purchase
My lips are much happier
This product contains lanolin and I have found that lanolin really works for me as a moisturizer. The lip balm hydrates and absorbs well on lips. My only problem is having to really squeeze the tube to get product out. It is somewhat thick but it works very well. LovelySkin Customer
Verified Purchase
Holy Grail of lip balms, hands down!
Since I started using this about 15 years ago I have never been without at least one as a backup!! There is nothing else out there that even comes close! I was introduced to it when I was living in Vail, CO and needed serious lip protection/moisturization due to the climate and my extremely active lifestyle in ALL types of weather conditions! This stuff STAYS PUT and works SOOO WELL!!! I get compliments on my lips all the time, and its always when Im wearing only THIS!!! Its a staple that Ill never be without!! snowfitness1
Verified Purchase
THE BEST
This intensive lip therapy is exceptional and one of the best lip softening and healing balms Ive ever used. In Arizona we have what is commonly referred to as a dry heat, and with humidity in the low single digits, lips can bear the brunt of that lack of moisture in the air. This lip therapy not only adds the right amount of moisture, but has also healed severely chapped lips due to this lack of humidity. LovelySkin Customer
Verified Purchase
Real Healing
This is the best lip balm I've ever used. Most lip balms I've tried seems to just coat the lips, and I had to re-apply over & over, none seemed to really heal or repair my severe chapped/dry lips. This one is very soothing and actually improves the condition of my lips after one use. I don't leave home without it! LovelySkin Customer
LovelySkin Employee
Good lip balm
I was out of town when the lip balm was received so I have been using it now for a few days. My lips are better. As this was one of the worst winters I can remember my skin including the lips were so dry. I tried a lot of products and none of the worked. In the few days I have been using it the lips have improved. LovelySkin Customer
Verified Purchase
The Best
Ive been using Q-tica Intensive lip Balm for at least 15 years. It was initially only sold in Salons or beauty supply & really hard to find. I used to live in the Northeast where lips regularly chap from the cold, but it is also great for the Southern California weather where we have dry sunny days. I use it both under & over lipsticks, too. It has healing properties and leaves your lips moisturized like no other lip balm I have tried. Anytime I have given it as a gift, the person I give it to becomes a loyal user as well! I have paid as much as $14.00 other stores so LovelySkin is offering this at a great value! LovelySkin Customer
Verified Purchase