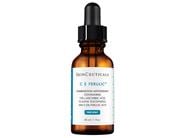 Reviews For
SkinCeuticals C E Ferulic Antioxidant Serum
$166.00
no visible results
I just finished my first bottle of this. I have read that Vitamin C is one of the few ingredients with real science behind it so I'm sure it was beneficial, but my own reality is that I saw no difference in the appearance of my skin. I already use a retinol 1.0 and moisturizer so I didn't expect a difference with fine lines like others experienced, but I had hoped for lightening of brown spots. At this price I like to see visible results so I think I will experiment with some other products. Sometimes perfect, sometimes not
Consistency is key when continually purchasing a product that cost this much money. Quality is important. This product does bring results and is high quality for the most part, my only concern is sometimes the color looks darker or the smell is stronger. Who knows. As long as LovelySkin will keep up their excellent customer service and replace when not up to normal standards, I will continue to purchase. It is just inconvenient at times due to the manufacturer, not LovelySkin. LovelySkin Customer
Verified Purchase
Skinceuticals CE Ferulic- may take a while to see a difference
I have used this for a couple of weeks. Not much has improved. Perhaps I should re-review this at 4-6 weeks. Any hoo- I am a retired physician that tries not to get drawn into a vortex of hype. That is why I avoided lots of other highly touted anti-aging products and chose this one instead. The science makes sense- Vit C, E, and Ferulic Acid from wheat, rice, fruits. However, I have seen no real changes. I thought the fine lines would improve and the vertical lines around the lips might soften. But has not happened yet. Will finish off this bottle and then decide if I will be a repeat user. When I read the reviews, I thought this was a no brainer but not really sure I can recommend it at this point. I gave it 3 stars because it seems to even out skin tone and help with minimal acne...but at a very high price. Wish it had been a real winner for me like it has been for so many others. LovelySkin Customer
Verified Purchase
A little to harsh for my skin
Dont plan to purchase again as it was slightly too harsh for my skin. I have sensitive skin and this product caused slight redness. LovelySkin Customer
Verified Purchase
Not yet sure
I see other people reporting what seems like immediate results. I have used one bottle so far and havent noticed results. I do like SkinCeuticals in general and will be trying another round. My aesthetician recommended this. LovelySkin Customer
Verified Purchase
C E Ferulic
I found the Obagi serum works better. CE Ferulic Review
My dermatologist recommended this product. I like what it does for my skin. I am not sure what it is supposed to do but my skin does look good. I use it on my face, neck and chest. I use it once in the morning, followed my a sunscreen. LovelySkin Customer
Verified Purchase