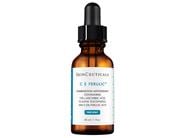 Reviews For
SkinCeuticals C E Ferulic Antioxidant Serum
$166.00
So Far, I Like It
Have been using the product for 2-3 weeks. I like the consistency of it, how quickly it absorbs, and the smell. A little goes a long way. I cannot yet see a noticeable difference. LovelySkin Customer
Verified Purchase
Expensive but no results
First, this is no irritating and no stinging, goes wonderful under makeup and leaves no stickie feeling and this is why I gave it 4 stars... But, couldn't see any results whatsoever after finishing half a bottle... also it's very weird that the color is yellow- because you can't really know if the vitamin c is oxidized or not... bottom line I would not buy this again for sure... Love it!
For years I used topical vitamin C. Recently, a dermatologist recommended that I switch to this product for daily use. It targets fine lines, discoloration, and helps to improve firmness. At 60, that sounds like the fountain of youth! Fragrance? Personally, I love it! When I mentioned that to my derm she agreed, and added that it reminds her of "hot dog water." LOL! I took off one star due to the high price. However, LovelySkin has promotions frequently which helps. Good product
Adds texture to aging skin Overall loving this product so far
I've only been using it for about a month but so far I'm loving it. My only complaint is the smell - it's pretty bad (like burnt hot dogs)! But once I put the rest of my products on, I can't smell it anymore so it's fine. Using this in combination with a few other new products I've incorporated recently, I have noticed an improvement in my skin. I will likely purchase it again once this bottle runs out! LovelySkin Customer
Verified Purchase
Seeing a difference in clarity of skin.
Being a Senior I have very different needs to address. Products that work when I invest my time in using them and my money is important to me. SkinCeuticals CE is a product I trust to deliver. LovelySkin Customer
Verified Purchase
Interesting
The smell is bad at first, but it does dissipate. I can't pinpoint what exactly it's doing, but my skin does look better overall. I have had a little trouble wearing makeup after application, but if you wait a few minutes before applying and use a rich moisturizer, my makeup seems to go on better. Expensive but worth it.
I've noticed my skin seems to be smoother and more clear after using this for several months. I'd give it 5 stars if it weren't so expensive. I can make it last longer by using it every other day. I love SkinCeuticals. LovelySkin Customer
Verified Purchase
C E Ferulic
I've been using this every morning after washing my face and before putting on my makeup- for about 5 months now. I don't know that I can tell a huge difference but my skin does seem to be more hydrated. SkinCeuticals C E Ferulic Antioxidant Serum
I have just begun to use this product, but SkinCeuticals is a very respected company, and I know of other users that think highly of their skin care products, and use this particular product themselves. Therefore, I have high hopes for a positive response as well. I have been very satisfied with LovelySkin when purchasing products. I always appreciate the discounts when offered, as well as the samples given, and the ability to earn points for future purchases. Thank you. Sharronsg
Verified Purchase
SKINCEUTICALS CE FERULIC
I have used this for several years and anytime I ask a dermatologist what is worth buying for aging skin, they suggest this product. It is pricey but I have not found any other product comparable to skinceuticals ce ferulic. Would love to hear from others if they have found something that is not as pricey but works as great as this one! LovelySkin Customer
Verified Purchase
recommended by dermatologist
I'm using this because my dermatologist recommends this almost as much as he recommends sunscreen, and he's not one to hawk products unnecessarily. To be honest, I have no idea if it is making a difference with the quality of my skin, but I am going to continue to use it based on his strong recommendation. skinconcerned
Verified Purchase
CE Ferulic
This serum feels amazing as soon as you smooth it on. It's so soft and feels like it really is reaching deep into the skin. However, some folks say to use it only at night while others advise first thing in the morning after cleansing. So which is it? I also think the price is really high especially compared with other brands with the same strength. LovelySkin Customer
Verified Purchase
Keeps skin clear
I've only used for a few weeks but appears to keep my skin clear. Waiting to see if it also tightens pores and skin. LovelySkin Customer
Verified Purchase
Always the best
Best form of stable Vitamin C and absorbs well. Has a slight/odd smell but this is one of the best Vit C serums out there. It is so darn expensive though...but if it wards off/delays any skin procedures I suppose it's worth it. LovelySkin Customer
Verified Purchase
Best serum
I absolutely love this. Eliminates scars and gives even tone. I only offered 4 stars because of the scent. It is distracting. LovelySkin Customer
Verified Purchase
Skin Tightening
I have been using this product for about three weeks and have really enjoyed the way it makes my face look. I don't wear make-up so put this on over my moisturizer and it tightens everything right up. LovelySkin Customer
Verified Purchase
Good product!
I do notice a difference in my skin that is positive. Somehow it leaked in the package so I lost a bunch (what a mess ). But I would order again... Joni7310
Verified Purchase
C Serum Review
Product smell isn't pleasant, but beyond that it's a great product. LovelySkin Customer
Verified Purchase
Skin feels smoother
Pros: - skin feels smoother - a little goes a long way Cons: - I don't see a difference in how my skin looks - I don't like the way it applies - quickly dries - my face seems oily throughout the day even though I have dry skin LovelySkin Customer
Verified Purchase
Good serum
I've always wanted to try this as it is recommended all the time. It is nice and light. I've heard people complain about the scent but it doesn't bother me. It goes away quickly. So far I like it. Happychik
Verified Purchase
Jcap
I love the way this brightens up my face. I can see a difference after one use. The only reason I didn't give it five stars is because if I use this before make-up, it makes my foundation "roll up and ball" on my skin. Then I have to try and remove all the little balls on my face! Does this happen to anyone else?? Expensive but worth it.
I've been using this products for years. I use them along with the SkinCeuticals A.G.E. Eye Cream Complex and the A.G.E. Interrupter Corrective Wrinkle Cream. I originally bought all three products as the Anti Aging Kit and it worked so well, I look for sales whenever they come up (which is rarely). I'm 50 and it cleared up my skin a bit and lightened age spots. Kept my wrinkles at bay. LovelySkin Customer
Verified Purchase
skin ceuticals ce ferulic
skin ceuticals products - ilike the ce ferulic serum very much the only thing is when you first open the bottle the serum is allready yellow with in a few weeks it is a very dark yellow makes you think it is allready bad neelarose
Verified Purchase
Great C & E
I have been using this for years but not consistantly, so it's mabe 3-4 x per week. I am going to be more diligent and see if I can get better results. My skin care consultant says it's the best. LovelySkin Customer
Verified Purchase