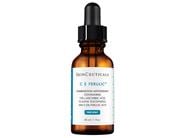 Reviews For
SkinCeuticals C E Ferulic Antioxidant Serum
$166.00
1,266 Results
Best Results I've Seen Of Any Product...
...And I've tried plenty of them. This product was recommended to me by my aesthetician after a routine facial and I was willing to give it a try. Very good results observed in terms of clarity and overall appearance of my skin tone. I have mild to moderate hyperpigmentation and my face was looking a little dull. I have seen positive results on both. The product is a little expensive but it lasts quite a while so worth the investment. LovelySkin Customer
Verified Purchase
Brighter Complexion
I have been using this SkinCeuticals Serum daily for 3 weeks now. So far I am loving it and have already noticed a brighter, clearer looking complexion. I am excited to see the effects after a longer period of time. LovelySkin Customer
Verified Purchase
Great Serum
I've only used this product for a few weeks, but I love how soft my face is Steadygal
Verified Purchase
Excellent product
I got a small sample of this from LovelySkin during my other purchases. Tried it and was felt good and so I purchased one bottle for my mom, as I am used to Dr. Obagi Vitamin C. My mom seems to be very happy with this product and wants me to buy one more bottle for her. LovelySkin Customer
Verified Purchase
Worth it
I had been eyeing this product for a while and finally took the plunge. The bottle will likely last me 5-6 months. Worth it. LovelySkin Customer
Verified Purchase
Changed my skin
I'm so impressed with this and wish I got it sooner. Gives me the post facial glow on a daily basis. Worth every penny. LovelySkin Customer
Verified Purchase
Makes a difference
I received a sample of this, and as soon as I started using it, I got comments about how great my skin looked. I had done nothing different other than add this to my regimen of SkinCeuticals products. Not sure how it does it, but clearly, it's making a positive difference in my skin's appearance. LovelySkin Customer
Verified Purchase
Good
Work well on my skin Not great for oily skin
As I'm sure many of you out there, I have been trying new skin products since March. This serum being one of them. I can say I have noticed an improvement in my skin and feel very comfortable not wearing makeup thanks to this product. Definitely improved any fine lines or wrinkles and my complexion looks great. The reason why I gave it 2 stars is because I have had an unusual increase in the amount of blackheads on my forehead and cheeks. To the point where they hardened and my esthetician could barely extract them. Come to find out this serum (vitamin E especially) isn't great for oily skin :( I stopped using the product immediately and no more blackheads. Sad I can't use it but will be on the hunt for another great serum from Skinceuticals. I may have missed something in the description of this product but it should clearly state what kind of skin this product works best with. Kriss2clark
Verified Purchase
After hearing a lot of hype, I purchased it.
The first product I use when I wake up in the morning after cleansing. I believe it's most important to combat signs of aging and protect against environmental damage. It is quickly absorbed and brightens my skin's complexion. To keep its full potency to the end of the bottle, I keep it in the box it comes in & store it out of the sunlight in my cabinet. Pricey but worth it! cnotelynn
Verified Purchase
My favorite anti-oxidant serum
I love this product. This little bottle lasts a long time using just a few drops for complete coverage especially if applied after a light spray of peptide toner. I use it every day and sometimes at night. It is the first product I apply and I let it sit for a minute before layering on my other daytime skin products. Be sure to use sunscreen at the end. Juniper
Verified Purchase
Good product
Adds texture to aging skin Great serum
Been using this product for a couple of years. I feel it does a good job. LovelySkin Customer
Verified Purchase
Great Produce
I have been using SkinCeuticals C E Ferulic for years. I really like the improvement it gives. LovelySkin Customer
Verified Purchase
Brighten & Lighten
Been using this serum in combination with other Skinceuticals and it does work! It takes a good two weeks to see solid improvement of hyperpigmentation. On my third bottle! Skinfocus
Verified Purchase
Overall loving this product so far
I've only been using it for about a month but so far I'm loving it. My only complaint is the smell - it's pretty bad (like burnt hot dogs)! But once I put the rest of my products on, I can't smell it anymore so it's fine. Using this in combination with a few other new products I've incorporated recently, I have noticed an improvement in my skin. I will likely purchase it again once this bottle runs out! LovelySkin Customer
Verified Purchase
Great for anti aging
I use that product for microneedling. It works great to reduce fine lines and wrinkles. SkincareVera
Verified Purchase
Seeing a difference in clarity of skin.
Being a Senior I have very different needs to address. Products that work when I invest my time in using them and my money is important to me. SkinCeuticals CE is a product I trust to deliver. LovelySkin Customer
Verified Purchase
Outstanding Serum
This is a very effective serum. My skin glows and feels so smooth. LovelySkin Customer
Verified Purchase
Must have for aging skin
The difference this makes in your skin is pretty significant. Because of the cost I have found myself trying not to use it. But always come back because a few months not using it, I can notice my skin get dull and old. It brightens up my skin and even seems to help the red tones. Jenlovelyskin
Verified Purchase
Favorite vitamin C serum
I love the way this serum has helped my skin look more radiant. LovelySkin Customer
Verified Purchase
Love this stuff
I know it's a little pricey... but I have tried other vitamin C serums and I just always love this one. My face feels smooth and completion brighter. LovelySkin Customer
Verified Purchase
Totally Works on Wrinkles
This stuff really works on wrinkles and prevents them coming. I apply all over face and around under eyes (not on eyelids) daily. No crows feet, while friends have them. Even when I get facials the esthetician, ask what I use. LovelySkin Customer
Verified Purchase
Holy grail
I've used vitamin C for over 15 years and I always come back to Skinceuticals. There just isn't a dupe on the market that gives the same results. Formulation is key and there's definitely more to a product than just an ingredients list. This is my one luxury product and it's worth every penny. LovelySkin Customer
Verified Purchase
Wonderful
This product has plumped my fine lines in a week and gives a nice glow behind. LovelySkin Customer
Verified Purchase