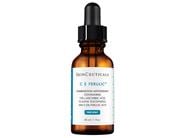 Reviews For
SkinCeuticals C E Ferulic Antioxidant Serum
$166.00
Not so great!
I am super underwhelmed by this product, after all the amazing reviews I read. It does smell like hotdogs, but I was willing to overlook this, if it truly did what it was touted to do! I took before and after shots after using for over a month, and I looked exactly the same. :( Not worth the big bucks! LovelyLeslie
Verified Purchase
Do NOT waste your money
Look for another option because this only has 15% Vitamin C. I bought Eva Naturals with 20% Vitamin C and paid around $30 (don't remember the exact price but less than $40). This product also includes 5% Hyauronic Acid, 2% Rentinol, 3.5% Niacioamaids and 10% MSM. Works just as good probably better due to 20% C and Rentinol. I stopped buying these products years ago and my face is great for my age. Buy Smart, High Cost Brands rip people off. HORRIBLE SMELLING PRODUCT
HORRIBLE SMELL! I am shocked at how bad this smells. How is it no one mentions this? I opened it as soon as I got it - it has not been sitting around and the very first time I used it - it stunk! It smells like ham - it's like rubbing ham on my face. If it wasn't so expensive - I would have thrown it right into the trash. I am using it since it's soooo pricey but never again. It stinks so bad that I have to wash my hands 2x with rose scented soap to get the smell out of my hands. I have to put on a nice smelling moisturizer, foundation primer, and foundation to mask the smell on my face. I could never just wear it alone - it is HORRIBLE. The worst smelling skin product I have ever used and I have tried a lot! Never again- the worst product I have ever used. hate it, hate it, hate it. LovelySkin Customer
Verified Purchase
honest review
This product seriously smelled horrible. It smelled like hot dog grease. Not impressed and overpriced. LovelySkin Customer
Verified Purchase
SkinCeuticals CE Ferulic
My dermatologist suggested I use SkinCeuticals CE Ferulic in the morning. I tried it for 10 days and my face was so dry it actually became tender. I stopped using it and my face has recovered. I will begin again starting with every other day and work up to daily if my skin is happy. It may be too really to rate this product because I may need to ease into it a little more slowly. LovelySkin Customer
Verified Purchase
Not impressed.
As I said in my first review was not too impressed with product. Product had a awful smell to it as well! All the results by using this product that were written and stated I did NOT by any means see those results while using it well over 4.5 weeks. For that amount of money invested in this product (which I don't mind at all paying for a great product) did not exceed expectations or what was quoted in the results. LovelySkin Customer
Verified Purchase
Whats all the fuss about
I ordered this based on the wonderful reviews. In all honesty, I dont think I needed it. For one, its waaaay to heavy for my acne-prone skin. It smells like hotdogs-seriously! This did absolutely nothing for my face, except clog my pores and make me breakout. Really sad because it was sooo expensive. :( Too Drying
I wanted this product to work, I love SkinCeuticals products. My skin is EXTREMLEY dry to start with. I have tried SkinCeuticals C E Ferulic serum several times. Consistently showing the same results for me. It was extremely drying to my skin. It caused 1 or 2 clogged pores, pimples under my skin, that left painful red bumps on my face..Never coming to the surface but fading over time. There are several products on the market that have the same effect on my skin type. I am not sure what ingredient in the products causes this issue for me. I love SkinCeuticals products. I have not read any other adverse reactions to this product besides my own. Will keep using SkinCeuticals, they are amazing with great results. I just cant use this product which is fine. Just wanted to put it out there to let you know love the brand but this didnt work for me. Dont give up on this company if its your first experience. There products are amazing and have transformed my middle age skin. I am told all the time that I look like I am between 28-32. I am almost 50. A big mistake
This product ravaged my acne-prone skin. This is partly my fault. SkinCeuticals does not recommend this for acne sufferers. I found this out too late. There are other Vitamin-C serums they have that are gentle for acne-prone skin. laureth-23 is a highly comedogenic ingredient. Even though it's been about 2 months since I've stopped using this, I still have terrible acne. I saw no benefits otherwise from using this. It does dry your skin out, so you need to top it off with a moisturizer.