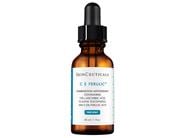 Reviews For
SkinCeuticals C E Ferulic Antioxidant Serum
$166.00
35 y/o, fair skin with freckles
I have been a fan of skinceuticals for the past 12 years. Now that I'm starting to do preventative injections and other treatments for my skin as it ages, I thought I would try this skincare favorite. I really couldn't tell any difference in my skin from when I started using it to the last drop. I've also tried the C+AHA serum and thought the same thing. Maybe my skin is still young enough to not really see noticeable differences and it's a product that I will come back to. Not worth the money
The C E Ferulic was ok. My skin felt smooth and plump directly after application but after 3 months of use, I saw no improvement in my skin texture and no skin glow. I purchased this because I have melasma and combination skin and was informed this could improve both....it did not in my experience. SarahSlayton325
Verified Purchase
Bought 2weeks ago
Still not sure if I see any results. Have not used the product that long. No Difference So Far
I tried this serum based on the ratings. Have used a different brand that seems a bit aggressive for my skin. This one is ok. I see nothing special about this one, especially for the high price. I don't mind spending the money IF it works. Been using it for about one month. Maybe it takes longer to see results...? Will not purchase again. FunAtHome
Verified Purchase
Good serum, but resulted in a lot of peeling
This is a good serum and I was recommended it by my dermatologist. Something I think that needs to be pointed out is that depending on your skin type it can result in quite a bit of peeling when first using it. LovelySkin Customer
Verified Purchase
Good quality
Makes my skin feel better and smoother LovelySkin Customer
Verified Purchase
The Jury is still out.
I ordered the serum because of all the great reviews and recommendations. I have been using it for three months. I will continue to use the rest of the bottle in hopes that the vitamins are helping even though I do not see a noticeable difference in my skin. I was disappointed that it's a liquid as opposed to gel. It's difficult to apply the liquid with a dropper. Most of it ends up running down your fingers or absorbing into your hands. There is a slight earthy smell to it but it's not bad. I'll keep an eye out for another vitamin C E serum that's at a better price point. Performs well but wish it were cheaper
For the price tag, I'm not quite seeing the results I was hoping for. Performs well, but I have had other products that are much cheaper that give similar results. Not worth money
Not worth money Not the results I was looking for
As someone who invests a lot time, effort and money into skin care, I was really excited about trying this product. I've read so much research on anti-aging options and this product was always at the top of the list. When I first tried it, the smell was a bit harsh and intense. That however wasn't too big of an issue for me as the smell wasn't the purpose for using it, so I push forward. However, after I used it I ended up with black heads all over my face. When I would skip days of using the serum the black heads were gone. I'd use the product again and the black heads returned. I tried exfoliating first and that didn't help either. Needless to say I, I won't be using this serum any more. LovelySkin Customer
Verified Purchase
Doesn't smell great
I really wanted to love this product. I don't have anything negative to say about how it works, but I'm really sensitive to smells, and this product smells terrible to me. My husband even noticed when I used it because my face smelled bad. Sadly, I won't be ordering again. Disappointed
I wanted to love it, since there are so many good reviews about how amazing it is. But, it made my skin darker and irritated my sensitive skin. It took a few weeks, and finally, my skin healed and is back to normal. Now, I ordered a different brand that use THDA, which is a more gentle and stable vitamin C. LovelySkin Customer
Verified Purchase
Too drying
This product has great reviews, and I was excited to try it. It unfortunately didn't work for me, as it was too drying. I had previously used Sunday Riley CEO and just wanted to try something different for a bit, so maybe I had become used to the moisturizing nature of CEO. After applying the SkinCeuticals, It took 3 moisturizers for my skin to feel normal again. It might be right for another person, so give it a try. It just didn't work for me. LovelySkin Customer
Verified Purchase
The jury is still out . . .
Seems to have helped a bit. Post-acne marks lightening some, but not as quickly as I had hoped. The good news is there are no negative side effects when I use this daily in the morning with H.A. Intensifier. I have used other vitamin C products that were too harsh and/or made me break out. See no difference
I have been using this product consistently for over a year and I see no difference! Zero. LovelySkin Customer
Verified Purchase
NOT GOOD WITH MAKEUP
Although I love the overall benefits and results you get, it does not work well under makeup and tends to make skin oily. I feel it would be a better night time product than daytime but need to protect and fight against the free radicals during the day. LovelySkin Customer
Verified Purchase
SkinCeuticals is amazing
I think this brand of medical grade skin care is generally excellent. I started using it about 2 months ago. The CE Ferulic is a new one for me, so I have to say it's really too soon to know how effective it is. But I do think that short of seeing a dermatologist for laser treatments, these products are the best. The only negative for this particular serum is the smell is quite unpleasant. I don't understand why it has to smell bad. I'm sensitive to smells, and literally have to hold my nose when I apply this. I've used other SkinCeuticals serums, and they do not smell bad, or have any odor at all. LovelySkin Customer
Verified Purchase
It's just ok in my opinion
This is not my favorite vitamin C and E product. It's ok, but I don't love it and probably won't buy it again. LovelySkin Customer
Verified Purchase
Great Vitamin C product?
I know this is supposed to be the best vitamin C product on the market, but the high price tag and hot dog scent make it tough to tolerate. LovelySkin Customer
Verified Purchase
SkinCeuticals C E Ferulic
I find this product hard to use. The directions say that 3-5 drops of it should cover your entire face and neck. However, as soon as you begin to apply it, it dries up before you can distribute it. ejanebutacher
Verified Purchase
It is ok
I have only been using this for a few days now...can't really say whether or not it is going to work that well. I have not noticed any change in my skin as of now. LovelySkin Customer
Verified Purchase
Skin brightened but no use on sun spots
I have been using this product for almost 3 months - daily in the morning. So far I haven't seen any improvement in the brown spots but my skin is brighter. Also, I prefer a non-dropper delivery bottle. LovelySkin Customer
Verified Purchase
Meh
I can't tell any difference between using this product and not using this product. My dermatologist recommended it but so far I have just had a few breakouts since using it. I am hoping once my skin adapts to the product it will make a difference but currently I think I will return to my former skin regimen once this product runs out. LovelySkin Customer
Verified Purchase
not so great
I did not find that this product was so great. it's ok, but still not worth the money LovelySkin Customer
Verified Purchase
Irritating
I've heard so many good things about this product. My dermatologist recommended it and I've seen it featured in many magazines. So, I was disappointed when I tried it and it irritated my skin. I broke out in small red bumps, which I guess is a reaction some people have to vitamin C. I've been able to use it on my neck/chest without problems, so I'll just finish off the bottle that way. Speaking of the bottle, I hate the dropper. I knocked it over by accident and half the bottle spilled onto my floor (about $50 of product). LovelySkin Customer
Verified Purchase