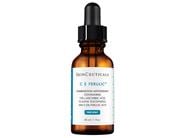 Reviews For
SkinCeuticals C E Ferulic Antioxidant Serum
$166.00
Not great for oily skin
As I'm sure many of you out there, I have been trying new skin products since March. This serum being one of them. I can say I have noticed an improvement in my skin and feel very comfortable not wearing makeup thanks to this product. Definitely improved any fine lines or wrinkles and my complexion looks great. The reason why I gave it 2 stars is because I have had an unusual increase in the amount of blackheads on my forehead and cheeks. To the point where they hardened and my esthetician could barely extract them. Come to find out this serum (vitamin E especially) isn't great for oily skin :( I stopped using the product immediately and no more blackheads. Sad I can't use it but will be on the hunt for another great serum from Skinceuticals. I may have missed something in the description of this product but it should clearly state what kind of skin this product works best with. Kriss2clark
Verified Purchase
Unpleasant smell
I am sure this product works well. However, it smells like bacon. It is a highly rated product on almost every website that reviews the best Vitamin C serums. I am surprised that people have not mentioned the unpleasant smell. I will not purchase again. SkinCeuticals C E Ferulic
I wanted to love this product but, unfortunately, it was making my skin very greasy and causing the worst breakouts of my life - definitely not for acne prone skin - even if you just get occasional pimples. Will be looking into Pholorectin CF next time - hoping for a better outcome and smell! LovelySkin Customer
Verified Purchase
Ouch!
I was so excited to try SkinCeuticals C E Ferulic. I have sensitive skin, so I started slowly by applying every 3 days for 2 weeks, then tried every other day. No luck. The extreme burning was more than I could endure. This might be great for someone else, but sadly I had to return. LovelySkin Customer
Verified Purchase
Don''t really understand the hype
The good - smells nice (to me, but I like medicinal smells), goes on smoothly and is chock full of vitamins and stuff that's supposed to be good for your skin. But..I don't really notice any difference in my skin after over a month of use. It's pricey for something that doesn't offer noticeable results. Only thing I really did notice is that it made my skin flush and feel sensitive. LovelySkin Customer
Verified Purchase
Caused Breakouts/ no changed in red marks and discoloration
I had high hopes for this after reading its claims and reviews. I started breaking out on my jawline and chin area after two weeks. Dont understand what caused the breakouts as it states it has no parabens and irritants and good for acne prone skin. I will just use it on my forehead and undereyes now. My main reason of buying this was to get rid of discoloration and redness caused by acne. Unfortunately, this hasnt changed at all after 2 months of continuous using. I dont have fine lines or wrinkles yet so I cant comment on that. Will not buy again. LovelySkin Customer
Verified Purchase