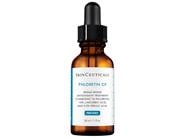 Reviews For
SkinCeuticals Phloretin CF Antioxidant Serum
$166.00
Best Vitamin C
Omg! Literally the best! My skin looked so much brighter after 3 days of using this! Love!
I use this daily and have noticed improvement in discoloration and skin appearance. I will buy again! LovelySkin Customer
Verified Purchase
Good product
My skin loves this serum laceemb
Verified Purchase
With the money.
I was skeptical at first whether a single product would be worth the price, as the bottle is very small. However, the application dropper allows for exact amounts of only a few drops for each application. I use daily as a part of skincare routine, and have definitely noticed an improvement in the texture of my skin, particularly in regards to dark patches that are difficult to fade. Love that it offers free radical protection and helps to discourage the return of darkened areas. LovelySkin Customer
Verified Purchase
Fantastic! Great lightweight hydration!
I love this for nourishing my skin, super great lightweight hydration! SunshineRose
Verified Purchase
Glad I switched
My dermatologist suggested I switch to this product from the CE Fueric. I'm so glad I did! After only a couple weeks of use I can already tell a difference in the evenness of my skin. The sun damage appears lighter and will definitely be preferring this again! Great product
I have sensitive skin that is prone to breakouts and this has worked wonders. Used it in place of SkinCeuticals CE Ferulic. LovelySkin Customer
Verified Purchase
Effective
I ordered this to deal with hyperpigmentation. I had disappointing results with a hydroquinone product and was also concerned about safety. The price was what had prevented me from ordering earlier but I finally decided to try it and wow I am impressed. Even after 1 week I started to see improvement in dark spots and sun damage. I did not think the smell was bad as noted by other reviewers. This product will be permanent part of my regimen. Also LovelySkin customer service was very helpful in helping me choose between this and the CE Ferulic. LovelySkin Customer
Verified Purchase
Huge changes!
Consistency is key! I was using it for 3 months before I saw results, but I started getting compliments and I've been hooked now for years. I've tried other antioxidants but keep coming back to this one because it works. It's my one product I don't go without, and this one doesn't break me out (the C E Ferulic did cause clogged pores, and this one didn't for me). Clearer, brighter, and fresher looking skin! Not good
I didn't like this! It started making my skin itch. LovelySkin Customer
Verified Purchase
Great product
I love how this product makes my skin feel—very refreshing! I use it religiously once a day and my skin is very happy. LovelySkin Customer
Verified Purchase
Great stuff
Well, I don't know what Id look like without it, but with it I am very happy. Great company. Marchhare
Verified Purchase
Love this serum
No oily greasy feeling like their other serum and my face doesn't break out. Definitely see a difference in brightness. 2 weeks in. Best Vitamin C for oily/acne prone skin
I always restock this vitamin C! It works great/you don't break out! Works really well! LovelySkin Customer
Verified Purchase
So far I am impressed
I love how easily it absorbs into my skin. Although it has been only a week using it, I have found differences in my face; mainly brightening. No breakouts or harsh reaction to it. I will keep using :) PriscillaA
Verified Purchase
Not for Combination Skin
I'm sure this is a quality product but not for combination skin as advertised on the packaging. It made my skin so oily that it was embarrassing. This product is too expensive for this result. I'm exasperated.... LovelySkin Customer
Verified Purchase
The best!
This is the product that I will keep buying. The smell is a drawback but the results are worth holding your breath for a few seconds. This works great
I started using this product earlier this year, and what a difference it makes. It was recommended by my dermatologist to help fight skin discoloration. Works great!! abirdy60
Verified Purchase
Absolutely one of my favorite products!
This is one of my favorite products. I has helped me tremendously with my dark spots. I highly recommend it. LovelySkin Customer
Verified Purchase
Great Stuff
I always come back to this product. It works great and the results are real! blissjoylove
Verified Purchase
Excellent
Excellent. It has improved my complexion a lot. I recommend it. Phloretin CF Antioxidant Serum
This serum was recommended by my esthetician in place of C E Ferulic. So far the consistency is much better for my oily skin. The scent is a little softer too! LovelySkin Customer
Verified Purchase
Love it
I try to never go without this product. Been using for 3-4 years now. I use it as a part of my sun protection routine. My skin seems to tolerate sun much better (less redness) if i have been routinely using. I'm from a very hot state and anything we can do to reduce sun damage is a big deal. Excellent serum
Love this serum to help keep my skin clear and healthy. A holy grail product for me, and I will continue to use! LovelySkin Customer
Verified Purchase
waooo
This actually works..my dark spots are fading!!!!