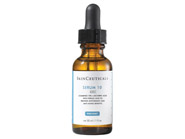 Write a Review - Receive 50 Rewards Points!
Tell us your thoughts about SkinCeuticals Serum 10 AOX+ so we can help you find the right products. With your review, you'll also receive 50 Rewards Points. Please note that it may take up to 72 hours for a review to appear on site. All reviews are subject to moderator approval.
Write a Review
17 Results
Good stuff!
I like this formula as it is lighter and easier on my sensitive skin. I have less clogged pores and blemishes with this product than with the higher concentrations - an added bonus is the lower price! It leaves my skin with a more youthful glow.
Nothing noticeable, but could be concentration
This product may work better at a higher concentration. I started with 10 AOX as this is my first time using a daily serum. I use retin A every other day and my skin may already be maxed on cell turnover. I am willing to try the next highest concentration as I do believe there are benefits to this product.
Skin Glows
I used to used the C & E Ferulic serum until the pricing became too high to justify purchasing. However, after I stopped using it consistently for a number of years, I realized that product had been the culprit in causing me to break out. Now, years later I decided to give this AOX+ version a try, and I like how my skin glows - with no break outs. The lower concentration of Vitamin C works well for me.
impractical packaging but great serum
I wish SkinCeuticals would change the package to an airless container. I get that the dropper bottle feels "science-y" but in actuality it is impractical to allow the active to be exposed to so much air with every use. I occasionally try other vitamin C serums but I always come back to this one because it seems like it is the most noticeably effective (despite my issues with the bottle). In addition to the benefits of the active, this serum is wonderfully hydrating and gives my skin such a nice glow after application.
Really love this!
As the title states, I really LOVE this product. I'm 32, and have sensitive, dry, acneic skin and this doesn't irritate my skin or cause breakouts. I think Vitamin C is incredible for everyone (unless your skin doesn't fare well with it). Skinceuticals makes the absolute best C serums in my opinion. This one is priced very well, very lightweight, no funky smell. It's truly just a great product! I think it's a great way to introduce Vitamin C into your routine, and just great in general for people with acne/sensitive skin. A+++ in my book! And thanks LovelySkin for offering great prices :)
Effective Vitamin C
After some research, decided to return to SkinCeuticals 10% Vitamin C. Although I had been using a 7% Vitamin C product, the AOX10 did have a "stinging" sensation upon my first few applications. The sensation quickly dissipated, so I waited 10 minutes to apply a sodium hyaluronic panthenol booster and moisturizer over it. I try to layer with time in between as I feel that allows each product to penetrate better and avoid pilling/roll up. My skin is sensitive, so I hope to graduate to the 15% CE Ferulic when this bottle is finished. I definitely feel this Vitamin C is one of the best skincare products on market today for my sensitive mature skin.
Glowing complexion!
This product is amazing, my skin glows after using it. It sinks right in and provides just the right layer under the b5 gel. Does not lead to breakouts on my sensitive skin and discoloration is starting to fade.
Not for extremely sensitive skin
I wanted to love this product because its texture left my skin absolutely radiant under make up, but unfortunately my sensitive skin did not react well with this it. My face felt itchy and uncomfortable. I had to return it. I think if you have just slightly sensitive skin or are wanting to introduce a Vitamin C serum in a lower dose before working up to a higher concentration, this is a perfect product for you.
Good
My skin seems to like this a lot better than the higher percentages. The vitamin C in your skin accumulates over several days so with the higher percentages after about 3-4 days I would get some redness. This one doesn't bother me. My skin is fairly irritated from the cold and it doesn't sting when I apply it.
Great for sensitive skin.
I use this product every morning under a moisturizer and sunscreen. Its very thin so it layers well and is gentle enough for my sensitive skin. I definitely notice a difference when I run out and dont use it for a few days!
Makes my skin itch
I purchased this serum to help with some dark spots on my temple. I find that after a few months of using this the spots have gotten significantly lighter, however the serum makes my skin itch. I only use it 3x per week and hope to build tolerance and wear it daily, I do like the product and will purchase more items from skinceuticals in the future.
SkinCeuticals Serum 10 AOX
I have very sensitive skin and this works wonders. It does not cause any irritation and absorbs into my skin very well.
Sensitive, acne prone skin
I switched from ole henriksen truth serum as I have been trying other skinceuticals products and they work. I am always concerned how my skin is going to react as I still struggle with adult acne issues. I had no breakouts or irritation after using it and am happy with how it feels on my skin. I am going to stay with this product and look forward to adding more from this line.
Gotta Love It!!
Thia serum leaves your skin looking sooooooo beautiful with a nice bright glow...you notice the difference in your skin immediately!! You Gotta Love It along with all the other SkinCeutical products!!
Skin Ceuticals Serum 10AOX
I like the 10% vitamin C formula. It does not dry out my skin, and leaves it bright and glowing. This was my first Skin Ceutical purchase and I am pleased with it so far. Will have to see how it works on fine lines.
Rosacea-prone skin
Excellent product for my rosacea-prone skin. Delivers the benefits of Vitamin C without irritation. I highly recommend this product.
Sensitive skin
this is very good for sensitive skin with no redness & stinging,causes no reactions,love this product