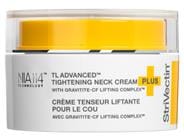 Reviews For
StriVectin TL Advanced Tightening Neck Cream Plus
$15.00
Awesome Neck Tightening Cream
I love the StriVecin neck cream. The texture is creamy and feels wonderful on the skin. This is the only cream I've used that truly makes a difference in the appearance of my neck. I would highly recommend giving it a try. LovelySkin Customer
Verified Purchase
SriVectin TL Advanced Tightening Neck Cream
It's ok, however I found something else that I prefer. It has a nice refreshing fragrance to it. I didn't notice any improvements with use after several weeks. Itsjustme
Verified Purchase
Disappointed
Disappointed that this product has fragrance. Strivectin eye cream had no fragrance. LovelySkin Customer
Verified Purchase
Great neck cream
A wonderful neck cream. I've noticed a difference in the two weeks I've used it. I will be purchasing this again. Kmcohen2
Verified Purchase
Doesn't absorb well!
This is thick and tends to sit on the neck skin rather than absorb for a smoother look. It actually cakes and peels off. I would not recommend this product. Very disappointing! LovelySkin Customer
Verified Purchase
StriVectin TL Advanced neck cream
I have been using StriVectin TL Advanced neck cream for a couple of years, and I have noticed improved elasticity of the skin on my neck. It has become smoother and the skin tone on my neck has improved as well. It looks visibly less wrinkled and tired. Would continue using it. SkincareFan
Verified Purchase
Great product
I started to notice after few days that my skin started to feel little more firm. I hope that after few weeks the results will be much better. Not For Me
I have for years used the the tightening body cream and like the results so thought I would give the neck cream a try. The cream goes on smooth and absorbs fast. My neck skin feels softer but didn't feel tighter. I'm on the fence on this as when I use the StriVectin tightening serum my neck feels tighter so for me this product isn't needed. LovelySkin Customer
Verified Purchase
Good
It is very convenience to shopping online. Excellent service from Lovely Skin for the order follow up and they will follow the status until you received the item. For the TL Neck cream. My first trial is pretty good and you will feel the firming. I will keep it and hopefully will order very soon for my third order again. As I found the product is good, so I may chose it for the gift to my friend. My second order for my friend's birthday. Will check with her comment as well. Thanks HONEY429
Verified Purchase
Wonder product!
I have been StriVectin neck cream for years...everyone tells me my neck looks great for a 56 year old woman. Classylady
Verified Purchase
I had a terrible reaction
I wanted to love this product because I needed a new neck cream. The reviews were mostly very positive, but I had a terrible reaction after one use. I woke up with red bumps and red scratchy skin all over my neck and chest. It looked like I had been burned. Thankfully, I found a sample before I opened the jar and used that to try first. This didn't work for me at all. BeachGirl
Verified Purchase
too early to say
I tried the StriVectin neck cream sample size. The cream is smooth, applies easily. The sample size is nice for a trial run to see if one would experience a reaction, but too small a sample to see a result- not sufficient cream for the time needed to see a result. I am considering purchasing the larger size LovelySkin Customer
Verified Purchase
Truly works
I noticed my neck and upper chest losing firmness when I hit my 60s. I tried a few things then concluded these products were all scams. I bought this when it was on sale for one more/last attempt. This is expensive but works. Really. I am on my second jar and my neck and chest look so much better. Thank you StriVectin. Lovelysue
Verified Purchase
Love product
I've been using it for years, & it still gives me a great result in the intended area. So I recently started using it as an eye-area treatment, but please note that's not its intended use. This "double-duty" use means it's one less product to buy; & thanks to LovelySkin's "favorite product" discount option, I get the best price every time - plus free samples & shipping! LovelySkin Customer
Verified Purchase
It Works!
I have been looking for a good neck cream that does what it says and this product does firm up, lift and tighten the neck area and chest area too. Results were visible within days and get better with time. I'm very happy I tried this product! Ok
If you get the small, know that it used tiny so be prepared, but it actually lasts pretty long. I didn't get visible results I was hoping for but the smell wasn't offensive and it wasn't greasy. LovelySkin Customer
Verified Purchase
Love it!
I have tried numerous neck creams either they leave my neck still with lines or I just feel nothing is going on. I was thinking about getting under my jaw tightened but after using this for about a month I never thought about surgery again!!! Just wonderful Planning on using again
I had been thinking about changing my neck product for quite some time. I kept finding myself returning to reading about StriVectin. I had also heard very good things about the product and decided to try it. I have been very impressed with the results. I like the texture of the cream. It's thick, but not so thick it won't spread which can be a problem. It leaves my skin plump and not crepey. I also like that LovelySkin sells a small trial size so that I don't have to pay a fortune just to see if I like it. I plan on ordering more because I loved the results. LovelySkin Customer
Verified Purchase
Great Neck Cream
I received a sample of this and after a few days really noticed that it does tighten my skin, at least for the day. My dermatologist recommended another brand that I didn't see any results with, so I went back to this neck cream. I'm 58 so too old for it to be a miracle cure, but I can vouch that it does make a visible difference to vertical neck lines and definitely has improved my horizontal neck lines. Not the greatest smell, but not offensive either. Doesn't have a significant effect
This doesn't seem to have a noticeable effect. I've used it several times, and I can't tell a difference. Maybe it takes several weeks of regular use? I will say that a little goes a long way. Once in a while.
I like this when you need a little extra oomph. I don't use it all the time, just because time, money. But when I do use it it works very well. Amazingly Hopeful!
I have previously used the Strivectin Neck tightening Cream and am now excited to try this TL Advanced Tightening Neck Cream Plus! I liked the first product but was not totally in love with it. I have tried the samples of this new cream and loved the smooth and creamy texture and the reviews sounded wonderful. I have just started using this and so far I love it. Makes my neck feel smooth and hydrated. I'm waiting to see how using this more long term will affect my neck. As my title says, I am amazingly hopeful! LovelySkin Customer
Verified Purchase
StriVectin Neck Cream
Noticeable improvement in skin. Needs only minimal application. Wonderful texture and fragrance. LovelySkin Customer
Verified Purchase
Results noticed
I initially ordered the smaller size of the StriVectin TL Advanced cream—rather than spend the extra money on something that doesn't work. I am so impressed by the results that I placed an order for the larger size. I do recommend this product. shlisab
Verified Purchase
LOVE this
Wonderful neck cream. Love the consistency and richness of the cream. Perfect for the neck. LovelySkin Customer
Verified Purchase