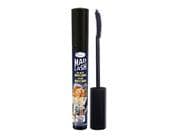 Reviews For
theBalm Mad Lash Black Mascara
135 Results
Just Okay
I tried this because you quit carrying the best mascara out there, and I wanted to remain a customer. Okay for a no-makeup kinda day. I would not buy it, again. I may try one more after this, and then I may have to resort to shopping elsewhere, sadly. AutumnRose
Verified Purchase
Finally
I have finally found a mascara that goes on smooth, doesn't clump and makes my lashes not only longer but thicker. Beautybrandlover
Verified Purchase
Mascara
Love the brush. So easy to put on top and bottom lashes. Look is definitely casual, not dramatic. Perfect for every day. LovelySkin Customer
Verified Purchase
Best Mascara
I purchased based on reviews, and I am glad that I did! It's one of the best mascara's I have ever used! I will be purchasing this again! LovelySkin Customer
Verified Purchase
Best Mascara
This is the best mascara I've ever used! It goes on so smoothly without any clumping and my eyelashes still look soft, which I love! Almost every mascara I've used in the past, I end up with black flakes on my face throughout the day and this brand never does! So glad I decided to try it! LovelySkin Customer
Verified Purchase
Great mascara for short, thin lashes
I've been using theBalm Mad Lash Black Mascara for a couple years now and every time I try to change or forget to order, I regret it and come back to reorder! It makes a huge difference in how my short and very thin lashes look after applying. It has a good wand, which is crucial to me, I can't use a big, thick wand on my short lashes, it makes a mess! I also like the fact that it separates and lengthens my lashes, making them longer and fuller. I find it stays on well throughout the day and I do use an eye makeup remover to help remove it easier. LovelySkin Customer
Verified Purchase
Great mascara
This mascara works wonders and I was very pleased with my purchase. It's also a decent price which is a win win. LovelySkin Customer
Verified Purchase
Love!
Goes on non-clumpy giving long natural lashes MicheleS
Verified Purchase
Best mascara
Just bought my third one. Works perfect and makes the highest volume on lashes. LovelySkin Customer
Verified Purchase
A Keeper
I really like the application brush and how it elongates and separates. This formula does not smear or clump. I will purchase this again. maryann
Verified Purchase
Good One
I have had an awful time finding mascara that doesn't flake and cause issues with my contacts. This one is the best for that. I also like that the brush isn't so "fat". The curve in the brush allows for a little curl. Especially for the price, this one is a winner. Decent Mascara
The wand/applicator is very nice. I do find I have to wipe access product off so that it doesn't apply such a clumpy amount all at once. It sadly gives my raccoon under eyes by noon but that happens with most mascaras for me. Still a decent product as far as separating the lashes and smooth formula. Charlottedunn
Verified Purchase
Flakes easily
The product does not build well and flakes easily. LovelySkin Customer
Verified Purchase
Great mascara
I will preface this by saying that I have hooded lids with long but not thick lashes, and every mascara I've ever used has dragged so I can't comment on that aspect accurately. With that said, I have been using this for several weeks now and I love how easily this glides on and stays all day with no flaking or clumping. I put on several coats letting it dry in between and it builds volume nicely. I have tried almost every high end brand of mascara and this beats them all and is less expensive. I tend to be low maintenance and like a natural look to my makeup, so if you are looking for dramatic volume or a false lash look you won't get that. I use this as my every day mascara and it seems to last without drying out in the tube after a month like many others I've tried. I'll definitely continue to purchase. Wonderful
I finally found a mascara that does not come out in big clumps. Also comes off nicely with eye makeup remover which has been a problem with other brands. Will buy again and recommend. LovelySkin Customer
Verified Purchase
The Balm Mad Lash
I was disappointed in The Balm Mad Lash after reading all the rave reviews. I found the mascara brush a little awkward to work with. My lashes were not as long and think as I expected and I did have some dark smears by end of day. Great price, but would not purchase again. LovelySkin Customer
Verified Purchase
The best I've found so far
I am so glad to have found this mascara. Having deep set eyes, oily skin and thick (light) lashes usually means raccoon eyes within a couple hours. I've tried them ALL, and so far this one is the winner by far for coating lashes nicely and not ending up under my eyes within an hour. LovelySkin Customer
Verified Purchase
Good mascara
Does not clump. Minimal smudging. LovelySkin Customer
Verified Purchase
No clumps!
This mascara doesn't clump when I apply it. The wand is long so it covers every eyelash. I think this mascara would be good for full lashes, but my lashes are thinning so I'm still searching for a formula that will thicken but not clump. I also like that this mascara doesn't flake off which is a problem I've had with "thickening" formulas. LovelySkin Customer
Verified Purchase
Best for sensitive eyes
Usually can't wear mascara, but Balm Mad lash has changed that! No problem for my sensitive eyes! LovelySkin Customer
Verified Purchase
I like it
I like how small the brush is, so it doesn't give too much product on your lashes. Doesn't flake off like some others do, keeper for me! Love it
I love this mascara it's light yet, it makes my lashes look super long. It goes on easy and washes off super easy as well. It seems to be very gentle on my eyelashes. Too! Good Product
Still looking for the "greatest mascara ever" but this is one I use a lot. It doesn't take all day for me to coat my lashes and it really makes them look longer. I've ordered this several times and sent one to my niece who loves the product. KCounts
Verified Purchase
Clumps
I use mascara every day and need one that's easy to apply without clumps, this one did not work for me LovelySkin Customer
Verified Purchase
Stay put Lashes!
This mascara delivers beautiful coverage and build up type capability if you have the time and patience to"layer." I wanted a mascara that stayed put, and this does the trick. Wrenette
Verified Purchase