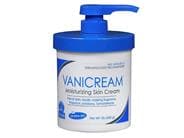 Reviews For
Vanicream Moisturizing Skin Cream with Pump Dispenser
$17.20
7 Results
Nice cream
Tried this lotion after seeing great reviews. Great price for the size and works great, no dry hands in the morning, but bit too heavy for my liking especially for body. Wish it was lighter. LovelySkin Customer
Verified Purchase
Good, but not the best
This is a great, thick, non-sticky cream for skin that needs intense hydration. It was my standby for years and I still return to it from time to time when I can't afford to spend more. If you suffer from mild eczema, get this. If your skin is cracking, flaking, oozing, you'll want something more intense. It definitely doesn't replace prescription grade treatment for those who need that level of skin care. Gorgongirl
Verified Purchase
Vanicream Moisturizing Skin Cream
Having lost some weight and loving the sun, the skin on my arms was looking like a dried up creek bed. I am 72 so my skin will never look young again, but it is softer and feels moister. The 4 star rating is because It is a little heavy and greasy, which is probably why it helped my skin, so I will probably purchase it again. LovelySkin Customer
Verified Purchase
Body Wash Replacement?
I bought this because my neighbor said that the nursing home that her husband is in uses this cream as a body wash for their patients & his skin was softer than hers. So, I'm hoping it will do the same for me. LovelySkin Customer
Verified Purchase
Helps dry skin
It's perfect because it has the pump you put it next to the bed and use it all the time in the winter, and it does work gets rid of those scaly little elbows. LovelySkin Customer
Verified Purchase
Like the Vanicream Skin Moisurizer
I like this moisturizer. I have eczema, and I need a product that really moisturizes and doesn't have any perfume. I found this same product at a well known store that was a lot cheaper, otherwise of would have given it 5 stars. LovelySkin Customer
Verified Purchase
Review
I also use this for my KP. It works great with the Neo Strata Bionic lotion. Very moisturizing. I have no trouble ordering this from your website and it always gets to my home within 1-2 days with the standard shipping. LovelySkin Customer
Verified Purchase