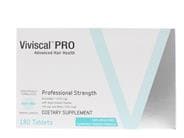 Reviews For
Viviscal Professional Supplements - 3 Month Supply
342 Results
So far, so good
I have thinning hair and have been using Viviscal Pro for slightly more than 3 months. I believe I am beginning to see a difference especially in the last week or so. I will report back on my progress at the end of this round of the supplement. Misslucy
Verified Purchase
Viviscal Professional Supplements
My hair is thicker and fuller since I've been using this supplement. It really works and I love my hair now! LovelySkin Customer
Verified Purchase
Works fast
I've been using these a month now and am already seeing hair growth. Specifically, my baby hairs are coming back! Since I was about 29 my baby hairs disappeared. I'm 31 now and they're back! I believe it works. Sherikay
Verified Purchase
Miracle
Great product. I have seen tremendous hair growth. My hair looks healthy and shiny. Dryness is less. It worked for me. My hair has filled in and appears to be thicker.
I have been using this for 3 months twice a day and it filled in the area in the front of my scalp which were going bare. The results have exceeded my expectations LovelySkin Customer
Verified Purchase
Viviscal Supplements
My hair starting falling out in chunks. I ordered viviscal and have been taking them for about 3 months now. My hair is getting much better with falling out and I have new hair coming in! I would recommend this product ! LovelySkin Customer
Verified Purchase
Thicker, Stronger Hair!
I lost over 50% of my hair due to a medical condition. Taken 2x per day Viviscal has helped tremendously to strengthen and regrow my hair! Tk heavens for this product! LovelySkin Customer
Verified Purchase
Hair care
A good product is taken over a period of time. I did notice the loss of hair slowed down and some thickness returned LovelySkin Customer
Verified Purchase
Viviscal PROFESSIONAL
These vitamins changed my hair. I took them for a year and my hair was in amazing shape. I stopped for a couple months when Covid came around and my hair started to break I am now back on them and can already see a difference in the shape of my hair. Amyoliver
Verified Purchase
Good so far
I have been using this for a month and noticed a decrease in my hair loss. I am looking forward to keep using I until my hair stops falling of in huge amounts. LovelySkin Customer
Verified Purchase
Viviscal PRO
Been taking the product for 3 weeks now. Looking forward to results in future. I take the product 2X per day . Easy to digest and no unwanted side effects such as indigestion. Drink with a full glass of water. RoseofAlabama
Verified Purchase
Best hair vitamin
I have used regular Viviscal in the past and noticed my hair fill in. So I decided to try the Viviscal professional. And noticed regrowth within 2 weeks! It Works!
I am 60+ years old and suffering from hormone related hair loss. I traveled with a woman who recommended this product to me. I wasn't convinced it would work, but after 6 months of using it, my hair IS thicker. Even my hairdresser commented on it! I'm very happy with this product. GoldenGateGirl
Verified Purchase
Excellent product
I've been using this product for several years since I hit menopause and sadly watched my thick head of hair start thinning and my nails become brittle. It takes a couple of months to see the product working but it does work and my hair has regrown along my hairline and my nails are once again healthy. The only reason I didn't give it 5 stars is because it initiates increased hair growth all over the body which isn't really desirable but a small inconvenience to get my hair and nails back. Dec333tex
Verified Purchase
Viviscal Professional supplements
I have been using this supplement for about 4 months but I haven't noticed any difference. This Really Works!
I've had thinning hair issues for quite a few years and while increasing my iron levels have helped somewhat, I was still desperate to find a better solution. On the advice of my dermatologist I decided to give Viviscal Pro a try even though I was very skeptical it would work. I'm so glad I did. My hair hasn't been so full for years. I actually have bangs now, my hair is thicker and less skin is showing on my scalp. My hair stylist can't believe how much better my hair is now. Do keep in mind this is no quick solution. It took about three to four months before I really started to see improvement and then each month after that I saw more and more growth. I've been using this now for about 10 months and I plan to keep taking these for the foreseeable future. Also, these aren't the best tasting, but after a while you get used to the fishy taste and barely notice it. For me these are definitely worth the cost. Review for Viviscal Professional Supplements
I have been using Viviscal Professional Supplements for two years now to thicken my hair. It's the most wonderful thing around for your hair, nails, and skin! I lost the love of my life in March 2015, and it devastated me. I had to take a medical leave from my middle school position and then later retire early. Then I started working as a teller in a bank and was harassed by two managers and several other tellers. All of this together made my hair fall out like crazy. I'm so happy that I found Viviscal pro. I plan to take it the rest of my life because it's good for me and my hair loves it! SherryLynne
Verified Purchase
In my fourth month
I've only been using 4 months. I haven't noticed any difference yet. I will finish out my second three month package and if there is still no difference, I will not order again. LovelySkin Customer
Verified Purchase
Worth it!
I'm on my second three-month supply of Viviscal Pro because I feel it's really made a difference for me. My scalp is healthier and my my hair has definitely filled in around the hairline where it had been thinning. I have been getting fewer foils because of the pandemic and that may have some bearing on my hair and scalp health but I think Viviscal Pro really works. Believer
Verified Purchase
Love these supplements
My hair was noticeably thinning on top along my part. It was so bad that I asked my dermatologist to help address the problem. She suggested that I try the Viviscal Pro supplements and am I glad that I did. It takes several months of continuous usage before I noticed any results but I am seeing a regular amount of baby hairs going in on top. I am hooked and will continue to use these in order to maintain my results. Liked that I can order them here and have it shipped to me, so convenient. LovelySkin Customer
Verified Purchase
Best supplement for hair
I love viviscal. Don't ever want to stop using it. And love the fact that I can get this from an authorized retailer. Anddd... there's usually a discount which is really nice. LovelySkin Customer
Verified Purchase
Viviscal Professional Supplements
Still experiencing hair loss after using this product for over a year. However, giving it 4-stars because if I hadn't used it, it may have been worse! CCSarasota
Verified Purchase
Lots of hair now
I had a few thin areas of where my hair fell out due to surgery and started talking this and it works you just have to take it for a minimum of 3 months to see true results the final results come at 6 months I highly recommended this product Adriannal1990
Verified Purchase
Reduced my hair shedding!
I suffer from hormone related hair loss. I had purchased these in the past but didn't take consistently and didn't see any results. Gave them a second chance and took the recommended 2 per day dose religiously and saw a reduction in hair loss within a few weeks. I just finished a 3 month supply and feel like my hair is fuller. Planning to repurchase. LovelySkin Customer
Verified Purchase
Viviscal
Love the viviscal supplements. My hair is growing back and is thicker. Will continue to take this supplement. LovelySkin Customer
Verified Purchase