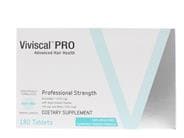 Reviews For
Viviscal Professional Supplements - 3 Month Supply
$160.00
Love Viviscal
My hair is much healthier and fuller with the use of Viviscal. I have used this hair supplement in the past and absolutely loved it. My hair is fuller, healthier and more vibrant when I use these supplements. My daughter also used Viviscal after an illnesses that caused her hair to fall out and look dead. Her hair regained its healthy shine, bounce and thickness. I would definitely recommend Viviscal Professional Strength. LovelySkin Customer
Verified Purchase
Great product!!!
I had read about these supplements and everything seemed to be positive about them. My hair had started thinning and it just wasn't in the condition I wanted it to be in. I took my first 3 months worth and went to do a follow up appointment with a doctor who saw me right before I started taking these. She didn't know I was taking them and ask what I was doing because my hair looked amazing! She said it looked healthy, and shiny, and she could really tell a difference from the last time she saw me. That was it, I was sold and KNEW these were working. I can feel the difference and see it myself, but to have someone else point it out to me was all the confirmation I needed. I ordered my 2nd three month supply and will continue to order these. Minditx
Verified Purchase
Softer, faster growing hair
I've been using Viviscal Pro for three months and my coarse hair is so much softer and grows so fast! LovelySkin Customer
Verified Purchase
It actually works
It absolutely works... you have to take it religiously, but after 3-6 months you will visibly see thicker and stronger hair. I was skeptical, but I am convinced now. It is pricey to keep up though. Keep that in mind. ALK4BAK
Verified Purchase
Try it
My friend recommended trying Viviscal & for way too long, I did not. Now, that I've been using it, seeing & feeling how well it works... I should have tried it much sooner! Great product Let u know in a couple months
I cannot honestly say as yet, whether or not the Viviscal is working. I've been using it for about 4 mos. now. It may be helping with slowing down my hair loss - it isn't any worse. You'll have to ask me again in a couple mos. I gave it 5 stars because I can't say anything negative about it yet. Sorry! Swimmom
Verified Purchase
This worked for me, and fast
Six months ago, I tried the regular strength viviscal and it worked for me and within a few weeks I noticed that it reduced my hair loss a bit. I ran out and the problem returned. I tried this professional strength and within 9 days I went from hair falling out in clumps to very minimal loss. It is too soon to see if it will help grow more hair on thinning top and sides but very hopeful and I have noticed some new baby hairs. Hopefully the new growth will not fall out. Hair loss has many so causes. I'm middle aged with medication-managed Hashimoto's thyroid disease. I was also not keeping up with my multivitamins. If this doesn't work for you, get your thyroid and hormone levels checked. For me, it worked much faster than expected and I will keep taking it! Viviscal Professional Supplements Rescued Me
Yep! Viviscal Professional Supplements rescued me. I experienced severe anemia last year. Among many other devastating ramification s of this disorder was the falling out of a lot of my hair. My Kaiser doctor suggested I take Viviscal Professional Supplements. I can't begin to tell you how thankful I am she suggested this supplement. I have so much new hair growth and never thought it possible. You must take the supplements faithfully every morning for a minimum of six months. I have chosen to continue the supplements past 6 months until they no longer produce new growth. One important fact- I bought mine through Kaiser until I discovered LovelySkin carried them at a better price!!! Do not buy this on the internet- my dr said they are nit the same! LOVE this product! ElizabethA
Verified Purchase
It works!
My hair was thinning due to medication I take to help prevent a recurrence of breast cancer. I had tried many different hair products and supplements in an effort to make my hair healthy again. My hair has definitely thickened, mostly in the back. The shampoo technician at my salon even commented on the thickness in the back of my hair and didn't know I had been using this product. I hope it will continue to thicken in my temple area. I've been using the product for about 8 months. LovelySkin Customer
Verified Purchase
Best Hair Growth Supplement Ever
I've been using this product since more than 3 months and I see great results and I would give more stars if I could :) LovelySkin Customer
Verified Purchase
Used 6 months no change
I know that for it takes a while for hair supplements to make any difference. Used this for 6 months to stop my hair shedding. Didn't notice a slight difference unfortunately and started using something else... Hair continued shedding and felt like just waisted my money. VERY GOOD PRODUCT
My dermatologist suggested this product for my thinning hair. At my next appointment, which was 1 month later, she said I already had new hair growth! I can't wait to see what happens after 3 months. It's good to know this product has been clinically proven to work because I don't like wasting my money on products that claim to work but don't deliver. BRANKINTX
Verified Purchase
Results come with consistency
Its not magic you have to consistently take this forever or your results will fade after discontinued use. After the 11 month mark the baby hairs popped out of hairline, thinning hair getting fuller with each passing month. I'm excited to see my results after another 6 months. Buy this product asap if your losing hair or thinning. Hairsaver1992
Verified Purchase
Seeing results
I have been using Viviscal Pro for 5 months and I'm definitely seeing results. I'm 60 years old with fine blonde hair. I'm noticing my hair is thicker. My husband is now using Viviscal as well and notices a difference. I would recommend trying this product and giving it a few months. Fantastic
Love, love, love my Viviscal Pro. I had a problem when stress was causing my hair to just fall out. Viviscal definitely improved my hair. My hair is longer & stronger than ever. I have been using Viviscal Pro for a few months now. Was shocked at LovelySkin's pricing. It just can't be beat. LovelySkin Customer
Verified Purchase
Excellent product
This is a truly excellent product. After 3 months of use, my hair is noticeably softer and there's a lot more of it! It's not just my own observation but other people also said that to me. Thank you! LovelySkin Customer
Verified Purchase
Viviscal Professional works
My dermatologist recommended Viviscal Professional supplements. It truly regrows hair and makes hair thicker and fuller. Love it! LovelySkin Customer
Verified Purchase
Viviscal
It's the best product for hair loss! LovelySkin Customer
Verified Purchase
Viviscal is awesome!
I have been taking this hair vitamin for several years. It has definitely helped! Viviscal 3 month supply
I have been using Viviscal for three weeks, and have noticed that I am no longer seeing hair in the drain after washing my hair. My hair appears to be growing thicker already! I will continue using Viviscal, after I have used my initial 3 month supply. I am so glad that I decided to try this product! LovelySkin Customer
Verified Purchase
Viviscal Pro
I have been taking these for a few months and am very pleased with the results. Not only is my hair starting to fill in some I have stopped losing so much hair after washing and even during regular combing. I have recommended this product to several of my family and friends. This is really a hair saver !!! LovelySkin Customer
Verified Purchase
It works!
My dermatologist recommended I try Viviscal Professional after I noticed my part thinning. I took It twice a day for 6 months and did notice about 50% improvement. My part has filled in and when I pull my hair back I no longer notice a large thinning patch at the front of my hair line. I am going to decrease my dose to 1 a day and see if that will maintain my progress. Highjump36711
Verified Purchase
Seems to be working
Tried this since I was having thinning hair. Too early to tell for sure, but hairdresser said she thought there was some new growth around by top hairline. I ordered a second 6 month supply and am hopeful to see increased results at end of the full 6 months. LovelySkin Customer
Verified Purchase
Restoration after radiation in process
After radiation and being placed on an aromatise inhibitor for breast cancer, I was really shedding a lot of hair. My part started to get wider and the hair around my temples was thinning and breaking off. I saw this on LovelySkin and decided to commit along with the shampoo and conditioner. It's only been about two weeks, but I was noticing today that my hair is in fact feeling thicker. I'll continue the supplement course and would likely purchase again. I don't love the scent of the shampoo and the conditioner isn't very moisturizing- but I am happy so far. Aislinn
Verified Purchase
It works!
I have been taking Viviscal supplements for 6 months and have noticed a considerable improvement in my hair thickness. Also noticed my thin sparse eyebrows improving as well. LovelySkin Customer
Verified Purchase