Skin Care
DERMAFLASH: How to Remove Peach Fuzz and Exfoliate Skin
by Kristen
|
October 14, 2016
What is DERMAFLASH?
Inspired by dermaplaning, DERMAFLASH is a one-of-a-kind facial exfoliating tool that uses sonic vibrations to gently remove dulling impurities and "peach fuzz," or vellus hair. The result is a brighter complexion and a smoother makeup application.
Why You Need DERMAFLASH
The DERMAFLASH Facial Exfoliating Device is this season's most talked about professional beauty tool! It is the only at-home device that shows you how to remove peach fuzz and gently exfoliate skin in one simple treatment. Lightweight and easy to use, this compact gadget is also perfect for use between professional dermaplaning appointments at the spa. With a five to 10-minute treatment once a week, you'll enjoy smoother, brighter and more radiant skin.
How to Remove Peach Fuzz & Exfoliate Skin
When you first receive your DERMAFLASH device, make sure you charge it overnight before use.
Prepare your skin for treatment by washing your face with the Prep Cleanser, which is included in your kit.
Insert a new Edge into your DERMAFLASH device.
Start with the device in front of your ear. Hold your skin taut and glide the tool over your skin using short, feathery strokes. You can also follow along with this video on how to use DERMAFLASH.
Continue along your cheeks, chin, below and above the lip, and across the forehead. Do not go over any area more than once.
Finish by applying a thin layer of Soothe Hydrator over the entire face, which is included in your kit.
DERMAFLASH Quick Tips
For best results, the DERMAFLASH should always be used on clean, dry skin.
The DERMAFLASH device should not be used directly on the eyebrows, hairline or sensitive areas like the lips, nose and eyelids.
You must insert a new Edge every time you use your DERMAFLASH Facial Exfoliating Device.
Each DERMAFLASH device comes with everything you need for six weekly treatments.
When you're running low, stock up on new Edges, a new Prep Cleanser and a new Soothe Hydrator with the DERMAFLASH The Essentials Replenishment Kit.
Have you tried the DERMAFLASH Facial Exfoliating Device? Let us know in the comments below or on Facebook, Twitter or Instagram using #LovelySkin!
Shop This Blog
Highlights
Keep your DERMAFLASH device in working order with this replenishment kit. Please note: The Ed...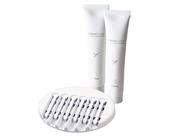 Quick Shop +
Connect with Us!