Skin Care
LovelySkin's NIA24 Challenge: 2 Weeks to Glow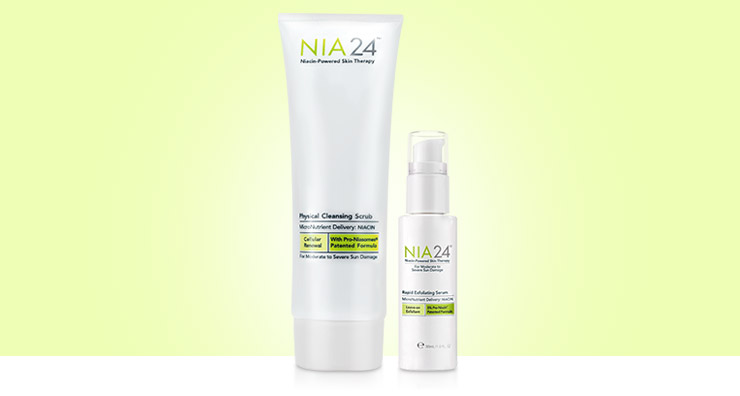 Two weeks ago, we at LovelySkin signed on for the NIA24 Challenge—two products, two weeks, and a whole lot of glow later, we're here to share our results with you! Our staff used NIA24 Physical Cleansing Scrub and NIA24 Rapid Exfoliating Serum, two products that help exfoliate, repair and brighten sun-damaged skin with patented Pro-Niacin. Without further ado, here's what we thought.
Stepha, Content Specialist
"NIA24 Rapid Exfoliating Serum was already one of my go-to products for getting a next-day glow, but combining it with the NIA24 Physical Cleansing Scrub took it to the next level. Around 7 days in, I noticed a major difference in the tone and clarity of my skin. Some redness I had been experiencing was calmed and my skin felt so much smoother and softer."
Lisa, Director of Customer Care
"My skin is noticeably softer and more refined after using this NIA24 scrub and exfoliating serum for the past two weeks. I really like that I these products give me antioxidants that I don't get from the other products I already use, and they're easy to add to my routine. My husband even asked what I'd been doing differently, and now he's using NIA24, too!"
Zach, Content Specialist
"I have some rosacea and I really liked that the Pro-Niacin in the scrub and serum was able to take the redness out of my skin so quickly. The scrub has a nice consistency that I could feel working, and the serum is really lightweight, which I also appreciate. At around day 5 I could tell that these two products together were making a real difference for me. As a side note: I would use the Physical Cleansing Scrub in the morning right before I shaved, and I haven't had a closer shave in years."
Clark, LovelySkin Videographer
"The NIA24 Challenge worked great for me. The biggest difference I noticed in my skin was the clearing of pimples on my face. I've tried a lot of scrubs and they all seem to get the basics of cleaning up my skin, but the combination of the physical cleansing scrub and the rapid exfoliating serum really helped target some of the black heads and imperfections on my skin. I especially liked the cleansing scrub because it didn't dry out my skin like other scrubs tend to do."
Kristen, Content Specialist
"I really liked how both products felt on my skin. The Physical Cleansing Scrub wasn't too gritty, but I could definitely feel it working. In the evening, the Rapid Exfoliating Serum was really easy to apply and it didn't feel harsh on my skin. I also liked how both products had a nice, subtle scent."
You've heard our take, now we challenge you—share your NIA24 Glow Challenge results in the comments below!
Shop This Blog
Highlights
Exfoliates dull, dry skin
Increases circulation
Softens uneven texture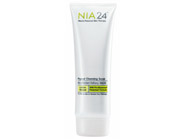 Quick Shop +
Highlights
Exfoliates dry skin
Diminishes sun damage
2011 SELF Healthy Beauty Awards Winner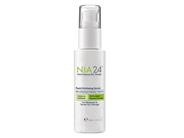 Quick Shop +