Ask the Experts
Meet the Newest Members of the La Roche-Posay Toleriane Family
by Marie
|
January 27, 2017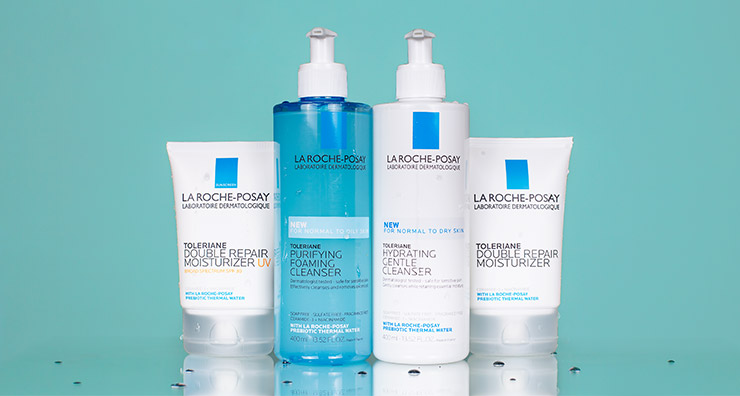 Hear from the experts at La Roche-Posay about the newest products in the Toleriane line designed for sensitive, irritated skin.
La Roche-Posay's Toleriane range has been soothing sensitive skin since its introduction in 1999. Free of fragrance, parabens, allergy-tested and dermatologist-tested, these products are developed under strict formulation guidelines that include a minimal number of carefully selected ingredients.
Always on the cutting edge of skin care science, La Roche-Posay has launched four new products that deliver the soothing and hydration that Toleriane devotees have come to depend on while addressing one of the root causes of dryness and sensitive skin: the skin's barrier. This uppermost layer of the skin is key to keeping moisture in—and keeping irritants that aggravate sensitive skin out.
The new Purifying Foaming Cleanser, Hydrating Gentle Cleanser, Double Repair Moisturizer and Double Repair Moisturizer UV Broad Spectrum SPF 30 all adhere to La Roche-Posay's rigorous Toleriane formulation rules but the addition of four key ingredients provides hydration plus barrier-supporting benefits for the skin.
4 Key Ingredients
1. La Roche-Posay Prebiotic Thermal Water: Discovered in the 14th century and used for its therapeutic effects ever since, this mineral-rich water has hydrating, soothing and antioxidant properties.
2. Ceramide-3: A naturally occurring component of the skin that plays an essential role in the barrier's function.
3. Niacinamide: A vitamin B derivative, niacinamide provides soothing benefits for the skin.
4. Glycerin: A gentle emollient ingredient that naturally attracts water to the skin.
Designed to hydrate and support barrier health for all types of skin, these new cleansers and moisturizers follow the Toleriane formulation guidelines that were established nearly two decades ago. Allergy-tested and free of fragrance and parabens, the latest additions to the Toleriane family offer additional benefits for the skin without the worry of side effects such as dryness, redness, sensitivity or discomfort.
Ideal for normal to oily skin, the Purifying Foaming Cleanser effectively removes excess oil, dirt, makeup and impurities without disrupting the skin's barrier or pH, while the Hydrating Gentle Cleanser provides the same benefits for normal to dry skin that does not experience excess oil.

The two new, oil-free Toleriane moisturizers target dryness by simultaneously replenishing moisture and helping to restore the skin barrier. The Double Repair Moisturizer is designed for use both in the morning and at night, while the Double Repair Moisturizer UV Broad Spectrum SPF 30 combines hydration and sun protection to streamline any morning skin care routine.

Have you tried any of the new Toleriane products? Let us know what you think in the comments below or on Facebook, Twitter or Instagram using #LovelySkin!
Shop This Blog
Highlights
La Roche-Posay Toleriane Hydrating Gentle Cleanser is perfect for normal to dry skin. La Roche-Pos...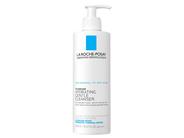 Quick Shop +
2 sizes
Highlights
Gently remove impurities with La Roche-Posay Toleriane Purifying Foaming Cleanser. La Roche-Posay ...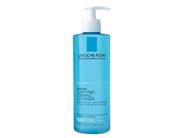 Quick Shop +
Highlights
Hydrates and maintains moisture barrier
Fortifies skin with ceramides
Calms skin with niacinamide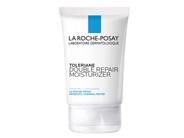 Quick Shop +
Highlights
Calms skin redness
Best suited for dry, sensitive skin
Non-comedogenic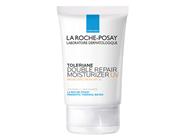 Quick Shop +
Connect with Us!