Hot Products
Product Spotlight: La Roche-Posay Anthelios AOX Daily Antioxidant
by Stepha
|
February 26, 2015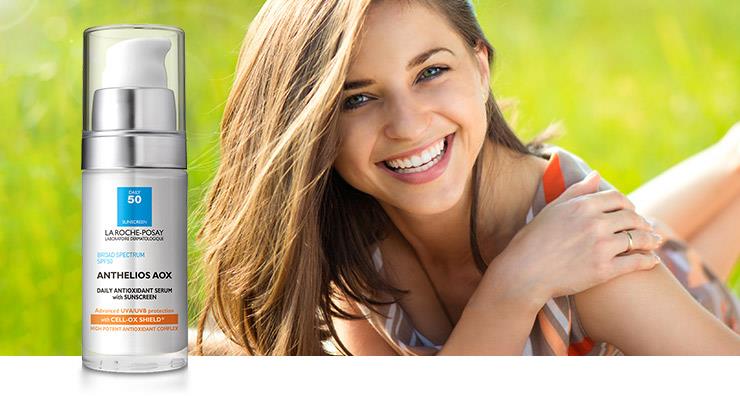 Every anti-aging routine needs a concentrated serum and a powerful sun protection product. La Roche-Posay Anthelios AOX Daily Antioxidant Serum with Sunscreen SPF 50 combines antioxidant and broad spectrum sun protection in one lightweight, easy-to-use formula. This new product has become a fast customer favorite here at LovelySkin for its elegant formulation and proven results. With continued use, you can enjoy a smoother, brighter, more youthful complexion and prevent future signs of aging.
The key ingredient in the serum is La Roche-Posay's exclusive Cell-Ox Shield antioxidant complex of baicalin, vitamin Cg and vitamin E. Baicalin, a natural ingredient derived from the flowering plant, Baikal skullcap, works as an anti-inflammatory and antioxidant. It helps to relieve redness and irritation and shield skin against premature aging caused by environmental stressors. Vitamin Cg is a synthetic form of vitamin C that helps similarly fight oxidative stress. It reaches deep into the skin to help stimulate strong, healthy collagen. Finally, vitamin E, long-regarded as an effective antioxidant, helps protect the skin from sun damage and water loss, as well as keep the complexion conditioned and balanced. In addition to warding off signs of aging, these potent antioxidants help to improve the performance of the formula's chemical sun protection ingredients.
The formula is fragrance-free, paraben-free and it won't clog pores or exacerbate other skin conditions. This makes it gentle enough for all skin types, including sensitive. It is powerful enough to be worn alone, but it may also be layered with other sun protection products. The weightless texture helps create a smooth, even canvas for makeup application. To get the most out of Anthelios AOX Daily Antioxidant Serum, you should allow 15 minutes before sun exposure for the product to fully absorb. Then reapply every two hours. Be sure to use a water-resistant sunscreen if swimming or sweating.
Give this multitasker a try today to experience the latest technology in sun protection!
Do you have a question about La Roche-Posay Anthelios AOX Daily Antioxidant Serum with Sunscreen SPF 50? Let us know in the comments section.
Shop This Blog
Highlights
Protects with antioxidants
Provides broad spectrum UVA/UVB protection
Addresses signs of aging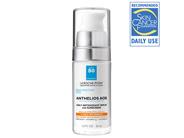 Quick Shop +