Skin Care
Reviewed and Approved: The Best Products of 2015
by Marie
|
December 30, 2015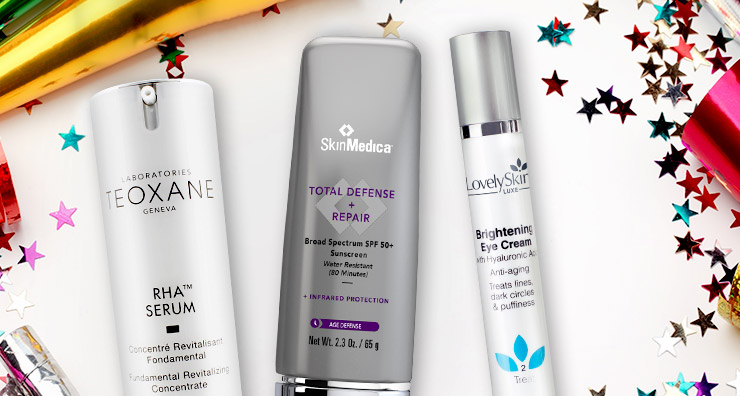 New skin care products are constantly hitting the market and this year was no exception. We've narrowed down the new additions and here are this year's best skin care products.
LovelySkin LUXE Brightening Eye Cream: People are loving the new LovelySkin eye cream that uses self-adaptive optical technology to diffuse light and instantly brighten skin.
"This is the best eye cream I have ever used. You feel so hydrated after the first use. It feels almost like it tightens underneath your eye. Also, it has a shimmer technique so it reflects the light from your eye, which is perfect for dark circles. Recommend to anyone!" -Kristen K.
"Lighten, brighten, tighten – love how this product seems to deliver all three!" -Nancy L.
LovelySkin LUXE Ultra-Rich Peptide Moisturizer: Customers also love this rich moisturizer from the LUXE line that came out this year.
"This is the best moisturizer I have ever tried! Tried the expensive department store brand that everyone raves about and this product is far superior. A must try for dry skin!" -Judy B.
"This moisturizer is great, blends in easily and is wonderful for my dry, aging skin. I love that it is packed with some great ingredients." -Pamela M.
TEOXANE RHA Serum Fundamental Revitalizing Concentrate: This year was a big year for anti-aging skin care. Customers love this new serum from TEOXANE, which plumps skin using hyaluronic acid.
"With all the products on the market—and I have tried many—this product is one that actually works. After using it for two months now, the fine lines are not visible, the texture is softer and, overall, I look a little younger. I will be 56 this month!"
-Cynthia G.
"I am obsessed with this product and have turned my mom and two girlfriends on to it as well. It definitely brightens, tightens and makes your skin feel velvety soft. I have sensitive skin and this seems to agree with it!" -Erin M.
NuGene NuCell Universal Serum: Another strong contender for the best anti-aging product of the year is the NuCell Universal Serum, which uses growth factors to fade signs of aging.
"I have used all sorts of skin care products including the super expensive brands like La Prairie, La Mer and Chanel and never have I had results like I did with NuGene's Universal Serum. The texture and tone of my skin was visibly improved. I also noticed tightening and my fine wrinkles really softened. I'm 48 with very dry skin so the serum had its challenges. It worked like magic, but it's obviously all in the science. I'm sold and a new dedicated user!" -Kate S.
"I am on my second bottle and so is my 83-year-old mother. She went to her doctor and he was asking her what she was doing to make her skin look so fantastic and "dewy"—and she did look amazing after three weeks. This product is truly a scientific breakthrough. One bottle will last a month. I am going to keep ordering until I STOP seeing results! So worth it!" -Lisa L.
SkinMedica Total Defense + Repair SPF 50: The new sunscreen on the block is this one by SkinMedica that protects against both UVA and UVB rays, plus infrared damage.
"UVA/UVB/Infrared Protection + antioxidants + niacinamide? What more can you ask for?! Now I just cleanse, use SkinMedica TNS Essential Serum and put this on before my makeup. I've just combined two steps into one and am saving money doing it!" -Lisa J.
Let us know which of these new products you loved this year!
Connect with Us!