Beauty
Self-Tanner: Getting a Healthy Glow Without the Sun Damage
by Kristen
|
March 03, 2016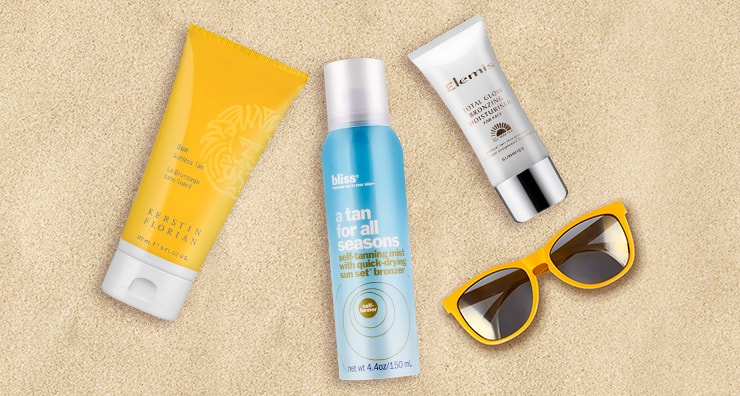 It's time to shake off the winter blues. With the days getting warmer and the sun shining longer, spring is making its debut. Instead of heading outside to soak up the sun's rays, skip the sun damage and give your skin a gorgeous glow with self-tanning products.
Getting a Healthy Glow
You don't have to sacrifice your health to achieve a gorgeous glow! Self-tanners allow you to become a bronze beauty without the sun damage. The active ingredient in most self-tanners is a color additive called dihydroxyacetone, or DHA. Derived from sugar, this ingredient reacts with the amino acids in the top layers of your skin to create a bronze shade. The best part is that it's totally customizable! The color change can take anywhere from one to six hours and each reapplication will help build color depth. This is why many products have a gradual bronzing effect over a few days or a week. Don't like how your color turned out? No problem! Without reapplication, the coloring typically wears off after a few days.
Long gone are the days when sunless tanners left you looking orange. With so many different options to choose from, you can pick the one that works best for your lifestyle.
Lotions
Lotions are both simple to use and easily blendable. To avoid streaking, you'll want to apply the product in a circular motion, instead of up and down or back and forth. Most self-tanning lotions are gradual, which means they get darker over a few hours or even a few days. These formulas are great if you want to achieve buildable color over a period of time.
You might like: ELEMIS Total Glow Bronzing Body Lotion or Kerstin Florian Sunless Tan
Sprays
If you hate getting self-tanner on your hands, sprays are the answer to your prayers! These formulas allow for a smooth, even application without touching your skin. If you're not a seasoned spray tan pro, you might want to enlist the help of a friend who can help you cover the areas you can't reach, like your back. Self-tanning sprays are perfect if you want an instant glow.
You might like: bliss A Tan For All Seasons
Towelettes
Towelettes are the best of both worlds. They combine the easy application of a lotion with the quick results of a spray. Like lotion, you'll want to apply in circular motions, but be careful not to press too hard. Keep in mind that one towelette is usually meant to be used on your entire body, so don't open two or three at a time.
You might like: Dr. Dennis Gross Skincare Alpha Beta Glow Pad for Body with Active Vitamin D
Remember, each formula will be a little different, so be sure to follow the directions on the packaging for best results.
Perfecting the Technique
Before applying self-tanner, you'll want to:
Shave
Exfoliate any dry, flaky areas that might pick up too much color
Apply a light lotion to any really dry areas, like your elbows and knees (the lotion will prevent your skin from absorbing too much self-tanner)
Then, after application:
Fix any mistakes by exfoliating the area or wiping it with an alcohol-based toner (this will help even out the color a bit)
Don't forget to wash your hands with soap and water, particularly under your nails and between your fingers
Make sure your self-tanner is completely dry before getting dressed
Try not to sweat or get wet for a few hours
The Science Behind Sun Damage
Did you know sun bathing can do some serious damage? The truth is there's no such thing as a safe tan, even if you're slathering on the sunscreen. Any change in the color of your skin is a sign of sun damage. Your body produces melanin, the pigment responsible for skin color, to protect the deeper layers of skin from damage. The skin darkens, or produces even more melanin, after UV exposure in an attempt to repair any damage and prevent further injury. These repairs can cause genetic defects that lead to skin cancer. By attempting to get a sun tan, you are damaging your skin and increasing your risk of skin cancer.
Tanning Bed Myths Debunked
Sun exposure is sun exposure, whether you're outdoors or indoors. The tanning industry has perpetuated a widespread myth that tanning beds are "safer" than tanning under the sun because it's a controlled dose of UV exposure. This couldn't be further from the truth. The UV exposure from tanning beds is indeed controlled, but the radiation levels are significantly stronger than the sun. Standard tanning bed lamps give off 10 to 15 times more radiation than the sun, and newer tanning beds use bulbs that are even stronger. Tanning bed use is more dangerous than sun bathing because it can be done at any time rain or shine, and frequent visits don't give skin a chance to recover. In fact, indoor tanning increases a person's melanoma risk by a whopping 74 percent.
You Still Need Sunscreen
Remember, self-tanners do not replace the need for sunscreen. Even if the product you're applying offers some sun protection, it only shields your skin for a couple hours. The bronze color created by sunless tanning products will not protect your skin from UV damage, so applying a broad spectrum sunscreen like EltaMD UV Clear SPF 46 Broad Spectrum Sunscreen is still essential.
Show us your healthy glow on Facebook, Twitter or Instagram using #LovelySkin!
Shop This Blog
Highlights
Bring back a healthy glow with this ELEMIS body cream. This luxurious, gradual tan body lotion ins...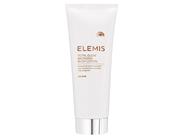 Quick Shop +
Highlights
A tanning lotion that creates a natural glow without the damaging UV rays.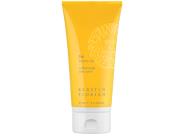 Quick Shop +
Highlights
Soothes skin with aloe vera
Provides a radiant, streak-free tan
Offers fresh citrus scents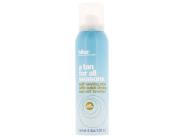 Quick Shop +
Highlights
Create a streak-free tan
Exfoliate skin for a healthier appearance
Reduce the appearance of imperfections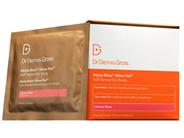 Quick Shop +
Highlights
Gently exfoliates with lactic acid
Reduces the appearance of sun damage
Tinted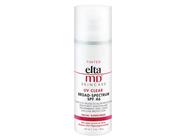 Quick Shop +