Skin Care
Skin Care From the Inside Out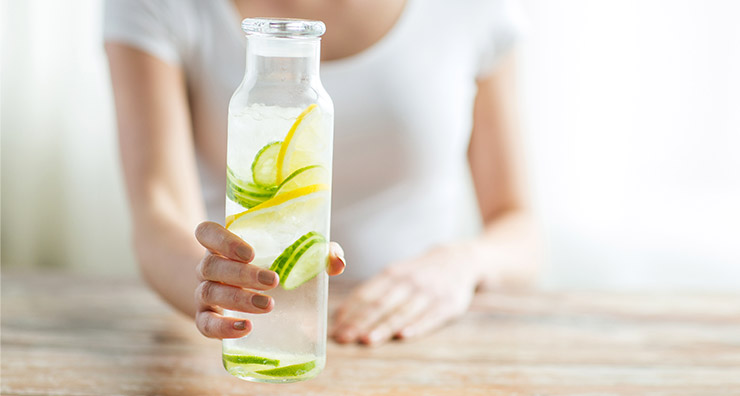 The dermis is the body's largest organ, so it's no surprise that it plays a significant role in overall health and wellness. Skin is the body's first line of defense against environmental stressors and various viruses and bacteria. It also helps regulate body temperature and allows you to feel sensations like pain, pressure, hot and cold.
At LovelySkin, we love our regimens, and it probably goes without saying that we're dedicated to helping you find the best formulas for your needs. However, skin care goes beyond cleansers, creams and serums. Healthy skin actually starts from the inside, and without good habits and a healthy lifestyle, you'll fall short of your best results. Follow these tips and guidelines to boost your routine and achieve clearer, smoother skin.
What to Drink
What you sip on throughout the day can have a big impact on skin. Water will forever be a great choice for comprehensive health. It helps with brain function and digestion and it can help maintain energy levels, just for starters. However, there is a misconception about what water will and won't do for your complexion.
When we drink water, it goes through the digestive system, is absorbed into the bloodstream and is filtered by the kidneys before it can finally hydrate cells. Water alone cannot improve the look and feel of skin or balance out dryness due to its long journey through the body. But when we focus on drinking water, we aren't drinking other beverages, like sodas, sugary juices and alcohol, which tend to cause dull, dehydrated skin. We are also actively combating diseases which could have a negative impact on skin health. While you can't erase wrinkles with a gallon of water alone, the advantages of drinking eight glasses a day are still unparalleled.
For a healthy drink that actively promotes healthy, youthful skin, try unsweetened green tea. A popular ingredient in anti-aging skin care, research shows that green tea contains powerful antioxidants that help protect skin against environmental stressors. Green tea also offers anti-inflammatory benefits to help calm skin redness.
What to Eat
Food is your best source for daily vitamins and nutrients, and it can also serve as a natural source of skin-healthy antioxidants. Eating a balanced diet with plenty of fruits and vegetables is best, and no matter what your needs and restrictions are, you should be able to squeeze in plenty of foods that can help encourage smooth, glowing skin.
Antioxidants are a key ingredient in anti-aging skin care because they help protect skin from sun damage and other environmental stressors. They also help boost collagen and create a more luminous complexion. Vibrantly colored fruits and vegetables are a great source, especially berries, tomatoes, beets, squash, spinach, sweet potatoes and peppers. Your favorite vitamin C serum helps you achieve firmer, stronger skin. By eating citrus fruits, papaya, broccoli and brussels sprouts, which are full of vitamin C, you're enhancing its effects even more. A powerful antioxidant called CoQ10 can be found in salmon, tuna, poultry and liver. Vitamin E, long-regarded for its ability to fight inflammation and sun damage, is found in nuts, vegetable oils, seeds, spinach and asparagus.
Essential fatty acids help balance your natural moisture barrier and fight dryness and acne. They also help promote a smooth texture, which creates a younger-looking appearance overall. Olive and canola oils, walnuts, flaxseeds and fish, like sardines and mackerel, can provide a great source of omega 3s and omega 6s, two good fats for skin health.
Retinol, one of the best ingredients on the market for addressing acne and signs of aging, is a form of vitamin A, and vitamin A is found in a variety of different foods. Leafy greens, certain low-fat dairy products, carrots, cantaloupe and eggs are all a wonderful source.
What to Add
Eating a balanced diet can be challenging when you lead a busy lifestyle. At LovelySkin, we have a variety of vitamins available to help supplement your diet and ensure you receive the nutrition you need for healthy skin. One of our favorites is Heliocare Sun Protection Pills, an oral supplement that helps to build up the body's defenses against UV exposure. Though the pills do not replace sunscreen, they are clinically proven to prevent sun damage with a powerful plant-derived antioxidant. Heliocare is now available in a new Heliocare Ultra formulation to help you receive the same wonderful benefits in an even more concentrated capsule.
Remember, regular exercise keeps skin healthy, too, by increasing blood flow and easing stress. Doing a light activity a few times a week, like walking or jogging, can encourage daily wellness and beautiful skin.
Do you have a question about achieving healthy skin from the inside out? Let us know in the comments section.
Shop This Blog
Highlights
Enhances UV protection
Strengthens immune response
Gradually builds UV tolerance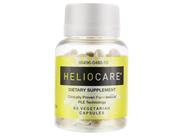 Quick Shop +
Highlights
Enhances UV protection
Gradually builds UV tolerance
Promotes a more youthful appearance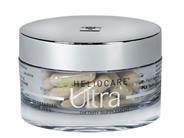 Quick Shop +