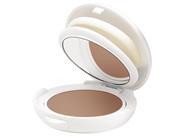 Write a Review - Receive 50 Rewards Points!
Tell us your thoughts about Avene High Protection Tinted Compact SPF 50 so we can help you find the right products. With your review, you'll also receive 50 Rewards Points. Please note that it may take up to 72 hours for a review to appear on site. All reviews are subject to moderator approval.
Write a Review
25 Results
Dermatologist recommended for melasma
I have some melasma that is getting worse since I moved to the beach. My dermatologist recommended the Avene tinted sunscreens because in addition to broad spectrum SPF, they have iron oxide, which prevents visible light rays from darkening melasma. I bought this compact in beige and the tube in medium. I put one on one side of my face and the other on the other. At first, the beige color looked alarmingly grey on me, but the color adjusted after a minute and looked just fine. In fact, both Avene products ended up looking pretty much the same on me, even though they look and feel different right out of the package. This compact is creamy and good for dry skin, but I still need a moisturizer under it. The finish is not as perfect as my regular foundation, but it's pretty good and very convenient to use for daytime when I'm out in the sun.
Avene high protection tinted Creme foundation
I have been using this product since 1998 and never found a more flawless perfect foundation, ever! I am European and therefore are able to buy this product in any pharmacy, so this is a bit more difficult to get it in the USA. It is a super sun protection, but I use it all year through and perhaps with a bit of blush for evening makeup. It is also water resistant but easy to remove and provides an all day perfect complexion and covers spots etc perfectly. Whoever has not used this product yet has missed out! Super easy to apply! I am 53 years old and cannot live without it. I should get paid for this review :) I know, but it is simply the truth. I think 20 years of using it - proves it!
Works well....but....
There is an ingredient or ingredients in some sunscreen products that make me feel nauseous and give me a headache. The product works well, but I can't use it. Unfortunately, for me, it was a waste of money. I wish I knew what is making me feel sick.
Great foundation with 50 SPF
I discovered this product on vacation in Italy when I left my foundation at home. My 25-year-old daughter told me it looks great. It's very natural. I need extra sun protection. I am light skinned and beige works well. Easy ordering through LovelySkin and I got it on sale.
excellent product
Very happy. I keep on buying it. Thanks.
Smooth and has spf 50
I recently purchased this for the spf 50 & compact. I had skin cancer surgery & needed a high spf & makeup that can travel. I've only used a few times since I recently ordered it but I do like it. It is smooth and not too drying. I still put a mineral sunscreen on first then the foundation. So far, I do like it, I don't like to use a lot of makeup (but need to try & cover the scar) and trying to find a product that is relatively easy to apply, can travel and good for your skin with spf 50 is not easy - this fits the bill! I gave it 4 because I wish there were a few more shades with pink undertones & light to med but the beige works. I am happy with the product. Thank you.
sunscreen that looks like makeup
great coverage (it really looks like high coverage foundation) I wish it came in more colors
Easy to use. Great coverage.
I love this product. It's quick and easy, but provides all day great coverage without feeling heavy or thick. It's also SPF 50.
Avene High Protection Tinted Compact SPF 50
The MedSpa I went to suggested this product. I love it! I don't use a foundation just this product. The coverage is great and lasts all day.
Recommended by My Dermatologist
My skin is fair, and after having my twins, I have quite a bit of melasma. If I even think of going out into the sun, it shows even more. My dermatologist recommended this sunscreen to help. This product not only helps protect my face from the sun but also covers up the melasma and improves my skin tone. I wear it on top of another sunscreen/moisturizer and under makeup. I gave it 4 stars rather than 5 because it's a bit too thick and clumpy when i use the sponge to apply it. I now use my fingers and apply it immediately after my other moisturizer/sunscreen to help blend it.
Will be a regular purchase
Really like this product for reapplying sunscreen on the go. Also like that it has good health ratings through GoodGuide.com.
A Great Product if You Like Creme Compact Makeup.
I use SPF makeup for a medical condition as I am very UV light sensitive, so my main objective is to find something great for my skin that has the protective ingredients I need and can be reapplied throughtout the day with minimal long term consequences on my face. While this is a great product and fits that bill, I find it more economical to use the tubed lotion/creme form of this product. That said, its great to use on evenings out or shorter periods of exposure and is a convenient and effective way of being prepared all the time or in an emergency.
The Best
Finally I found the product that protect my sensitive skin with 50 SPF factor and cover my skin imperfections without putting oil in my skin. I love it. Thank you.
Great sun protection
I always have this product on hand. Much better than white messy creams. I dont worry about being in the sun anymore. One suggestion, if it could be produced in a lighter shade for us who are fairer skinned that would be perfect, although it scores a 10 for me.
Silky and Protective
A great product I have bought many times over. Sheer coverage, moisturizing, silky soft feel. Perfect for dry skin but probably not oily. I use this in the summer for a quick even finish and theres no need for a lot of moisturizer and certainly no sunscreen. great product. Too bad it uses up quickly. I suggest using your fingers instead of the sponge.
good, but ....
I had high expectations for this products, especially given all the stars, but the light tone is too dark for me -- Im not especially fair, either. I might be able to use it in the summer. I am also having trouble getting the application to look natural -- it seems there is either too much or too little going on from the sponge, and it does rub off fairly easily. That spf is so good, though, that I will keep working with it (when I have a tan).
Best foundation with SPF50
My skin is very oily at the Tzone but dry elsewhere, this foundation works by far the best one. I had tried many other expensive brand nothing seems to work as well as this one. I would highly recommend it.
Great Coverage
As I play a great deal of tennis, I have found the Avene High Protection Tinted Compact SPF50 an ideal coverage as well as sun protection. The consistency is just perfect for me. I highly recommend this product. I am a user of many Avene products...they are all excellent!
Excellent!
Love the protection in this compact product! I'm an aesthetician and recommend and send my clients to LovelySkin.com to purchase it. Especially now, when summer is just around the corner...
Excellent product
Just the right amount of coverage easy to apply and great sun protection.
Perfect coverage and high SPF in one
Pros: this compact has great cover and is very natural looking. my skin looks fresh, and almost translucent. i don't even have to put powder on top of this. it feels air-light, which was quite surprising, considering it has such a high spf. a definite plus is that it has zinc oxide, but doesn't leave my face looking white and chalky. it also has a moisturizing effect, which is good b/c i have super dry skin. Cons: the size is kind of small; i feel like there should be more product put in the compact. it also seems ever so slightly sticky to the touch - but it's easy to blend, so this isn't a big negative.
LATIN AMERICA
Love this product. Leaving in such a humid and hot city. This product protects my face out of the sun rays and gives me a tinted glow. Perfect for the beach days.
Really, really good sunscreen
I have melasma so sunprotection is very important. This works weather I am on the beach or hiking in the mountains. Plus, it is easily portable so I can reapply. I apply Obagi 50 over skin products in the am then use this over (for color and to disguise melasma). It acts as my foundation. Make up applies beautifully over it.
Love it!
Great product!!! Provides excellent coverage for melasma and splotchy skin. Leaves a smooth, natural look. Super easy to apply with the enclosed applicator/pad - really fast!
Somewhat disappointed
This was advertised as a #1 pick for an spf foundation. I found this to be somewhat of a glue like texture and very hard to work with.