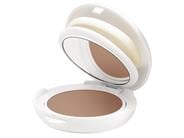 Reviews For
Avene High Protection Tinted Compact SPF 50
$36.00
52 Results
Great coverage but hard to rub in
Great coverage but it is thick and hard to rub in. Kind of cake like. LeslieD
Verified Purchase
Great sunblock
Love how convenient this sunblock is and it goes on smooth not valet at all. Happy with this purchase and recommended to my family. Mich179
Verified Purchase
Love This!
Blends very well and is not heavy. Great coverage and protection. Amazinggggg
Love this stuff so much LovelySkin Customer
Verified Purchase
Not for oily skin
I like this product, but I can't use moisturizer with my serums when I use it. It has moderate coverage but I still need my regular makeup to cover flaws well. Suepac57
Verified Purchase
love it!
I purchased the "beige" + thought maybe I should get the "honey" for the summer. Beige a tad too light + Honey was dark on me - but I use both + love it! It hides any flaws + wears quite a while + the spf protection is fantastic! deeceecee
Verified Purchase
Good coverage
A little thicker than I'm used too but overall a good product. LovelySkin Customer
Verified Purchase
Avene compact
So glad my dermatologist recommended this to me a few years ago. At the time I had skin lupus and it was important to protect my face. Even though it cleared up with medication I was always had this extra protection. I have continued to use the product and recommend it to friends! LovelySkin Customer
Verified Purchase
Love this Sun Protection
I was skeptical about a compact for sun protection. But this is fantastic! I use this on my face when I go swimming and for other outside activities. It stays on when other sun products are long gone. I use the darkest shade even though I have fair skin. The sponge applicator allows me to distribute the product evenly and give me a wonderful glow. Only "concealer" I wear
This sunscreen makeup has the best coverage if you have any active blemishes... and an amazing sunscreen all in the product MelSitara
Verified Purchase
Good
Nice but love the tube cream much better. Avene High Protection Tinted Compact SPF50
Since I have rosacea, I like a sunscreen that is tinted to cover some of the redness. I was very pleasantly surprised with this product as it does a great job and it is so easy to reapply. Since it's SPF50, it's great protection, too! PhyllisC
Verified Purchase
Don't be turned off by dark shade of beige
I am fair skinned with extremely dry sensitive skin. This tinted compact blends easily and looks natural with no caking. I use for quick touch-ups while traveling, which I do often. LovelySkin Customer
Verified Purchase
Great idea
I really like the coverage and SPF in one step. The only thing is I cannot wear this in the winter as the shade will be too dark. Would like to see some lighter shades. Otherwise, great product. Great coverage
If you need a wonderful creamy compact makeup with an SPF 50, this is it. Great coverage. LovelySkin Customer
Verified Purchase
Great compact
Good for on the go touch ups. Love the SPF. Lindsay
Verified Purchase
More than an SPF!
I have gone through two compacts of Avene tinted SPF. It is amazing. I don't have to use a foundation after I apply this smooth light tinted compact lotion. You will love it. I used a foundation over it the first time but realized I don't need a foundation. It wasn't me noticing my perfect complexion it was my friends. I have rosacea, and there is nothing worse then trying to cover red up. This did the job beautifully. 5 stars! tleeworley
Verified Purchase
Love it!
Fantastic product! Great coverage. Great sun protector! Easy to apply and reapply. Will never be without it! Orangecloud
Verified Purchase
Great ❤️
This is the Best Sunscreen I have ever used. It's also a great foundation. Thought it would be handy for a vacation. Now, I love to use it every day. This one is perfect . So convenient!
This is my go-to sunscreen and foundation. When I am in a rush, I always use this Avene compact. It has good protection and enough coverage for face imperfections. I love it so much, and this is my second time ordering this product. Highly recommend it! LovelySkin Customer
Verified Purchase
Almost Perfect
Ok this product is amazing for many reasons! 1.) You can easy apply this throughout the day and take it with you as needed 2.) the finish is beautiful, I almost think it gives a more airbrushed look than some of my post expensive foundations 3.) It is great for dry skin because it is a cream it does not fall into fine lines like many powders do. My only issue with this product is the lightest shade it is available in is def too dark. It gets better after blending, but there is still too dark. For that reason I use this during the day while driving or being outside, but I would not use this when I want my makeup to be on point because it is just too dark. I am a #2 on the Fitzpatrick scale, their lightest shade is going to be great for anyone that is a 3 or darker, but that is it. I would love if they came out with one more shade for lighter complexions. LovelySkin Customer
Verified Purchase
Surprised By This
I was hesitant to use this at first as it presents like make up, and I also feared it would be too dark. It looks lovely on. It goes on creamy and the sponge allows you to smooth it / blend it in. It goes on lighter than I would have thought, and it looks very natural. Not orangey at all. I wore this while on vacation. I golfed, kayaked, sailed and sat by a pool and wearing this with intermittent Obagi sunblock applications I didn''t burn or tan. I was panicked that I would get some color from all the exposure but this provided fabulous natural coverage. Easy to apply and to carry with you too. Will purchase again LovelySkin Customer
Verified Purchase
Surprise!
It's been over 15 years since I've used a pressed powder or compact. Someone had mentioned this sunscreen to me, and I'd been wanting to try the Avene brand. I chose this product and was pleasantly surprised. I at first just used it around my eyes and eye lids as sunscreen, and it kept my eye makeup set all day. I then decided to use it all over since it did not leave a cakey appearance. I'm very happy with the purchase. LovelySkin Customer
Verified Purchase
Great UV coverage
Love this! Great coverage and sweat proof. Only wish it came in more shade options. LovelySkin Customer
Verified Purchase
Perfect for travel
I recently took this with me on vacation and it was just perfect! It is such a lightweight coverage and looks gorgeous with a smokey eye or even just a natural eye look. Such a lovely addition to my makeup collection