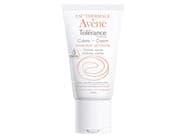 Reviews For
Avene Tolerance Extreme - Cream
$38.00
Always have a tube on hand
This works for me when nothing else will. It's not very heavy and I do miss the older formula but find layering this with an occlusive really helps in the winter. I know this is a very minimal and paired down moisturizer, but that's the point. It never burns or stings. LovelySkin has great shipping and a great price as always. BirdieKitKat
Verified Purchase
Healthy Skin
I at times suffer from sensitized skin and facial atopic dermatitis due to autoimmune issues. After using this cream my skin usually clears up after 2/3 days, is hydrated & returns to a more normal state. Little goes a long way. LovelySkin Customer
Verified Purchase
Works for Me
I have terrible skin--allergic, sensitive, reactive, rosacea. Had chemical patch testing and they couldn't believe all of the red spots when they took off the "tape." Bought the Avene Tolerance Extreme - Cream, when I needed a product "leave on" product to take to the nail salon, because it was on the list of things I can use. Despite having "rinse off" products applied first, the Avene Tolerance Extreme - Cream seemed to keep me from getting any rashes. I would definitely purchase it again. kathymack
Verified Purchase
Awesome
Awesome for my sensitive dry skin LovelySkin Customer
Verified Purchase
Best lotion ever!
The only moisturizer that I can use on my extremely sensitive skin. Anytime I try other brands I always come back to this one! LovelySkin Customer
Verified Purchase
Perfect for sensitive, agitated skin
I started using this product due to extreme irritation and dryness my skin was experiencing while using Retin-A. Before trying this product, I felt like my skin was beyond inflamed and nothing could settle it down. Immediately after using this product, I noticed a drastic improvement in both the redness, flaking, and irritation. I no longer have those problems but I still use this as my go-to moisturizer. It was recommended to me by a well respected Esthetician, and I won't be making a change anytime soon. CourtReg
Verified Purchase
I can't live without it!
This is the only moisturizer that doesn't make my face breakout, greasy irritated. It's free of paraben, mineral oil and harsh ingredients. The only con is the size and price. Otherwise it's the perfect moisturizer. I wish I had discovered it sooner. I hope they never change the ingredients bc it's spot on. Celestial218
Verified Purchase
VERY GENTLE!
This was a gift for my Mom, who has mature skin and is allergic to the majority of face creams on the market. She loves this Avene cream! It is gentle, but hydrates and nourishes the skin well, without any irritation. Alex369
Verified Purchase
just okay
This cream is really thick, and still not as moisturizing as others I have used. I also think I experienced more acne than I have with other moisturizers. Not a good one for me. Best Moisturizer For Sensitive Skin
I absolutely love this moisturizer. I have sensitive acne-prone skin and struggled for years to find one that didn't clog my pores. This moisturizer has kept my skin feeling so soft without breaking out my skin. I can't live without it! LovelySkin Customer
Verified Purchase
Lightweight moisturizer
Been using tolerance extreme for a couple of years and have not found anything better to moisturize my sensitive skin. It is lightweight but very effective at moisturizing. It soaks in very quickly does not sit on top of your skin and not even a little bit or oily or greasy. LovelySkin Customer
Verified Purchase
Love it!
I have extremely sensitive skin, and I'm allergic to nickel, so it's hard for me to find beauty products that won't irritate my skin. So far, this is the ONLY moisturizer that I can use with no problem. It's great and I order multiple tubes at a time, so I'll never be without. Small tube but a little of this stuff goes a long way. One tube usually lasts me about 2 months, and that's using it in the a.m. and p.m. If you've got super sensitive skin I highly recommend this product. LovelySkin Customer
Verified Purchase
Great for sensitive skin
This cream is super moisturizing and perfect for sensitive skin. One of my favorites after any procedure or if you just suffer from redness due to retinol use like I do. LovelySkin Customer
Verified Purchase
Ok cream
I've been using the Avène skin recovery cream, and wanted to see if this gave me more hydration. I'm still experimenting, but both are good products. Though I don't love them as I find my face is still dry by afternoon. Although there are other Avène moisturizers I'd like to try, many have fragrance which I find to be ridiculous that a sensitive skin company adds any fragrance to products. I've even expressed my concerns to Avène, and they say their fragrance is safe for sensitive skin. However, they have clearly not experienced anything close to my hyper-reactive skin. Avène, please remove fragrance from all products!!! LovelySkin Customer
Verified Purchase
Sensitive, mature skin
I have extremely sensitive skin and I seem to have spent a lifetime trying to find products that make my skin look good without irritation. This product fits the bill for my aging, dry, sensitive skin. I will be 70 in May so I need all the helpful products I can get. I have been using it for a number of years and though I will try the "latest" thing that comes along, I always go back to this cream. My skin is moisturized and calm, and it makes my face feel so comfortable. I cannot use products that are very active, like Retin A, but I can use a glycolic peel once a week with this product, so I feel that is a gigantic step forward. The product isn't fancy or sexy, but it does an excellent job of keeping my skin happy and moisturized. LovelySkin Customer
Verified Purchase
Avene tolerance extreme cream
I have been using this product for at least 4 years. My dermatologist recommended this product to me, because I have extremely sensitive skin. I am a blue-eyed redhead! This product works for me. I would recommend this product to everyone. I moisturize morning and night. This is now the only product I use for my face. LovelySkin Customer
Verified Purchase
Best skin for sensitive skin
This cream is by far my favorite cream for my face. I can even put it on my eyelids to soothe them if they are irritated. Perfect for sensitive skin, or in combination with a retinoid! LovelySkin Customer
Verified Purchase
The best moisturizer for sensitive skin
I have extremely sensitive skin and have used to oil cleanse and use facial oils, which didn't bother my skin - but left me with terrible breakouts. My dermatologist suggested this moisturizer, and I've been using it ever since - the difference between this winter and last winter is amazing. Last winter, my skin was so dry and patchy, and now it's completely moisturized. All other moisturizers I've tried irritate my skin, but this doesn't! LovelySkin Customer
Verified Purchase
Avene Tolerance Extreme-Cream
I have very sensitive skin! I've tried several products and have seen a dermatologist due to my flushed cheeks (not really rosacea but close). Even prescription products didn't calm and protect my skin the way this cream does. I use it twice a day sometimes more often if needed. LovelySkin Customer
Verified Purchase
Very good product but unfortunately not for me.
I really liked the consistency of the product and what it is supposed to do but unfortunately it did not work for me. I had a bad reaction all over on my face. I might be allergic to some ingredient that is in this product. So sad !!!! But nothing wrong with the product it is me unfortunately. LovelySkin Customer
Verified Purchase
Best cream for sensitive skin
This is the best cream for sensitive skin I have ever used. I have tried other creams sold at department stores and they are very heavy and greasy feeling. This cream is light and absorbs quickly to leave your skin feeling soft, not greasy. LovelySkin Customer
Verified Purchase
Not my favorite
I had purchased the Extremely Gentle Cleansing Lotion during my recent trip to Canada along with a moisturizer from another brand. That brand was not available from LovelySkin so I decided I would try another Avene product. I researched the different types of Avene products and selected this one. First, I do not like the squeeze tube. It has a weird mechanism that I find awkward to squeeze out a small amount. I always squeeze out more than I need. As for the product itself, it feels like an emollient petroleum jelly. I can see where it would be excellent for dry skin to keep in moisture but it is too smothering for my oily skin. I will use up this tube but will not repurchase. Jodmeister
Verified Purchase
Worked great for husband
My husband had a serve irritation/rash due to a bacterial infection caused by stress. Of course, the prescription is what got rid of the bacteria, but this is what the Dr had him use to heal his skin. He continues to use this product and his skin looks great. It is smooth and soft. Mind you, he is 53 and has always had oily skin and acne when younger. I believe the gentle care has controlled the oil and redness. He used cleaner when problem was acute. A very soothing cream.
I use this cream on top of my retinol cream at night and it's very soothing. ALso great to use on cold mornings -- keeps my skin from getting irritated and chapped. Really nice consistency too. LovelySkin Customer
Verified Purchase
Excellent product
Used this for a family member's eczema and found it really soothing and helped heal the skin.