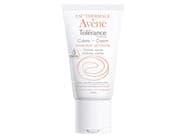 Reviews For
Avene Tolerance Extreme - Cream
$38.00
Good for Sensitive Skin
After disrupting my skin barrier with acids and retinols, my skin was left red, dry and very sensitive. I needed an ultra pure and minimal cream and this worked. It didn't burn like almost every other cream I had tried. It is also fungal acne safe. I will continue to keep it as a staple in my routine. sasha444
Verified Purchase
Ok cream
I've been using the Avène skin recovery cream, and wanted to see if this gave me more hydration. I'm still experimenting, but both are good products. Though I don't love them as I find my face is still dry by afternoon. Although there are other Avène moisturizers I'd like to try, many have fragrance which I find to be ridiculous that a sensitive skin company adds any fragrance to products. I've even expressed my concerns to Avène, and they say their fragrance is safe for sensitive skin. However, they have clearly not experienced anything close to my hyper-reactive skin. Avène, please remove fragrance from all products!!! LovelySkin Customer
Verified Purchase
Very good product but unfortunately not for me.
I really liked the consistency of the product and what it is supposed to do but unfortunately it did not work for me. I had a bad reaction all over on my face. I might be allergic to some ingredient that is in this product. So sad !!!! But nothing wrong with the product it is me unfortunately. LovelySkin Customer
Verified Purchase