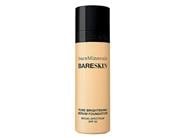 Reviews For
bareMinerals BareSkin Pure Brightening Serum Foundation SPF 20
Works Well
This is gentle on my skin and provides ample coverage. I do like it but prefer a product that adds moisture. BareMinerals Bareskin Foundation
Coverage is great and leaves my skin dewy LovelySkin Customer
Verified Purchase
I love BM, but not this Foundation
As an oily skinned gal, this foundation isn't the bee's knees. The foundation has a bit of a funny scent, is quite oily, and is very hard to set, even using a good primer. I'll take my bareMinerals Complexion Rescue with a good primer any day over this! ❤️
I love the liquid foundation. The coverage is awesome and paired with a good primer it lasts throughout the day. Have used it for a couple years and plan on continuing to use it. Plus, buying it off here is the same price as going to a store but without getting out. LovelySkin Customer
Verified Purchase
Brightening serum
The foundation is nice but the bottle is a huge problem. You have to shake the makeup, if you leave the cap on makeup gets all over the inside of the cap. If you hold your finger over the top and shake pressure builds up and makeup continues to come out the top. A lot of makeup is being wasted. I won't be purchasing it again. LovelySkin Customer
Verified Purchase
Very good!
The foundation is very much a liquid, shake well before application and let it drip out! Because of this it goes on relatively smooth and needs very little to give a nice amount of coverage, even on my acne scarred face. Definitely use clean fingers to apply! LovelySkin Customer
Verified Purchase
Love it!
I do like this foundation. It feels great on my sensitive skin. I do wish that it had a little more coverage. Also, the bottle applicator sometimes spits out more foundation than I need. I use the bare minerals correcting concealer with it too. They work get together. LovelySkin Customer
Verified Purchase
I have a Dewey Look!
I love this foundation, because it only takes two drops to do my entire face, my jaw dropped when the demonstrator showed me. I like the fact that my face doesnt look dry, but in fact looks moist and dewey. Maybe because Im now in my 50s its nice not to look dry and slate looking. This has also helped brown spots, theyve almost gone away entirely. But the best thing is I dont feel like I have a heavy film on my face. Most foundations, including the mineral powders break me out in rashes. This goes on smooth and feels good all day. Fresh looking foundation
This foundation gives my face a very fresh look. It is not heave as many foundations, so that you see a line where the serum ends and your normal skin begins. Works best with the Bare Mineral Brush, made for its applications. Ordered the wrong color
The products is good but the color is terrible. I cant use it. It was a waste of money/ LovelySkin Customer
Verified Purchase
Perfect Addition to Bare Minerals Product Line
i have been a Bare Minerals fan for many years. I have always wanted a liquid foundation as I used Colorscience but only because I had no Bare Minerals option. I went to one of their shops to have a professional color match and I think everyone should do this before buying this product. I was perfectly matched to the #7 shade and shown how to apply it and introduced to the brush specifically designed for its application. Also VERY important is to use the Bareskin Perfecting Veil over the foundation (a compact application and my shade is the Light to Medium) again along with its own brush. This step helps to set the foundation for all day use and eliminates any shiny or oily look/feel. I have scads of their wonderful brushes and was skeptical of the need to purchase 2 more, but believe me, these 2 are unique to each product and are necessary to get a beautiful result. I am 64 and have a medium complexion with no yellow tones. LovelySkin Customer
Verified Purchase
Not for me
I am 54 yo w/med-fair skin w/yellow undertones. I purchased the cream color. The color match was on target ( there are so many colors I looked at a local store for a correct match before ordering). The blending was flawless with the foundation brush, but the finish is too shiny for me. No matter what powder I used it made no difference in the finish. As the day passed I became even more shiny/oily in appearrance. Sooo. I returned the foundation. Too bad, I think it wouldve been good for my skin. LovelySkin Customer
Verified Purchase
Oily
Not a fan, too oily and not much coverage. I been using BM for 12 years now , i was excited to try this liquid out but It didnt work for me.. I had to set with my original BM powder, otherwise it doesnt set.. I love the brush though !! It just slides off your face and is a oily of a mess.. Im sticking to the original powder.. BareMinerals Serum Foundation Review
Please let me explain why I am both happy and unhappy with this product: 1. The brush application is efficient and easy to do. I was amazed at how little of the product I had to use to cover my entire face. I had best results applying the drops of serum to the brush making dots of makeup on cheeks, forehead, then chin and then evenly distributing it per the youtube video. Covered very well and evenly. 2. I did not like the sheen of the product on my skin. I find this serum shinier even than the BareMinerals powder mineral foundation ever has been. I am 48 years old with some discoloation due to cystic acne scars and moderate wrinkles--primarily smile lines. The makeup did not settle into my lines as many products do, and the coverage was easily adjustable with application. Spread easily and evenly. 3. As with many mineral foundations, you will want to use some sort of bronzer or veil to take away from the blank slate look that you are left with after applying. My blushes and powders glided over the makeup with ease. 4. I am willing to hold onto this foundation and try it again this fall, when my skin will be dryer and the air is less humid. I am hopeful that the sheen will be minimized before I add a finishing powder. In summer, I am not thrilled with so many layers to put on before I am happy with the end result. Good idea, might be great for others, but I am not a fan. Please reformulate for less sheen and "plastic look" and I will try that product. LovelySkin Customer
Verified Purchase
Time will tell.....
I was interested in trying this product based upon the natural ingredients. I like the silky feel and it provides moderate coverage. I do find that it runs darker than I anticipated. I am fair and I ordered Ivory, but would have been better off with Porcelain. In terms of the tone correcting benefit - that is something that requires more time. LovelySkin Customer
Verified Purchase
Not Quite Sure
I am not sure what I think of this product. When I first put it on, I agree that it makes my skin look brighter. It had a dewy finish and looked which was nice. The foundation stayed on all day (I set it with a powder) and it matched my skin tone great. I used Bare Natural and am fairly fair skinned with an olive undertone but get warm undertones when I am in the sun a lot. I felt the foundation did well for staying power and not running when it is hot/I sweat/ I exercise. What I dont like is that it tends to gather in the creases of my face which makes it more apparent that I am wearing make up. Aside from the creases, when my skin is smooth it looks great but when it is dry the foundation settles in all the dry skin areas and to me thats not a nice look... Also, when using the brush that is made to apply the foundation, I ended up with brush strokes. Unless I really buffed it on - which I feel gives less coverage and sucks up the product, I am left with a brush stroke look. Lastly, the first day I wore it I did some exercising and the next day I woke up with little bumps all over my cheeks. I have sensitive skin and this has never happened before. I continued to use the product for about a week and cannot tell if it has made and more bumps or if the bumps that are present are from the initial use. So, overall, I like the color and the brightening effect but there are some cons. I will continue to search for better options or see how this performs in the long term with some more experimentation. LovelySkin Customer
Verified Purchase