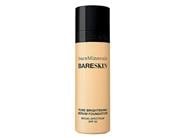 Reviews For
bareMinerals BareSkin Pure Brightening Serum Foundation SPF 20
Brightening serum
The foundation is nice but the bottle is a huge problem. You have to shake the makeup, if you leave the cap on makeup gets all over the inside of the cap. If you hold your finger over the top and shake pressure builds up and makeup continues to come out the top. A lot of makeup is being wasted. I won't be purchasing it again. LovelySkin Customer
Verified Purchase
BareMinerals Serum Foundation Review
Please let me explain why I am both happy and unhappy with this product: 1. The brush application is efficient and easy to do. I was amazed at how little of the product I had to use to cover my entire face. I had best results applying the drops of serum to the brush making dots of makeup on cheeks, forehead, then chin and then evenly distributing it per the youtube video. Covered very well and evenly. 2. I did not like the sheen of the product on my skin. I find this serum shinier even than the BareMinerals powder mineral foundation ever has been. I am 48 years old with some discoloation due to cystic acne scars and moderate wrinkles--primarily smile lines. The makeup did not settle into my lines as many products do, and the coverage was easily adjustable with application. Spread easily and evenly. 3. As with many mineral foundations, you will want to use some sort of bronzer or veil to take away from the blank slate look that you are left with after applying. My blushes and powders glided over the makeup with ease. 4. I am willing to hold onto this foundation and try it again this fall, when my skin will be dryer and the air is less humid. I am hopeful that the sheen will be minimized before I add a finishing powder. In summer, I am not thrilled with so many layers to put on before I am happy with the end result. Good idea, might be great for others, but I am not a fan. Please reformulate for less sheen and "plastic look" and I will try that product. LovelySkin Customer
Verified Purchase